AAA Music Approved: Future Monarchs
aaamusic | On 15, Sep 2013

AAAmusic: Who are you and where are you from?
Future Monarchs. We come from a suburb just outside Chicago. We all met as 8th graders, primarily into punk music like NOFX, Minor Threat, etc…
AAAmusic: What inspired you to get into music?
We all grew up loving The Beatles, The Beach Boys, The Stones, and all the seminal British and American pop/rock. We got into punk music, like Minor Threat, NOFX, The Replacements…it eventually morphed into a wider love of rock, pop, and psychedelic. We currently make an electric mix of indie pop, but I'd say at its core it's informed by our love of punk, and The Beatles.
AAAmusic: What have you done?
We've only just released our first EP, Weird Weather. We're about to release a full-length, early next year. I'm very proud of the EP, and I think the new album will be even better.
AAAmusic: What are you like live?
Our live show is a bit faster, louder, and more high energy than our recordings. A little bit more guitar-oriented. We are just coming off of a European/UK tour opening for Brendan Benson, who I also play bass for. We've also played shows with Born Ruffians, Citizens, The Features, The Hush Sound, and many others.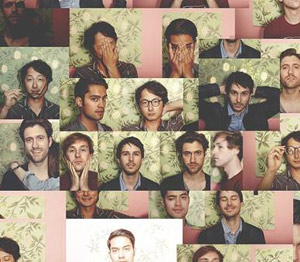 AAAmusic: What makes you different?
We have a pretty eclectic mix of songs, so I think our variety makes us stand out – we don't just do the same thing over and over.
AAAmusic: Physical vs Downloading vs Streaming…How do you listen to music?
I listen a variety of ways…I buy from iTunes, I listen on Rdio and Spotify from time to time, I even listen on YouTube sometimes. I rarely buy CDs, but I do buy vinyl. I think each service has its place, and I like the convenience of streaming, although I object to the pittance it pays artists.
AAAmusic: What have you been listening to?
The new Tame Impala, the new Unknown Mortal Orchestra, the new Shins are all playing constantly on my iPod. Also Metronomy and the new Dirty Projectors are favorites.
AAAmusic: What are your aspirations for the future?
Just to keep writing and releasing music, and be able to tour on it. We're about to release our 1st full-length early next year, and hopefully can tour on it all of 2014.
Questions answered by: Bobby Lord of Future Monarchs…