Jon Hopkins – Live @ KOKO
aaamusic | On 25, Sep 2013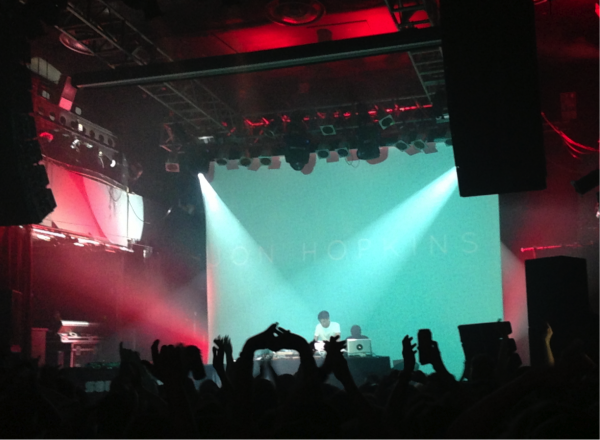 Saturday 21st September
Events that gather a load of producer-DJs together at a concert venue, as opposed to a club, are often sullied by a flat atmosphere. They may look good on paper, but sometimes a cavernous type theatre – such as KOKO – is ill-fitted to stage electronic music; the setting can make the solo proprietors look lonely, with the music often lost up the tiers.
Tonight, however, isn't just a club night. Tonight isn't just a concert. It's a celebration. And not just a celebration of headliner Jon Hopkins, but a celebration of the state of UK electronic music in 2013: the successful expansion of post-dubstep showcased by Dark Sky's debut as a live band, the growing success of Hessle Audio and the thriving techno scene via Pangaea, the rekindled love of instrumental hip-hop as evident in A Future Without founder Throwing Snow's party set, and, of course, the mighty Mercury Prize nomination for producer-of-the-moment Jon Hopkins.
Hopkins' latest album – Immunity – is a masterpiece of post-electronica, and certainly a worthy contender for the increasingly merit-less Mercury Prize, but his continued cross-over appeal post Coldplay Viva la Vida… collaboration is bewildering. There are many producers who make a similar kind of sparse, almost orchestral electronic music, but few who have transcended East London basements to be able to sell out both the Village Underground and KOKO in quick succession.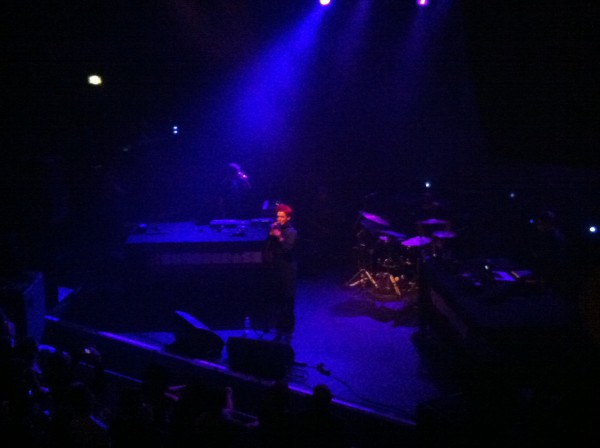 As I've already said, tonight isn't just about Hopkins, although most in attendance would certainly disagree. First up we have London based Dark Sky's new 'live' project (regrettably early, but logical given the rest of the lineup), which features one of the trio with a full drum kit flanked by the other two on production desks. Across several EPs and singles, Dark Sky have experimented with different genres – dubstep, techno, house, etc – but their new direction with this debut live show sees them stripping back the dance sounds in favour of a more brooding, bass-heavy brand of post-dubstep. There are subtle synths and slow, meandering basslines propelled by solid, non-flashy drum beats; the drumming is more straight-ahead rock rather than disco-tinted 'dance' drumming. There are real Actress and Jaar vibes with this new live sound, especially on the dark techno-laced 'F Technology' from the Black Rainbows EP. For the last part of the performance Dark Sky are joined by the red haired Portico Quartet collaborator Cornelia and her haunting, Bjork-without-the-frills vocals. The results: beautiful, night-time neo-soul music.
Sandwiched between Dark Sky and Hopkins is an hour and a half Pangaea set. The Hessle Audio founder offers up the now-packed out KOKO crowd a pretty punishing set of techno and house; heavy on the techno and light on the house. The thumping beats get the ravers moving, and although his selections borderline monotony, at least in terms of the pace, he adds enough euphoric bridges to keep the more introspective electronic music fans interested (for example, with the Daphni sample). In hindsight, this set would've been much welcome later in the night, as this kind of club music felt like a particularly inelegant intrusion into the pre-Hopkins proceedings, especially after the sophistication of Dark Sky.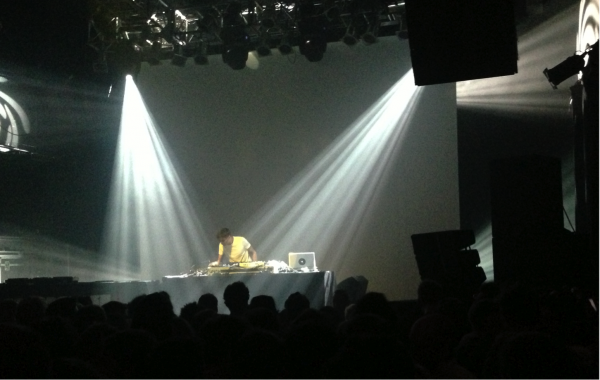 Jon Hopkins, on the other hand, is the epitome of electronica elegance. Backed by the huge KOKO cinema screen (becoming increasingly popular with DJ-producers touring with an AV show of some kind), Hopkins stands centre stage behind his sampling and effects processing equipment (including Korg Kaoss Pad(s) I believe). The London-based producer is unassuming in his attire and presence, but noticeably ecstatic to be performing to a sold-out KOKO audience; unlike with Pangaea, the ornate theatre is a perfect setting for Hopkins' hypnotic audio-visual assault.
Much of his recorded output is beat-less and quasi-orchestral, including his minimalist soundtrack work (e.g. the Monsters OST). In fact, his celebrated new(ish) album Immunity can almost be split into two halves – an energetic first half followed by an ambient second half. Tonight, Hopkins is not looking to 'chillwave' anyone into distant self-reflection, and so he focuses much of the set on the first half of Immunity. The melodic techno of tracks such as 'Breathe This Air' and 'Collider' naturally bring to mind Moderat (Hopkins and, in particular, Apparat share a lot in common – imagine the collaboration!?), with the soaring synthetic sounds adding an almost cinematic quality to the ecstasy of the intelligent, trance music-like drops. One of the biggest receptions is given to single 'Open Eye Signal', the dense piece of soothing electronica strengthened by a marching beat and pulsating electro core.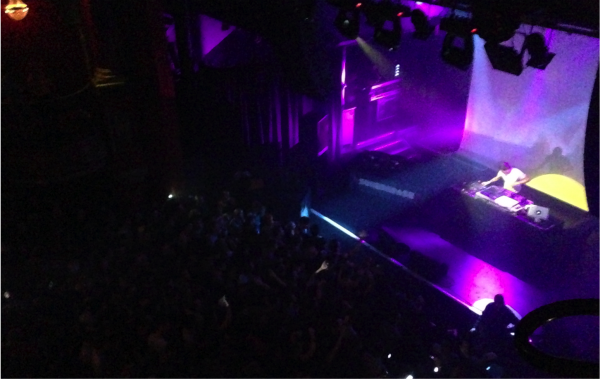 It's the older material, however, that makes the biggest impact in this live setting. 'Insides' and 'Vessel' from his album Insides are much heavier than anything on Immunity, both containing crushing, dubstep basslines and industrial robotic glitches – 'Insides' is menacing in a Amon Tobin / Two Fingers kind of way, while the end of 'Vessel' features erratic blasts of industrial noise normally saved for a Squarepusher show. Of course, the cold but stunning 'Light Through The Veins' (morphed from the original made famous for its incorporation into Coldplay's fourth album), also from Insides, gets people cheering and cheering and cheering. In truth, the pastel, psychedelic visuals are average, especially considering how high the bar has been raised by AV innovators over the last couple of years, but they do fit the aesthetic nature of the music. It all ends too abruptly, after just an hour – but, as Hopkins recently reveal on Twitter, he never plays live for longer than an hour. You'll always left wanting more.
Ross Tones – aka Throwing Snow – is given the honour of closing the night, and he does by ditching the repetitive sounds of AM tech-house and spicing up the dance floor with added bass and hip-hop driven beats; playing with the same tone as Machinedrum, though not quite as hectic. It's a hugely enjoyable party set, and a reminder of the real variation that the UK electronic music scene has to offer. Tonight's Soundcrash event celebrated all of its variations, with the musical thread connecting them all belonging to Jon Hopkins. His music not only transcends the underground-overground boundary, but also genres; encompassing the post-rock of Sigur Ros, intelligent beats of Amon Tobin, melodic techno of Berlin's Modeselektor and Appart, and party atmosphere of the Hessle Audio crew. An innovator and true representation of (intelligent) UK electronic music, he deserves that stupid Mercury Prize. But he probably won't get it. Because Disclosure's commercial dance album got to number one.
Words: Clive Paris Rozario
Photos: Steph Hollox and Jodie & Gillian from Domino…