A CHAT WITH: JEM SHARPLES OF TENORS UNLIMITED
aaamusic | On 28, Sep 2013

The trio Tenors Unlimited are firmly established as premier classical crossover artists. Scott Ciscon, Paul Martin and Jem Sharples have entertained worldwide alongside artists like Sting, Beyonce and Lionel Ritchie. Interviewer Anthony Weightman chatted to Jem Sharples during their latest tour.
Anthony Weightman: People who've met the three of you often describe you as charming. Do you personally feel that 'charm' in the world of music is something that can be found easily or do you think it's a bit of an allusive quality?
Jem Sharples: I think the classical world is seen as quite charmless, so any charm that can be bought  to what we consider to be 'popular classical' is very important. I think, for a decade or so, we've been talking about bringing music to the masses. The concept has been around. It seems to come up in every generation. The best artists hopefully have charm and also a humility. They're difficult bed fellows, but I don't see why they shouldn't be together.
Anthony Weightman: You once said that you never decided to be an opera singer. Were you saying this was something that gradually evolved and that it wasn't part of some pre arranged plan?
Jem Sharples: I was enjoying my career in musical theatre, opera and concerts, but underlying it was always the wish to sing classically, but in a modern way. Donizetti wasn't quite right. Puccini had it's moments. Musical theatre in the modern style wasn't quite me. The Gordon MacRae or Howard Keel approach, Rodgers and Hammerstein style, was probably more like me. So, I'm probably a bit out of date. Trying to find my niche was the thing. I was driven by wanting to sing songs and make music. When we met up we all had similar attitudes. Scott is in the States, so his history is very different from mine. I went to the Guildhall. You have to have a drive to want to make it happen and feel that you have something to say. A lot of students go to colleges and feel it will be given to them because they are blessed to play the piano. The difference between those that 'do' and those who give up is probably an inept drive.
Anthony Weightman: You've said you take classical music seriously but not yourselves. Are you occasionally uncomfortably because you find yourself in the company of classical  musicians who take themselves too seriously?
Jem Sharples: I'm not uncomfortable and I wouldn't say the guys are uncomfortable. In many ways it's probably an easier place to be with the full support of an orchestra and costumes and stage. We entertain in a more corporate capacity, at times. Singing to twenty bankers, for example. As long as everybody is feeling happy with what they're doing, it doesn't matter. Sometimes I think the imagery of the industry has become more important than actually making music or giving enjoyment.
Anthony Weightman: You once said 'if we're doing a cover of a song it has to be as good as or better than the original otherwise there's no point in doing it.' Have there ever been occasions when you were firmly convinced you could do better, but were aware that an audience would quite likely think you were attempting something which was absolutely impossible?
Jem Sharples: It's very strange. Sometimes we think that people may ask 'why are they doing that?' But, we've never ever had that response. Someone once said 'No one ever became unsuccessful by doing the obvious.' In an odd sort of way we beat around the bush, but the predictable choices are often the best ones. Audiences do want to hear 'Nessun Dorma' or 'Unchained Melody' or 'Summertime.' We could intellectualise and try to be a bit clever, but most of the time the majority of people in a room want to hear a very good version of a standard.
Anthony Weightman: Puccini's beautiful 'Nessun Dorma' has been performed by a long list of classical and crossover artists. It became Pavarotti's signature aria. Do you feel that many of the better known versions are tough acts to follow?
Jem Sharples: Well, yes it is a tough act to follow, of course. He, also, would have considered the other versions that existed before him. It was almost a tradition. He was one of a long list of artists. That was the aria that a lot of people wanted to hear. It went stratospheric with his recording at the football. Then, the subsequent Three Tenors concert. Probably, without that, there wouldn't be the motivation or inspiration for what I'm doing now. It is a challenge, but the audience wants to hear it, in our experience.
Anthony Weightman: It seems that Gershwin's 'Summertime', which merges jazz with other southern states styles, has actually been recorded 25,000 times and covered 33,000 times. Presumably this was yet another quite demanding cover for you, where you attempted to imprint your own personality whilst keeping the essential spiritual folk feel.
Jem Sharples: Very much so. I don't think there are a huge number of white artists that have recorded it. I don't think that there's been a white classical male group that's recorded it. So, I think we're already in a unique environment. Honouring the song in a respectful way is done by acknowledging the melody and Gershwin's arrangement.
That's the key. It transcends its seen genre. It's a multi faceted, multi coloured and layered song. It's always a song I've loved.
Anthony Weightman: In the past you've performed for events in stately homes.  This Sunday we're going to relive the jazz age of the twenties when Downton Abbey returns to our screens again. It's beaten all viewing figures in the USA and the Chinese are now watching it. Over 120 million viewers have now watched worldwide. How would you explain this phenomenal success?
Jem Sharples: I think people like tradition and are nostalgic for a sense of refinement. Downton Abbey has hit the nail on the head really, in many different respects. It could have been a period piece from another era. There's the feeling that everything is slightly  repressed but underlying  the social airs and graces there's still real emotion and modern contemporary issues that people will always respond to.
Anthony Weightman: When I walked into the New Theatre, Oxford this morning it bought back memories of  Dione Warwick's live tribute to Count Basie the day he passed away. Are there music places which bring back fond memories because they're special to you in some way?
Jem Sharples: It was my ambition to sing somewhere like the Albert Hall. To achieve being somewhere like that is wonderful. I wouldn't say the places themselves are necessarily nostalgic. Whenever I smell a theatre I think of Channel No.5 and see people sitting and being very quiet. It makes me very nostalgic. Seeing a piano on a stage I still get that childhood excitement. Wow! What an amazing place. When you're on a run of shows, you can certainly find yourself daydreaming and you have to check that. We're lucky in that what we do is diverse. You can be in a theatre one moment and a wedding the next. A party in the south of France possibly. We travel and do different things and that keeps us excited and motivated.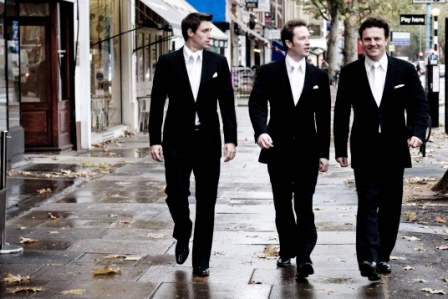 Anthony Weightman: Some artists consider a permanent move to the USA. Do you feel that is something that you'd ever find desirable or essential?
Jem Sharples: Scott was originally from Chicago. We're off to the States in January again. Whenever we meet an American audience they're fabulous and very supportive. They do all the right things and more and know how to give a compliment. They're super enthusiastic. In London there's a lot of competition and so much choice. There's quite a bit of cynicism in the English psyche towards many things. We're not in a situation where we have to run away, but America has a fabulous attitude towards celebrating people who work hard.
Anthony Weightman: Has there ever been one particular piece of advice that stands out as being the most important ever given to you as a musician?
Jem Sharples: I've always been very lucky with my family and friends around me. I've never encountered negativity to what I do. This possibly made me too romantic about the industry. It took me a little while to wake up to the fact that working hard and thinking I was good weren't necessarily the requirements for guaranteed success. It also required an element of who to talk to, how to network and learning things that, to a young artist, don't seem to be important. A baptism of fire. Having to run the group as a business. So, most important is set up your own group and just do it. From that point onwards it's looked after all of us. We're all married with big families. We've been able to balance a wonderful career with our private lives. We've been very lucky. The one singular piece of advice is to go alone. Don't wait for the phone to ring.
Anthony Weightman: Is there any musician you'd like to perform with that you haven't performed  with so far?
Jem Sharples: We supported Sting on his world tour at Billingsgate. We ended up by doing an arrangement of one of his songs. It was exciting to be with him and talk and it would have been nice to have carried on and done more. Hopefully, in the future, that may happen. He's a wonderful wordsmith and musician and transcends his genre. He's in a world of his own. He's a pop artist, but some of his solo albums are undefinable. You have to push on with your own unique sound.
Anthony Weightman: Many talented musicians have been connected historically in some way to your home town of Kingston, Surrey, often through the art college. Eric Clapton, blues. Sandy Denny, folk. Jimmy Page, progressive rock. Jeff Beck once said there must be something in the water. So, that's my final question. Is there something in the water? 
Jem Sharples: Oddly enough, I moved to Kingston from Hastings when I married. Perhaps there is something in the water. It's always fun to look and see who's lived in these areas. A lot of people move in because it's convenient for the airports. I don't think Eric Clapton played the guitar till he was fourteen. If there's something in the water it would be nice if, in twenty years time, people will say that Jem Sharples once drunk it! But, we're enjoying the journey and that's the most important thing.
Author: Anthony Weightman
Tenors Unlimited are currently touring the UK. You can still catch them at the Lyceum Theatre in Crewe (6th October) and Number 8 Arts Centre, Pershore, in Worcestershire (19th October)…