AAA Music Approved: Sky Larkin
aaamusic | On 30, Sep 2013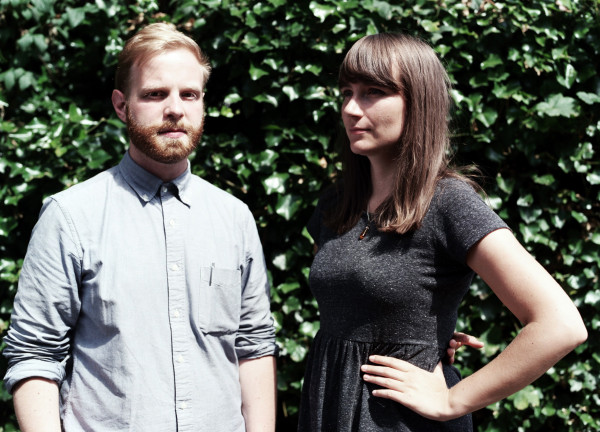 AAAmusic: Who are you and where are you from?
Hello, my name is Nestor and I play the drums in a band called Sky Larkin who hail from the north of England. We first started playing music as Sky Larkin whilst Katie was studying in London. I'd get the train down during reading weeks and make good use of the drum kit inexplicably deep in the bowels of Katie's halls of residence, whilst she ventured forth with her guitar and her voice.
AAAmusic: What inspired you to get into music?
My dad has always been into reggae, dub, electronica and bass culture in general, so I was probably exposed to more than my fair share of sub-bass frequencies and riddims whilst still in the womb, which might explain my current vocation… Anyway, I don't know if we ever really think about genre or influences, at least not directly. I think we are a product of everything we see and hear, taking it all in and processing it before sending it back out again. It just so happens that a lot of what we see and hear is American guitar music and particularly that of the Pacific North West.
AAAmusic: What have you done?
We've released two albums to date, with our third less than a week away at the time I write this! Obviously I love all our albums the same, but this new one feels special in that we've been away just long enough for everything to feel new and slightly mystical again, I think the break we took has had an immense effect not just on the writing process of the record, but on the way we see, hear and play it. Also, that people haven't completely forgotten us after almost two years away floors me every time.
AAAmusic: What are you like live?
I don't really know as I've never had the opportunity to watch us, but I can safely say that it's pretty loud and honest, but hopefully memorable above all.
AAAmusic: What makes you different?
My ears are a funny shape, they don't curl over at the top and are kind of flat instead. Is that different enough? I think it's down to the fact that we don't consciously worry about how we sound or who we might sound like. We just write our songs as best we can and are constantly blown away that people like listening to them as much as we like writing and playing them.
AAAmusic: Physical vs Downloading vs Streaming…How do you listen to music?
The more I think about this the more I see digital and physical music as two completely different, and therefore incomparable, formats. I've recently resurrected my old record player and have since realised there is an immense difference between walking around with my headphones plugged into my mp3 player all day or fretting over which playlist or track perfectly captures the mood I'm in that very moment and selecting a record, putting it on the deck and just letting it run through. To me digital access to music is a great way to explore and discover new artists, but the endless digging can often leave me drained and dilutes my impression of whatever it was I was searching for, whereas that dusty old record or that scuffed CD gives you the opportunity to hear something new within music that is already a part of your life and bestows on you the patience to completely absorb everything it has to say before then moving on to something new. I think the instantaneous access to music that digitisation brings is incredibly powerful and it's exciting to be around to watch it grow and develop in potential but I also think the simple elegance and tangible aethestic of the physical format reminds me to just appreciate the music that is at the core of this whole debate. Essentially, I feel like it's two kinds of delivery, with both having virtues and limitations that I adore them for.
AAAmusic: What have you been listening to?
An album called CALIFORNIA X by a band called CALIFORNIA X.
AAAmusic: What are your aspirations for the future?
Well, our third album Motto is out in the world now and we're out in the world the very next day to play it for you too! See you soon.
Questions answered by: Nestor (drums) of Sky Larkin…
Sky Larkin's new album – Motto – is out now…