A CHAT WITH: TIGRAN HAMASYAN
aaamusic | On 06, Jan 2014
Tigran Hamasyan is an Armenian contemporary jazz pianist who has won worldwide recognition for his inventive use of Armenian folk traditions and, more recently, classical and electronic elements. Having recently released his latest album, the progressive Shadow Theater, Tigran joins AAAmusic Editor Clive Rozario to talk about his career thus far…
AAAmusic: Hi Tigran. Could you tell us a little about your upbringing and how you got involved with music?
Tigran Hamasyan: I was born in Gyumri, Armenia in '87. When I was one-year-old our town was almost completely devastated by the crazy earthquake of 1988. During the same time, the Soviet Union collapsed and a war had started with Azerbaijan. It was apocalyptic times. We didn't have any electricity for a few years, there was famine, there were no trees left in Gyumri after a couple of winters…
In 1992 my sister was born. During the next four years, whenever we would have electricity for two hours, she would start crying because she was so used to candle light. We stayed in Gyumri until 1996 after which we moved to Yerevan. There was a lot of music in the houses where I grew up. My Father is huge rock fan, my uncle was a huge jazz fan and my grandparents had this huge collection of classical music that I was exposed to as well. I loved listening to bands like Black Sabbath, Led Zeppelin, Queen, etc and rocking on my string-less toy guitar while listening to this music. At the same time I loved listening to Herbie Hancock's '70s stuff: Like Man-Child, Thrust and Head Hunters…This is when I was between three and nine years of age.
When I was 11 years old, I had my first Jazz teacher who taught me how to play jazz (bebop). His name is Vahagn Hayrapetyan. After a year of studying with him I was really into bebop. I was transcribing, writing tunes and sometimes playing all the time. Since that I have been self-taught as far as my "modern music" studies went. I did study classical music for 10 years but I knew I would never become a classical musician. It was always secondary to what I really wanted to do – which was improvised music.
AAAmusic: I read you dreamt of playing in a thrash metal band as a child?
Tigran Hamasyan: I really liked the guitar and rock music in general.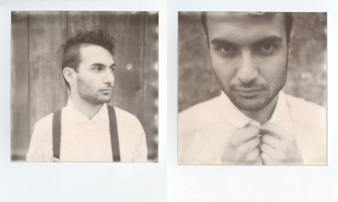 AAAmusic: Your music is noted as being "strongly influenced by the Armenian folk tradition". Can you describe some of the characteristics of this tradition, and explain how you utilise them in your own music?
Tigran Hamasyan: It's really hard to explain specific characteristics of any culture; you have to witness it to really understand it. There are many different "styles" or genres of Armenian folk music. There are lullabies, work songs, wedding songs, instrumental wedding dances, epic/story telling songs, lamentations, harvest songs, ceremonial songs, festival songs, etc. Basically, back in the day our lives were accompanied by music and the music that we created was inherited and developed over thousands of years. A lot of the daily work/actions were accompanied by music.
My music contains all these genres.
AAAmusic: You recently released a new album – Shadow Theater – which we loved here at AAA. Can you tell us some of the inspirations and themes behind this album?
Tigran Hamasyan: The album (review here…) was inspired by the Armenian traditional Shadow Theatre and also has a philosophical meaning. The idea is that people pay money and go see a theatre piece that is, so to speak, "fake" / "unreal". I mean it's just shadows but they go there because from the "unreal" thing they want to understand the truth about themselves or the world.
AAAmusic: The use of vocals on the album is very distinctive. What do you enjoy about collaborating with vocalists?
Tigran Hamasyan: Voice is the most natural way of creating music to me so I love working with vocalists. Sometimes I treat the vocals as another instrument and sometimes I use it as lead "pop" vocals.
AAAmusic: You're signed to the prestigious Verve records. What did it mean to you to get signed by arguably the greatest ever Jazz label?
Tigran Hamasyan: It feels like it's the end of their existence.
AAAmusic: You're currently touring, including a show last year at The Barbican as part of the London Jazz Festival (review here…). How do these shows differ from past tours, aside from the inclusion of new music?
Tigran Hamasyan: I have a new band now. Even though we are mostly playing the music from the new album except for a few newer compositions, the sound is a little different. Instead of Ben Wendel it's Charles Altura on guitars and a new drummer named Arthur Hnatek. This line-up has a big sort of rock  band/electronica band sound instead of an acoustic jazz group sound.
AAAmusic: Can you recommend some new piano-led jazz artists that our readers might not have heard of?
Tigran Hamasyan: Nik Bartsch. Christian Wallumrod. Dawn of Midi (check out our interview with Dawn of Midi here…).
AAAmusic: Lastly, I caught the end of your collaborative set with electronic music producer-DJs LV at Worldwide Festival last summer. How and why did that collaboration come to fruition? Have you got any plans to work with LV again in the future?
Tigran Hamasyan: I love electronica music so it's very natural for me to want to collaborate with electronica artists. I met LV at the BBC studio and we recorded a few songs together and we liked the result of the collaboration so we are going to continue working together.
AAAmusic: Perhaps you guys could bring that Worldwide show to London?
Tigran Hamasyan: We were supposed to do the Worldwide [Awards] show in January but it got cancelled.
Check out our review of Tigran's album Shadow Theater here…
Author: Clive Paris Rozario