Cashmere Cat & Evian Christ – Live @ Village Underground
aaamusic | On 05, Oct 2013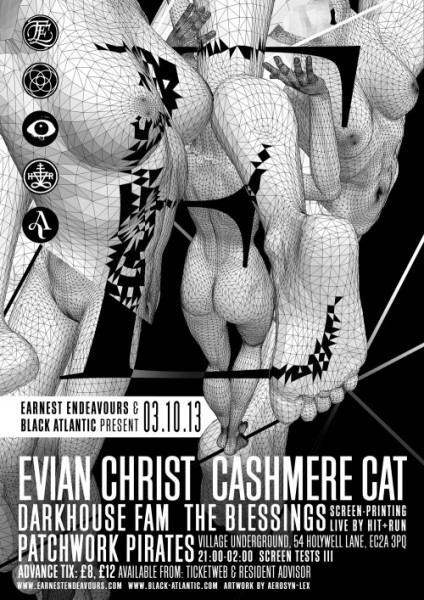 Thursday 4th October, London
Earnest Endeavours and Black Atlantic are onto a good thing with their series of music + film events. First of all, their choice of venue – the Village Underground – is London's premier space for combining bass-heavy electronic music and visuals, thanks to a sound system that favours low frequency tones and a lofty stage with an expansive, near-cinema sized screen. Second of all, and most importantly, they manage to secure those special DJ-producers who seem to like to remain strangers to London – their first event this year featured Nosaj Thing, Mono/Poly and Free The Robots, and their second featured The Gaslamp Killer and Rustie (okay, so Rustie isn't exactly a recluse). Tonight, however, they've managed to pin down Norway's Cashmere Cat for one his first ever London shows, plus Evian Christ, the UK producer from Northern England who, despite his breakout this year, has yet to become a regular in this fair City.
Although people are only just starting to trickle into the venue, one half of The Blessings (the LuckyMe co-founders) attempts to kick-start the night with some bass-heavy trap, mixing in tracks by many of his LuckyMe associates, such as Rustie, plus the odd excursion into dubstep and mainstream rap. It's pretty brash but decent enough, and his inclusion on this bill is more than fitting seeing as LuckyMe were and are an integral part to this whole, booming glitch-hop and trap scene, having helped bring us HudMo (another LuckyMe co-founder), Lunice, and HudMo + Luncie's TNGHT.
Interspersed between the acts this evening are intervals of short film screenings, a regular feature of these Earnest Endeavours events. Props are due to those in charge of both the curation of the mini, art-house cinema shorts and the visuals that back the DJs; perhaps the best and most hypnotic visuals of any EE event, especially during Evian Christ's next set.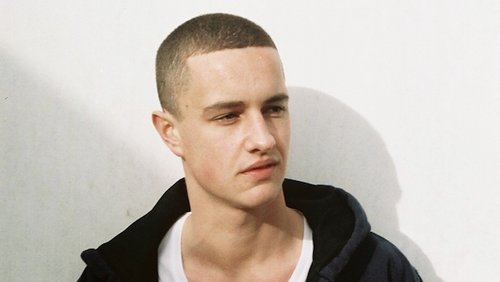 Evian Christ's brilliant mixtape 2012 Kings and Them, which fused dark rap and instrumental RnB and was released via Tri Angle, garnered him substantial interest, but it was his seemingly random production credit on Kanye West's latest album Yeezus that has prompted his sudden notoriety. His set tonight is more along the lines of megastar hip hop such as ol' Kanye rather than the witch-hop infused stylings of his mixtape. Christ focuses on recent, trap-leaning rap tracks such as Drake's 'Own It', Big Sean's '10 2 10' and Jay Z's 'F**k With Me You Know I Got It (Feat. Rick Ross)', occasionally meandering into segments of layered but industrial techno. These excursions, which are always short-lived, certainly make the set more interesting, but are a little confusing, and result it a kind of erratic, musical atmosphere. Perhaps that's the point though, to unsettle the listener, something he might've learnt from Kanye during the Yeezus sessions. Or perhaps this is something of a new direction that the producer wants to pursue, and this is his way of easing us into it.
Either way, it's great to see Evian Christ in the flesh after yonks of listening to his bedroom-sounding mixtape. Extra-refreshing is the fact that he DOESN'T perform using an Apple Macbook; it's surprisingly unnerving and noticeable not to have a glowing apple beaming from the decks, so much so I actually had to walk right up to stage to check the bulb wasn't just out (FYI: Christ uses a Samsung laptop). Of course, the highlight of his set comes when he unleashes a version of the Yeezus track he co-produced, 'I'm In It'. Can't wait to see where he goes from here (and I look forward to seeing him tonight at the Barbican, supporting Jaar).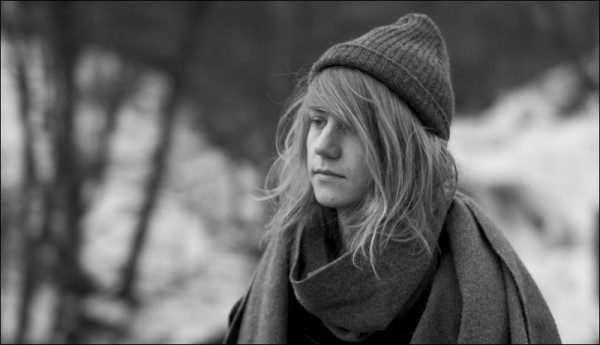 Cashmere Cat (aka Magnus August Høiberg) will, I'm sure, become much more of a regular performer in London after tonight; after witnessing how much of a devoted fanbase he has over here. The sweet, scrawny and effeminate feline is on impressive form, using both his laptop  (an Apple mac, of course) and decks (he was a DMC finalist after all) to produce a gratifying mixture of instrumental RnB (in the vein of Holy Other and oOoOO), dream-pop, trap and IDM beats. He effortlessly mixes his own tracks (such as opener 'Kiss Kiss' and 'Mirror Maru') with other beats and samples, sometimes taking a track away on a tangent before unexpectedly circling back to it. This technique allows for a deeply layered and intelligent sound, with Cashmere constantly referencing past samples and glitches.
In addition to his tracks (which includes what I think is a newish track called 'Pearls'), Cashmere Cat offers up some trappy hip hop, such as his remixes of Miguel's 'Do You…' and 2 Chainz's 'No Lie (feat. Drake)'. Plus there are plenty of minimal melodic moments, which are both pensive and exquisite.
Flashing a cute, bashful smile, Cashmere Cat drops Kanye West's 'Bound 2' (also from Yeezus), blows out a little candle that had been alight next to his laptop through the set (how romantic), and slinks off back to whatever safe, dark place he emerged from. One of my favourite producer-performers of 2013, for sure. The next Eastern Endeavours x Black Atlantic night can't come soon enough…
Clive Paris Rozario