Nicolas Jaar & Evian Christ – Live @ The Barbican
aaamusic | On 09, Oct 2013
Saturday 5th October, London
Since his breakout in 2011, Nicolas Jaar has very quickly managed to transcend the dance scene that many had initially shackled him down in (due to, in part, his early singles), and now resides in that elusive, genre-bending 'art-noise' space; the kind of place usually reserved for crossover experimentalists who've had to work hard, for many years, to push through the constraints of their initial subgenres to find wider acceptance (think Thom Yorke, Amon Tobin, Jon Hopkins, Flying Lotus…). Tonight's sold-out event at the Barbican with The Joshua Light Show, part of the Transcender series, highlights the considerable reach of his music; the crowd is a mixture of trendy millennials, smart-suited professionals, middle aged couples, and even the odd old rocker. The fact that the elegance of The Barbican Centre feels a natural location for Jaar and his minimal post-electronica music speaks volumes. Not bad for a 23-year-old.
First on this evening, however, is Evian Christ. Having seen Christ on Thursday at the Village Underground, I was unsure how he was going to fit in tonight; the 24-year-old UK producer (and his career) has thus far moved in different circles to the more sophisticated, contemporary art crowds that, in many ways, make the collaboration or Nicolas Jaar, The Joshua Light Show and The Barbican perfectly logical. Since his 2012 mixtape of murky witch-house and experimental hip hop, Kings And Them, Christ has risen from bedroom producer to club-rap wunderkind, fast-tracked by none other than Kanye West, who seemingly picked him at random to co-produce his Yeezus track 'I'm In It'. His laptop set at the Village Underground (read our review here), though offering interludes of complexity, was heavily devoted to the contemporary, trap-heavy hip hop of artist such as Jay Z, Big Sean and Drake.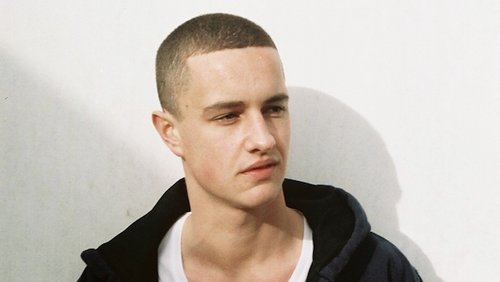 Tonight, however, Evian Christ is an entirely different artist, one who has very little in common with what I've just described. This show, which exceeds all expectations, marks Christ out as one of the UK's most promising performers of electronic music. Tonight, he makes that leap from DJ-producer to live artist. Shunning conventional song structures altogether, let alone the hip hop he's made his name with, the first segment of Christ's set is beat-less. Instead of accessible, Laptop-produced electronic music, he creates haunting soundscapes live using a variety of equipment. It's much slower and darker than his own productions, taking the contemporary RnB aesthetic that was hidden amongst his mixtape cuts and adding melancholic synths and brooding basslines. As the music begins to take some shape it starts to resemble a more introspective Koreless, who also shuns 'beats', or a less sinister Actress, and when Christ allows the synth-lines more prominence, the quiet euphoria borders on electronic post-rock, not unlike Darkstar.
About a third into the set, Christ starts incorporating heavier bass elements, which quickly descend into slow, aggressive industrial music; robotic noises clash with sluggish bass to form menacing dubstep in the vein of Amon Tobin's more recent productions (such as his Two Fingers material). Only now, about two thirds of the way through, does the Evian Christ of the Village Underground start to show signs of movement, but the elements of hip hop he ushers in are distorted beyond full recognition (I think he offers up his own track 'F**k It None Of Ya'll Don't Rap' from his mixtape, but I can't be sure). Towards the end the pace is ramped up somewhat, with flourishes of the kind of hectic, mechanised drum'n'bass that Squarepusher now concerns himself with. EC tweeted before the show: "pretty sure im gonna be the first person to hit 160bpm whilst playing at the barbican." I think he was right.
Despite the various sounds that Christ pursues, this performance feels like one complete work, especially taken into consideration the hypnotic visuals courtesy of The Joshua Light Show; the movement from the initial ambience through to crushing bass music, experimental hip hop and, finally, erratic IDM is fluid. The evolution of the music never feels forced or pretentious; the same can be said of this unexpected evolution of Evian Christ himself.
The applause that greets Nicolas Jaar when he takes to the stage is fervent. Unlike past live performances where he has had other musicians accompanying him, tonight he stands solo, surrounded by various instruments and electronic equipment, including a grand piano to his left (which, regrettably, he barely uses tonight). Jaar's live performances are less about his recorded compositions and more about creating vast, emotive audio landscapes; for him, it's all about the build-up to a recognisable synth-line, beat or vocal, and some of these building intros can be extended to a point that is near frustrating, though they never actually frustrate.
To start with, Jaar's music comes across more like the soundtrack to an art installation, (especially when a lone female singer quietly cries the occasional 'Ma' before wandering off) with distant creaks and swishes finally progressing to a minimal, snare-less techno beat. He slowly and meticulously adds subtle layer upon later – whether that be a piano chord, synth line or glitchy sound effect – until, almost without realising, you're caught in the middle of a melodic techno song. Jaar, from time to time, rewards the audience, who patiently flow along with the stripped back segments, with a euphoric bridge or a 'mini' drop, but more often than not these accessible moments are short-lived.
The visuals by The Joshua Light Show, by this point, have progressed from simple, 60s paint patterns to something deeply compelling. Flashes of light, distorted shapes and futuristic scenery perfectly capture the movements in the music; subtle when the music is minimal, aggressive when the beats are more substantial. The inventive use of the space on the gigantic screen that backs the whole stage behind Jaar possibly makes for the most immersive visuals I have ever witnessed. Considering The JLS have been performing AV shows since the 60s (past collaborators included Jimi Hendrix and The Grateful Dead), it shouldn't be as much of a surprise to me as it is.
The most engaging parts of the performance naturally arise when Nicolas Jaar utilises his impressive vocal range. Tonight he mostly keeps his falsetto at bay, instead focusing on his distinctive baritone voice. His voice sounds particularly fine on main set highlight 'Too Many Kids Finding Rain In The Dust' from his 2011 album Space Is Only Noise; the bluesy melody is extra welcoming after the long, semi-sinister build-up.
Two thirds into the show and Jaar brings out his friend and collaborator Dave Harrington; the guitarist and Jaar together make up Darkside, who are releasing a new album two days after this show. Harrington's meandering guitar – lines of which he often loops – adds extra psychedelica to the music, as well as a kind of brooding, post-blues rock edge. They run through a warped version of (what I think is) Jaar's biggest "hit" to date, 'Space Is Only Noise If You Can See', made all the more powerful due to the rock edge of the guitar. Thrilling, intelligent, progressive, and unique; Nicolas Jaar is all these things and more.
Words: Clive Paris Rozario
Photos: Marc Sethi