AAA Music Approved: Submotion Orchestra
aaamusic | On 11, Nov 2013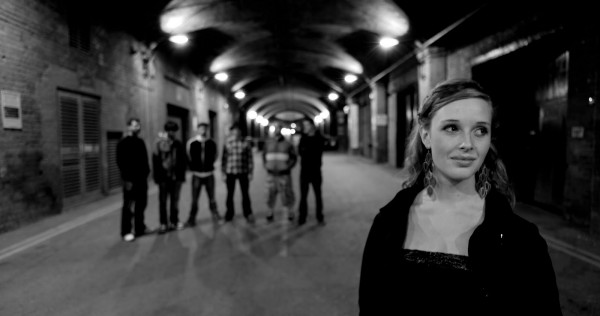 AAAmusic: Who are you and where are you from?
Submotion Orchestra started in Leeds about four years ago as a completely improvised project that aimed to bring together bass driven dance music and jazz. Dom Ruckspin and I had worked together previously on a writing commission that gave us the initial ideas that formed the base of the Submo sound, and it went from there. We handpicked the cream of the Leeds musicians to join the band and they didn't disappoint!
AAAmusic: What inspired you to get into music?
We are all huge music lovers and I think most of us always knew we be musicians – mainly because of complete lack of any sort of academic skill (with the exception of our keyboard player Taz who has a degree in English I think, though his grammar on the emails is atrocious). Most of us studied Jazz at the Leeds College of Music so this gave us a pretty solid technical foundation as musicians/composers.
AAAmusic: What have you done?
We have released two albums that we are very proud of. Our second album Fragments (2011) reached number one in the iTunes electronic chart and stayed there for two weeks.  We have toured constantly in the UK and Europe since the bands conception and have sold out our last two UK tours, including London's famous KOKO venue. We are out on tour again in November and have a new EP coming out for the tour entitled 1968 that we are very excited about!
AAAmusic: What are you like live?
A reviewer recently said that "you don't go to see or listen to Submotion Orchestra, you go to experience them", and I think that pretty much sums it up. The live show is an all-encompassing bass driven experience that aims to completely immerse the audience with sound.
We walk the line between acoustic and electronic music – taking the bass and dancefloor sensibility of dub, then adding layers of jazz harmony, melody and rich, dense textures. The live show is a combination of highly composed and completely improvised sections. This means that no two shows are ever the same and every night we try and really challenge ourselves on stage and take as many risks as we can. This is what we love to do the most, and why we do what we do.
AAAmusic: What makes you different?
Largely we are in a genre dominated by people making exclusively electronic music – so most of our contemporaries are DJs or producers. This means that when people come to see us and there are 6 people on stage surrounded by a complete mess of drums, percussion, synths, pedals, horns, pianos etc they are quite taken back, and I think people find the whole experience quite powerful.
On record the sound we create is hard to define and therefore we slip between genres and boxes easily – something we are very proud of. The music is honest, and has integrity.
AAAmusic: Physical vs Downloading vs Streaming…How do you listen to music?
Obviously, in an ideal world everyone would buy vinyl, and that would be that! Spotify is a great tool to find out about music quickly and easily (and cheaply), but it shouldn't be confused with buying music, which it most certainly isn't. Personally, I use Spotify to find out about different acts (and it's great while you are travelling) but then if I am rinsing something on Spotify I always buy it on CD or Vinyl.
It's weird because the music scene in the UK has never been better – there are some unbelievable bands/acts/projects/DJ's/producers, making some of the most forward thinking, creative music for years, but the music industry is completely on its knees. Luckily people will always come to see live music and that's all we care about!
AAAmusic: What have you been listening to?
I'm gonna go quick fire on this: Mala In Cuba, Julia Holter, Sizzle, Dorian Concept, Volcano Choir, Gretchen Parlato, Kenny Wheeler, Sampha, M83, Take 6, Vince Mendoza, Billy Holiday, Joni Mitchell, Rhythm and Sound, Rachmaninov, Stile Antico.
That's a pretty varied selection of music that I'm currently checking out, but I think that typifies what Submotion is all about and reflects how diverse our influences are.
AAAmusic: What are your aspirations for the future?
We are releasing out new EP 1968 in November and touring after that in the UK and Europe. Next year, we will be releasing our third album (which we should probably start writing pretty soon!) and hopefully tour the US, Australia and Asia. Further then that we just want to keep growing as a band, enjoy the music that we play live and continue making music we love.
Questions answered by: Tommy Evans (MD and drummer) of Submotion Orchestra…
Submotion Orchestra tour the UK in November. Info and tickets for their London KOKO date here….