Tempo Clash – Live @ Autumn Street Studios
aaamusic | On 03, Feb 2014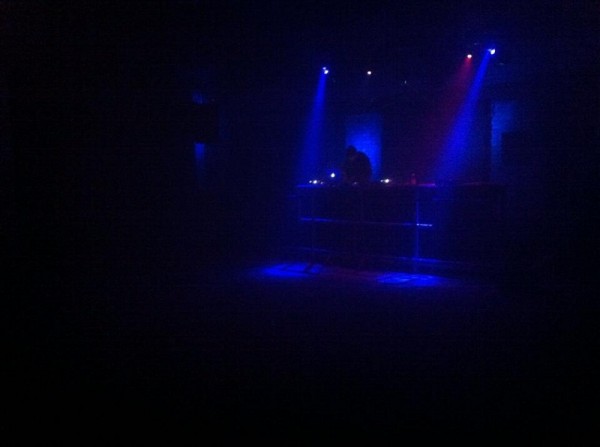 Friday 31st January, London
The eclectic Tempo Clash showcases were among the most interesting London beat nights from last year. Now with not one but two residencies (they will alternate between their old home of Corsica Studios and the newly adopted Autumn Street Studios), Tempo Clash should finally be able to progress from the underground's favourite secret to serious club scene player.
The first TC event of the year is housed at the new venue; one I had never before frequented. Autumn Street Studios, which is in the middle of NOWHERE, is well worth making the effort to find. It's a modestly sized, warehouse-type space hidden away at the end of Autumn Street in Hackney Wick. To get to the darkened club room you have to wander down a massive corridor with sparsely arranged sofas in cubby-holes, and through an entrance of plastic-strip-curtains, which makes for an odd but buzz-building, 'Stars In Your Eyes'-style entry. And the sound system ain't too shabby either!
Tonight's lineup is sadly missing all the Tempo Clash regulars – such as kidkanevil and Kutmah – and although Blue Daisy is hosting, he doesn't take to the decks; just occasionally taking to the mic for some demonic MCing. However, in place of the TC residents, is a truly exciting line-up of innovative big-hitters – each one bringing additional bass elements tonight to complement their individual experimental tones, creating something of a consistency link between the various styles of electronic music sounded out tonight.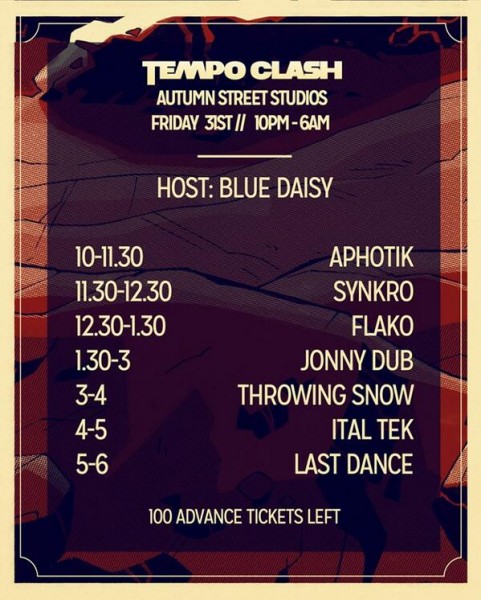 First up is Akkord man Synkro, who we only catch the end of due to a considerable underestimation re: travel time allowance in getting to the venue. Next up is, at least for myself, the main event of the evening: a live set from fLako. The last time I saw this Chilean-born DJ-producer-singer-instrumentalist was on the expansive Brixton Academy stage supporting Bonobo at the end of last year, and while his one-man live set was great, the details were lost to the vacuous venue and early slot. This is not the case tonight; instead, the brooding, vocal-led, post-everything music sits perfectly in this small, dark room. Initially, the attendees seem a little confused at fLako's seductive, pulsating, post-dubstep noodlings – having been ready to rave. But seduced they are; comprehensively so. Musically, it's along the lines of Raffertie's album – but with a welcome lightness, especially in the delicate vocals. Stunning stuff.
From here until the very early hours, it's a real mixture of electronic music; all bases are covered, from house and techno to instrumental hip hop and witch-house, all laced together with significant amounts of BASS. The ever-dependable Throwing Snow's live set is a predictable standout – his sets seem to contain this progressive intelligence – however both Johnny Dub, bringing the dark, hip hop rave after the chilled fLako, and Ital Tek, unleashing some futuristic sounds, are on solid form. Easily the best night of electronic music 2014 has had to offer.
For next month's show, Tempo Clash return to their usual home and South London's best club space, Corsica Studios, for a show featuring Akkord. We'll be there. Will you?
Clive Paris Rozario