Dan Croll – Live @ The Scala
aaamusic | On 01, Apr 2014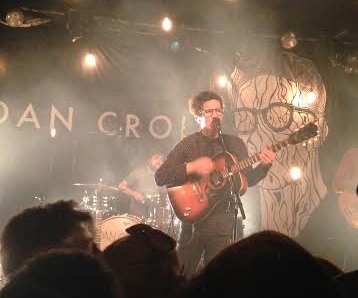 Wednesday 26th March, London
Jack Garratt is the first of two supports opening up for Mr Croll. Garratt channels a James Blake-esque set, his songs featuring deep bass and pounding beats that reverberates through your chest. His vocals are soulful with a distinctive heartwarming tone that is complimented by the electronic minimalism which morphs into bluesy guitar solos, as the multi-instrumentalist switches between his compact set-up including keyboard and a drum machine. 'I Wouldn't Want You Anyway' completely changes the atmosphere in the room, as the lights are further dimmed and it is just Garratt's voice and the keyboard. It's almost spellbinding as the audience hangs on to his every note, which is sung with such candour and yearning solidifying him in my mind as one to watch. We The Wild are next in line with their electronic infused rock. A new reform project courtesy of the front man's (Ant West) previous punk pop outfit Futures. Though at times some of their beat compositions are mildly fascinating the majority of their set is uninspiring and bland, as indicated by the various clusters of people talking which was not evident during Garratt's set.
The moment finally arrives for what everyone has been waiting for as the intermission music is faded out. Harmonising African choir music is played out the intro for 'Hello My Baby', as the band and Dan Croll finally place themselves on stage. Once the song is finished Croll takes the liberty of introducing his band mates – John (Bass, Vocals), Jacob (Keys, Vocals), Jethro (Guitar, Vocals) and David (Drums) – to the crowd and heads straight into 'Thinkin Aboutchu'. Played live, the upbeat nature of the song really shines through, his voice radiating such clarity against the back drop of the instrumentals whilst oozing pop goodness, this indie boy unashamedly does not shy away from. 'Wanna Know' is the slow jam of the show. The words are earnest and smoothly sung. There is a charming quality about the singer that makes him extremely watchable, his eyes closed as if he is feeling very note. This is further confirmed by the singer-songwriter's humorous stage talk informing as about his first ticket tout experience. As the show unravels it goes from strength to strength – 'Compliment Your Soul' is bewildering. It is big and grand featuring African style guitar rhythms which overwhelm, filling the venue with such positive energy and unadulterated content it would be difficult to watch this show in a bad mood. 'In/Out' is a demonstration of Dan Croll's ever-growing fan base as he holds out the mic to the audience who sing each word of the first verse without struggle. It feels like you are at a party as he bounds around on stage with his tambourine getting into the groove with his gang, which ends with a rapturous applause.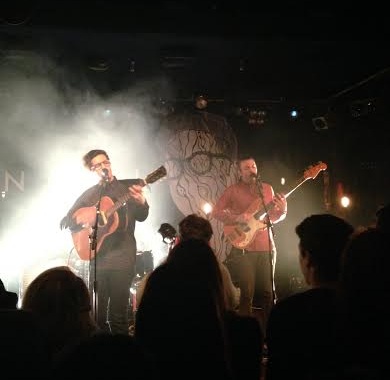 His band's connectivity and talents are emphasised during 'Maway'; in unison, they harmonise along to Dan's coy and sweetly sung vocals. During 'Must Be Leaving' the lights are perfectly synced to each drop in the song replicating Croll's profound sentiments with intent. Next in the set list is 'Only Ghost'. The sweetness and sincere disposition of his lyrics are exaggerated watching him perform, but it is so unfeigned and meaningful. 'Can You Hear Me' transpires a coolness and suave edge to Croll as he puts his guitar down and just takes the mic. The song bursts into a flurry of guitars, drums and strobe lighting and is one of tonight's heavier spectacles. 'Home' cements why Croll has won national songwriter awards and now has his own headline tour. While the focus may be on something that is so common in our everyday lives, the delicacy and intricacy of his written lyrics, "…it's the polyester fibres that wrap around my feet…", are dramatically showcased in this moment, as the 900 capacity crowd temporarily becomes his backup singers. The chaste and utter happiness of the song incites dancing and hollering. It's a strong basis to end the show on, as the stage clears and the crowd goes nuts demanding more.
Luckily for us Dan Croll has two more songs left in him. 'From Nowhere', his debut single, gets the crowd moving with its keyboard and synth-singed hooks. The last song of the night is the title track of his current LP 'Sweet Disarray', his vocals bathe The Scala with a delightful grace with harmony support from his band. The song leaks a truthfulness that you don't hear every day from just any artist usually in the realm of pop, which Dan Croll touches on. It's a quixotic closer to a fantastic show. I can't fault a single bit of his performance and it isn't hard to understand why Sir Paul McCartney is already a fan.
Lois Browne