ARCHITECTS – Lost Together // Lost Forever
aaamusic | On 17, Apr 2014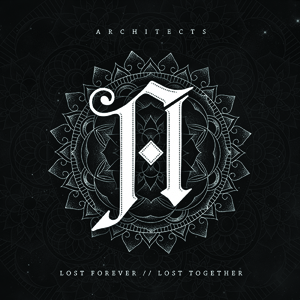 I was excited when I got asked to review this album, as I'd already been listening to it for a few weeks, ever since they released a full stream on YouTube. I'd also pre-ordered a signed copy (I'm a bit of a fan). I knew how amazing this album was. And now I'm going to try to convey this to you with words. Wish me luck…
Lost Together // Lost Forever is a powerful and mature album, both lyrically and musically. The lyrics in particular are a stand-out point of maturity, with topics such as politics, religion and the poor state of our planet being covered throughout. Architects strong views are made very clear but they make you stop and think. This album is inspiring. More artists should discuss important and current issues in their songs rather than singing about partying, as seems to be the current trend.
Architects have taken the winning formula of popular releases from the last album, such as These Colours Don't Run and Devil's Island and multiplied it across the whole of Lost Together // Lost Forever. They have found their sound: the newer strings and soft-synth elements combined with the familiar low-tuned guitar riffs that the band are known for, topped off with the ever-progressing vocal talents of Sam Carter.
Leading singles 'Broken Cross'  and 'Naysayer' were the perfect two to show the world as a precursor to the full album. 'Naysayer' is the aggressive aural assault that long-time fans can connect with, featuring newer elements and 'Broken Cross' bears more recent traits that Architects are known for, like the synths and strings. As mentioned, Carter's vocals are a highlight throughout the record, we get to hear a full range of screaming, singing and shouting; a combination of the previous three album's vocal styles. Aggressive and visceral, right through to heartfelt and passionate. It really is impressive.
Instrumental track 'Red Hypergiant'  features ethereal synth/strings and spacey sounding effects, which emphasise the title. We hear the voice of influential astronomer Carl Sagan for a second time (first on 'The Devil is Near') claiming that "…We are one planet" really driving home Architects point about the way humans treat Mother Earth and her inhabitants. Subtly technical drum patterns underline the reverbed guitar chords and lead pattern. Youth is Wasted on the Young' opens with one of the best riffs I've heard in a while and also features guest vocals from Murray Macleod of The Xcerts. This is also the track that inspired the album title.
I need to talk about the guitar riffs on this album. Insanely heavy, beautifully melodic, sometimes together, sometimes separately, consistently brilliant. They sound massive, too. Low—tuned and clear, bouncy and powerful. Henrik Udd is to be applauded. The technicality of the melodic lead patterns is not to be overlooked either, a welcome contrast to the heavy rhythmic riffs. This is something that Architects excel at.
This is something for Architects to be proud of. It is their best work yet and they know it. Their honesty, sincerity and passion has been captured in the recordings forever and that puts this album ahead of 99% of other metal albums. Watch the video for 'Naysayer' below…
Jake Parker