Soundcrash Presents HIDDEN ORCHESTRA Live…
aaamusic | On 07, May 2014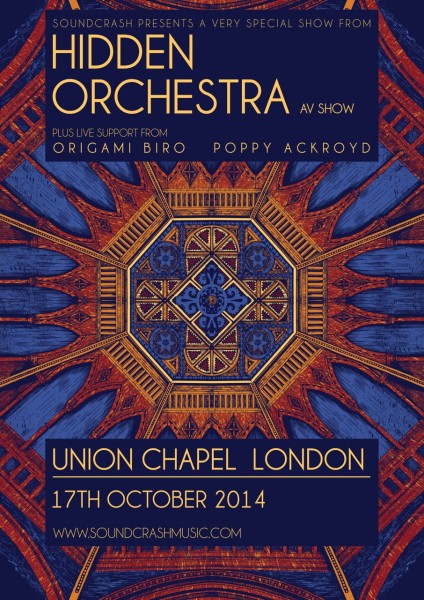 Soundcrash presents a very special show from….
HIDDEN ORCHESTRA
(Live AV set)
Plus Support from
ORIGAMIBIRO & POPPY ACKROYD
LIVE at The Union Chapel, 17th October 2014.
Soundcrash present Hidden Orchestra playing a very special, exclusive and unique, site specific live A/V show. This stunning collection of musicians, which will include some very special guest players on the night, are they perfect soundtrack to an evening in one of London's most bespoke venues, Union Chapel.
Hidden Orchestra replace drum machines and studio-produced beats for natural, live instrumental sounds that create a simple and extremely enjoyable listening experience that is translated seamlessly from headphone to stage. It is by no surprise then that their past releases and shows have gathered much support from musical broadcasters including BBC R6, BBC Scotland, Gilles Peterson (BBC R1) and radio shows in France and Prague.
The live shows feature a core quartet of Joe Acheson on bass and electronics, with Poppy Ackroyd on piano and violin, and Tim Lane and Jamie Graham on two full live drum kits. Regular live guests include Phil Cardwell (trumpet) and a spectacular live audiovisual show by Lumen.
Nottingham based Origamibiro are a multi-practice audiovisual artist collective which includes composer and producer Tom Hill, Video Artist The Joy Box and Musician Andy Tytherleigh. Imagine music and video playing a game together. And telling stories at the same time. That's what it's like to experience a live performance by audio-visual collective Origamibiro. The collaborative trio merge found objects, unorthodox contraptions, multi instrumentalism and persistence of vision to create an atmosphere both nostalgic and otherworldly.
Poppy Ackroyd is a performer and composer from London who is currently based in Edinburgh. Classically trained on violin and piano, she fell in love with contemporary piano music and with the piano beyond the keys, discovering the world of sound that could be made from other parts of the instrument. Realising the violin had the same potential, she has spent the last few years composing delicate, intricate and beautifully atmospheric music by manipulating and multi-tracking sounds from these two instruments.
Union Chapel was formed as a charity in 1991, devoted to restoring and running the building and making its facilities available to a diverse group of people. It has become an award winning music venue, regarded as one of the best places in London to experience live music. It offers a naturally chilled-out environment, fusing it's atmospheric high gothic surroundings with your favorite artists. Most recently Union Chapel was voted by Time Out London readers London's No.1 Live Music Venue.
With a new remixes EP on the way, we can't wait to see what this exceptional group have in store!
Times: 7pm – 11pm
Ticket Prices: £15.50, £19.50
Available From: www.soundcrashmusic.com