Hidden Orchestra – Live @ Union Chapel
aaamusic | On 21, Oct 2014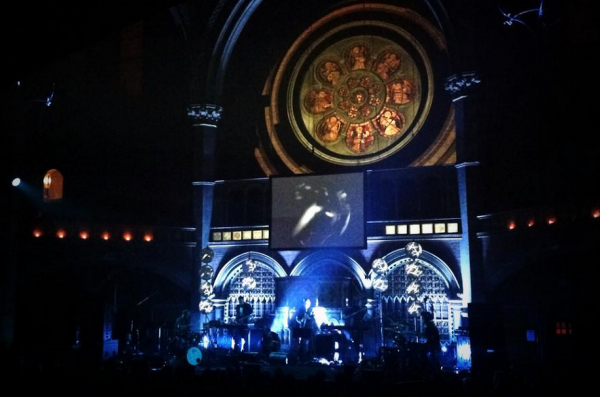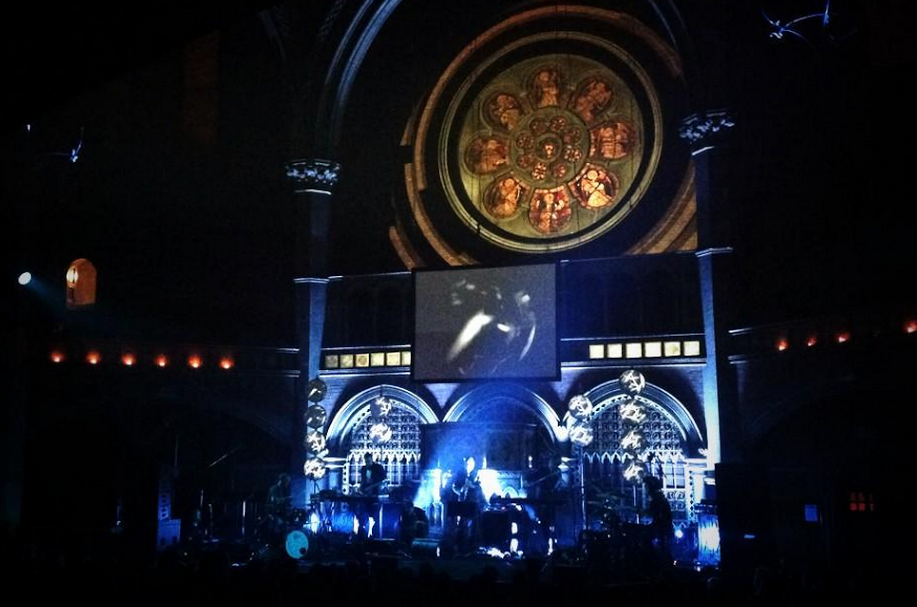 Friday 17th October, London
This felt very special. Hidden Orchestra were always going to deliver a great live show – they are one of the most consistent avant-garde live acts in the UK, after all – but no one, not a superfan like myself, nor the band members themselves, could've predicted the otherworldly power that this particular performance would evoke. A major factor was the venue: the unparalleled beauty of Islington's Union Chapel was the perfect setting for the magnificence of Hidden Orchestra's symphonic trip-hop and Lumen's hypnotic visuals.
The mastermind behind the Hidden Orchestra project is one Joe Acheson, who alone creates and produces the recorded music. The live incarnation of H.O., however, is a fully fleshed out band, which features a core of Acheson on bass and electronics, Poppy Ackroyd on keys and violin (now a solo artist in her own right), and drummers Tim Lane and Jamie Graham, who take up the flanks with full kits. Tonight, they were not only joined by regular trumpet player Phil Cardwell, but also the Czech Republic's Tomáš Dvořák – aka producer-composer Floex – on clarinet, who flew over especially for this concert.
The acoustics were unsurprisingly fantastic, with the programmed hip hop beats and glitches sounding seriously robust, while Poppy's keys and violin sounded all the more dramatic rushing up and around the vast, ornate chapel hall. The live drummers complemented each other rather than competed, each one focusing on a different drum or cymbal, but when they did rock out they locked eyes and pummelled their kits with serious, united precision.
Hidden Orchestra's music almost feels custom-built for a venue like this, with the drama-filled classical elements sounding much more at home in a striking religious setting like this rather than standard dingy London clubs (such as the Scala, where I last saw them perform). These orchestral moments tend to simmer alongside meandering trip hop beats and post-electronica bleeps and squelches, and then grow in intensity as the songs progress, eventually building to post-rock, string-heavy crescendos.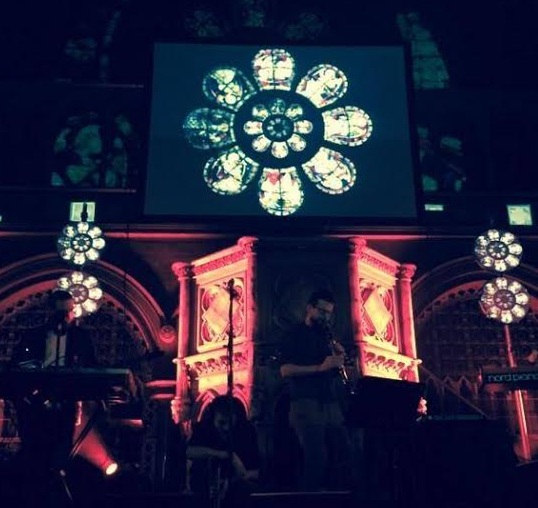 Songs like 'Disquiet' rippled with menacing post-dubstep electronics, while 'Hushed' –featuring Floex's sublime clarinet – explored the kind of brooding, contemporary electronic jazz that Portico Quartet (or Portico, as they are now known) made their name with. Highlight 'Seven Hunters', propelled by Cardwell's trumpet, took the Union Chapel on a spiritual jazz journey, with a heady atmosphere conjured up through rolling drums and oriental intricacies, all bolstered by soaring melancholic strings. Hidden Orchestra finished off with live favourite 'Antiphon', a track that truly captures everything that this project represents: contemporary jazz and classical music subtly twisted with pulsating Massive Attack basslines and snare-heavy drumming, all building to a dramatic climax of dense sounds crashing into each other.
The AV show designed and controlled live by Lumen deserves a special mention. Their usual setup is impressive enough, with horizontal pillars of white disks and a large overhung screen projected with interesting, modernist images which mutate in time with the music. However, Lumen also made incredibly intelligent use of the chapel's architecture, with a mind-melting lightshow projected against the pillars, the decorative wall tiling, and, most impressively, the huge, circular stained glass window above the altar, which forms the centrepiece of the whole venue. Lights and images flickered and moved across the chapel interior, creating an odd, arresting feeling that the building was coming alive, slowly responding to Hidden Orchestra's transcendental sounds.
This sellout concert was one of the best gigs I've been to all year and surely the band's career-highlight; a greatly deserved career-highlight that has been long overdue. This felt very, very special indeed.
Clive Paris Rozario