TOWNS – Get By
aaamusic | On 25, May 2014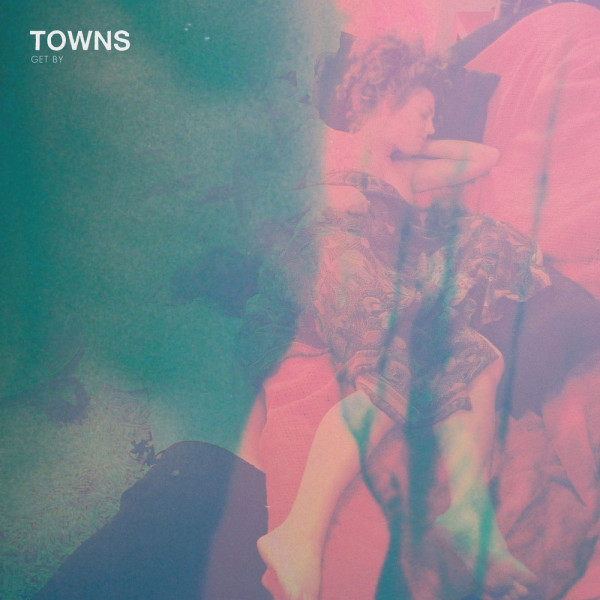 Bristol is a volcanic plateau for the eclectic and diverse, spilling over with gnarled and hungry talent in the fields of hip hop, dance and indie. Combined with the convection of DIY labels, the tantalising essence of competition pumps through the channels of the scene, often casting deposits of the mediocre in it's wake. Weston-super-Mare's TOWNS are an exception in that they don't pursue the competition in the form of over-zealous and experimental projects but thrive on what works and are sustained by it. Similar to the way, in it's infancy, the New York hip hop scene sparked an onslaught of young talent and, more pertinently, the UK suburbs were drenched in a battalion of mop-heads during Britpop's siege on culture back in the '90s – 24 years later, TOWNS are at the forefront of a still shifting landscape, stiff jawed and stately.
But maybe they're a band trapped in time? The adjectives that encase the impressions of TOWNS so far in tend to orbit the concept of a 'revival' band. I would argue that this style of noise rock never drifted out of consciousness and therefore needs no 'reviving' but for the sake of semantics, no band recently have ever tapped the vein so close. Reminiscent moments of Primal Scream, The Jesus and Mary Chain and My Bloody Valentine cascade from every note, it begs the question of whether TOWNS have purposefully cited their favourite bands as a tribute or are so involved with their own taste that it resulted in fogged vision?
Though I suspect the former since they have had time to formulate an approach, three years in fact. After pioneering the gauntlet of two-faced managers stealing investments and watching deals fade into the ether, their weathered and rumbled sound is rooted in justified foundations and their tracks are a testament to the experience. Take the clattering pop melodies on 'Marbles'; with sharp direction and respiting swell, TOWNS avoid the stacked noise and boggy snare that so many pseudo-shoegaze bands fall victim to. That's not to say that the quartet are role-models of balance, they often suffer from an undertow of malaise partially due to the tonal deficit in the guitars, though this is more apparent when TOWNS occasionally possess their unrequited and noncommittal punk personalities.
'Gone Are The Days' is a throwback affirming Britpop track at heart. Modelled by the mundane, the shambolic distortion, uplifting motility in conjunction with whirring guitars sounds so close to what The Brian Jonestown Massacre set out to accomplish with their homage to British rock, Take It From the Man!, whereas 'Too Tired' sees what a conduction of ambivalence and lethargy does to the band with, apparently, unfettered amounts of energy. The results embody necromantic surges and the feeling of foggy heads of crisp mornings.
TOWNS are in the process of conceiving the next generation of life affirming rock. Twenty years from now their concerts will be populated by us, today's youth, feverish and rowdy with lager-gloves and a withered sense of dignity venturing out of the catacombs of our 9-5 to feel alive again, that was the skeletal power of Britpop and the philosophy of the bands TOWNS draw their sound from – like Oasis before the hypocritical gentrification became their sole ideal.
No fillers, murmurs or feedback sonatas, Get By is a razor-sharp debut from a band the clearly know to play to their strengths while keeping 'cover band' jibes at a poles distance. Having endured a turbulent take-off, TOWNS found their feet grounded in raw morals with diligence and gravitas without a taste for indulgence, and it's not as if they didn't have time to develop one.
Will Butler