Oval Space Music Chapter 3 Announced…
aaamusic | On 05, Jun 2014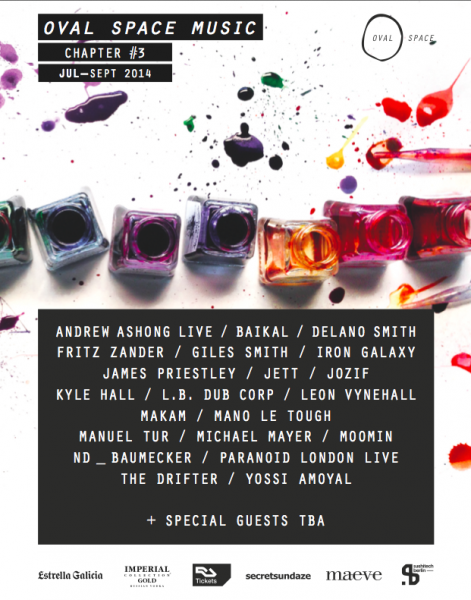 Oval Space Music // Chapter 3
July – September 2014
Oval Space is pleased to announce Chapter 3 of its flagship live and club shows, Oval Space Music. With the summer season in full swing, Chapter 3 promises a mixture of day/night events, making good use of both the main space and the terrace which is fast becoming one of the capital's most loved outdoor party spots. Few other venues can offer a setting quite like it – an intimate and secluded terrace with the dramatic, industrial gas works as a backdrop.
As with Chapters 1 and 2, Oval Space Music will be hosting another roll call of electronic music's finest labels for some very special label showcases. Kicking off proceedings on 5th July with an extended 8am curfew are the Maeve Records crew with a headline set from none other than powerhouse DJ, producer and Kompakt co-owner Michael Mayer. One of the most prolific and well respected electronic artists to come from Germany over the last two decades, Mayer will be joined by fellow Berlin-based Maeve label bosses Mano Le Toughand The Drifter and Maeve regular Baikal. 
Also confirmed for later on in the season is a Sushitech Records showcase featuring two Detroit visionaries; Delano Smith and a fellow Motor City special headliner to be announced in July. Trouw resident Makam completes the line up alongside Sushitech Records founder Yossi Amoyal, who has been at the helm of Berlin-based deep house and techno label since its inception in 2005.
Partnering with OSM not once but twice this summer are original East London collective and pioneers of the Sunday day partysecretsundaze. Following a sell-out May bank holiday show with Steffi and previous shows with Nick Höppner and Motor City Drum Ensemble, the next party on 27th July sees L.B. Dub Corp aka Luke Slater play alongside original Detroit wunderkind Kyle Hall and live outfit Paranoid London. Completing the line up are of course secretsundaze founders and residents James Priestley and Giles Smith.
Oval Space's own Sunday daytime party Terrace Sundae will see the likes of Panorama Bar resident nd_baumecker, Smallville regularMoomin and Manuel Tur perform throughout the season, with Tur confirmed to play a now rare DJ set after announcing himself as a live-only artist last year.  Live performances will come from the soulful Andrew Ashong and more TBA.
On 23rd August, Oval Space Music will be bringing out the big guns for a Bank Holiday All Day / All Night special featuring an all-star line up of house music's finest. Stay tuned to find out which three headliners will be joining the likes of Aus Music star Leon Vynehall, Oval Space's own resident jozif, Montreal's Iron Galaxy and Southern Fried Records' Jett for this 17 hour marathon session.
05/07/2014
22:00 – 08:00
Oval Space Music X Maeve Records
Michael Mayer
Mano Le Tough
Baikal
The Drifter
Fritz Zander
27/07/2014
14:00 – 22:30
Oval Space Music X secretsundaze present secretsundaze
http://bit.ly/OSMxsecretsundazeOS
Kyle Hall
L.B. Dub Corp
Paranoid London Live
Giles Smith
James Priestley
03/08/2014
14:00 – 21:00
Oval Space Music: Terrace Sundae
http://bit.ly/OSMxTerraceSundae
Andrew Ashong Live
Manuel Tur
Special Guest TBA
23/08/2014
14:00 – 06:00
Oval Space Music: All Day / All Night
http://bit.ly/AllDayAllNIghtDNT
3x Special Guests TBA
Leon Vynehall
jozif
Iron Galaxy
Jett
31/08/2014
14:00 – 21:00
Oval Space Music: Terrace Sundae
http://bit.ly/OSMxTerraceSundae2
nd_baumecker
Moomin
Special Guest TBA
06/09/2014
22:00 – 06:00
Oval Space Music X Sushitech Records
Special Guest TBA
Delano Smith
Makam
Yossi Amoyal
12/09/2014
22:00 – 06:00
Oval Space Music Chapter 3 Finale
TBA
14/09/2014
14:00 – 21:00
Oval Space Music: Terrace Sundae Finale
http://bit.ly/OSMTerraceSundaeFinaleOS
Secret Special Guest
jozif
Fritz Zander
28/09/2014
22:00 – 06:00
Oval Space Music X secretsundaze present secretsundaze
Special guests TBA
Giles Smith
James Priestley 
All tickets for sale on:
http://www.residentadvisor.net/club.aspx?id=60356