Mr Scruff All-Dayer – Live @ The Roundhouse
aaamusic | On 05, Jun 2014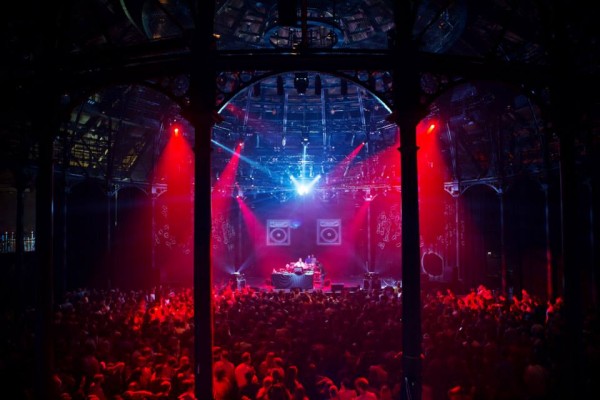 Saturday 30th May, London
Ninja Tune stalwart Mr Scruff is back with his first new studio album in six years, and in celebration of its release he has put together a personally-curated lineup of experimental music for an all-day takeover of Camden's Roundhouse. The new record has surprised many – side-lining the cartoonish samples, as well as the latin and jazz noodlings, Friendly Bacteria is a darker, heavier mash-up of more contemporary instrumental hip hop and electronica. It's also probably his most consistent album to date.
The Roundhouse couldn't be more perfect for an all-dayer: there's multiple rooms for DJs, on top of the spacious main room; there's a little Mr Scruff tea shop pop-up; and, best of all, there's the massive sun-kissed terrace, laden with ping pong tables, a craft ale bar and hearty grub vendor. But it's the music people are here for, and there's plenty of it. Perhaps reflecting the mature vibe of his new record, Scruff has handpicked a mixture of leftfield jazz, soul and electronica acts, some of which are current or past collaborators. Regrettably, the main live band of the day – Portico Quartet – had to pull out last minute (this morning!) due to a band member being involved in a road accident (he's going to be ok!). As the only act scheduled today capable of headlining the Roundhouse other than Scruff, it's a massive blow, but the show must go on… and, as the rest of the lineup duly prove, the day was always going to be resounding success.
Quantic
Recently announced as the event's 'special guest', Tru Thoughts mainstay Will Holland, aka the one and only Quantic, takes over the decks for a DJ set to approximately five people in the main room. Strange considering he's recently released a groovy, highly acclaimed new record and had just headlined KOKO as a fleshed out live band. To be fair, it's still early (4pm) and it's hard to pry folk away from the sunny Roundhouse terrace. Slowly but surely, the room starts to fill up, as Quantic delivers his usual mix of funky soul and bossa nova laced electronica. Quantic, as a DJ, and Mr Scruff have always had a lot in common: legends and champions of their respective labels, they were expertly incorporating world music and jazz into their strands of leftfield electronic music long before it became fashionable to do so. An eclectic set by a master of eclecticism.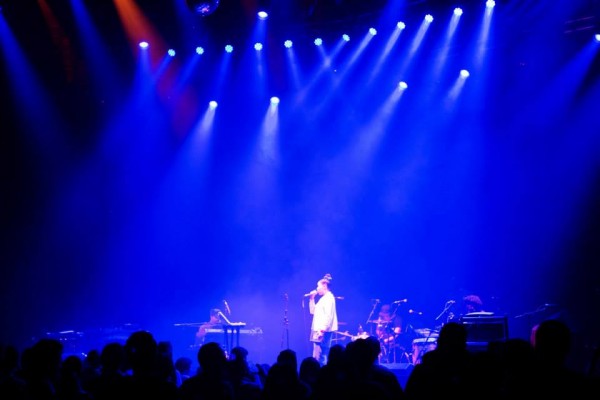 Fatima and the Eglo Live Band
Next onto the main stage is serial dance music collaborator, Fatima and her Eglo Live Band (named after her label, Alexander Nut's Eglo Records). The singer has appeared on tracks by Teebs, Ras G, and Scratcha DVA, plus label mates Funkineven and Floating Points, to name just a few, often appearing alongside Alexander Nut (who also does a set today) to provide some vocals to his DJ duties. But today she is here as an artist in her own right, having recently released an excellent retro soul album, entitled Yellow Memories; an album that rival Kelis' Ninja Tune record Food for the sultry soul soundtrack to this summer. Backed by an impressive full band, she kicks off with album opener 'Do Better', a warm, brass-laced tune. Fatima's voice and presence is one part oldschool Motown, one part classic hip hop and one part street MC – she effortlessly switches between downtempo lounge, jazzed-up soul (with the drummer and percussionist adding particular depth) and blissed-out urban electronica. A star in the making, for sure – she doesn't yet have the confidence to be centre stage, but a few more gigs like this and it'll come naturally.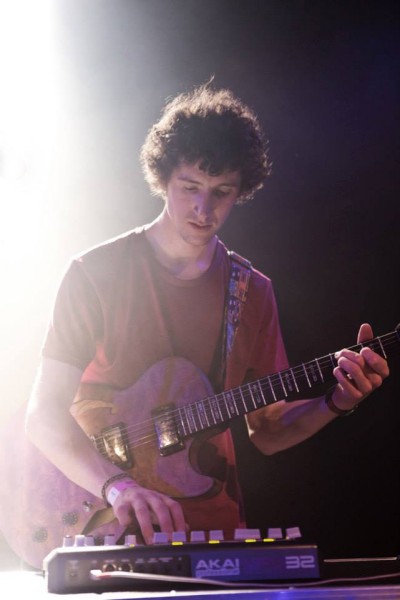 Werkha
Downstairs, people are cramming themselves into the modestly sized Studio Theatre, ready for the revelation that is Werkha live. The Tru Thoughts producer-musician from Manchester is relatively new to London's live circuit, but the heavy support from Gilles Peterson has obviously paid off – the room is one-in-one-out soon after he starts. The cherubic Tom A. Leah stands over his various electronic equipment donning a guitar and smashes out a set centred around his incredible Beacons EP. Glitchy, bass-driven house is elevated through live guitar loops (such as on the bouncy 'Moving With The Nuisance') and, when the compositions call for it, live cello (such as on 'Wishful Friction') and a classy female vocalist with a velvet-smooth voice, not a million miles away from Zara McFarlane. The sublime jazz-bar flourishes of 'Lapwing' is typical Gilles Peterson Worldwide fodder, but the highlight is 'Sidesteppin'', with the vocalist delivering the most infectious melody of 2014 and the rickety house production dropping in and out of the central, LA hip hop bassline. The best new live electronic music I've witnessed this year, hands down.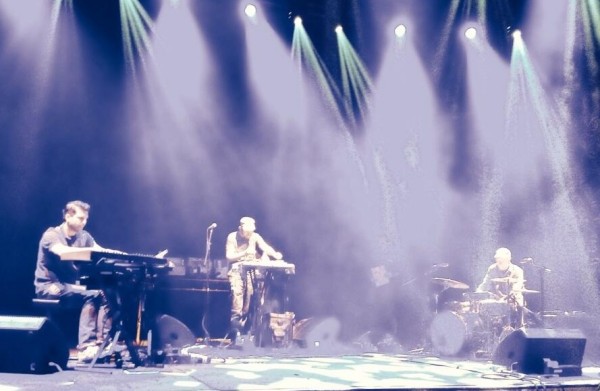 Matthew Halsall Trio
Back in the main room, Matthew Halsall (who provided trumpet to a couple of the new Scruff songs) attempts to fill the gaping Portico Quartet hole with his brand of electronic jazz – and fill it his does. Joined by collaborators Taz Modi (of Submotion Orchestra) on synths and drummer Matt Davies (of Paper Tiger) on drums, Matthew Halsall keeps the trumpet to a minimum while using production equipment to create live electronic sounds and loops. I had actually unexpectedly witnessed this project early in its conception at Jazz In The Round last year – before Halsall turned his attentions to his recent Gondwana Orchestra collaboration – and had been waiting ever since for a chance to catch it again. The new music displays its Portico influences right out in the open, though perhaps less avant-garde, but there are other components here, chief among them is the bass utilised in Modi's band Submotion Orchestra – here the bass also powers the compositions. The liquid drumming and ethereal trumpet lines carry the music away from the club-ready output of Submotion to a more ambient, almost otherworldly place; the slow sub bass, though dominate, does not overpower, but transfixes you into an agreeable trance. Very interesting stuff from the leading voice in contemporary spiritual jazz, and a more than worthy substitute for Portico Quartet.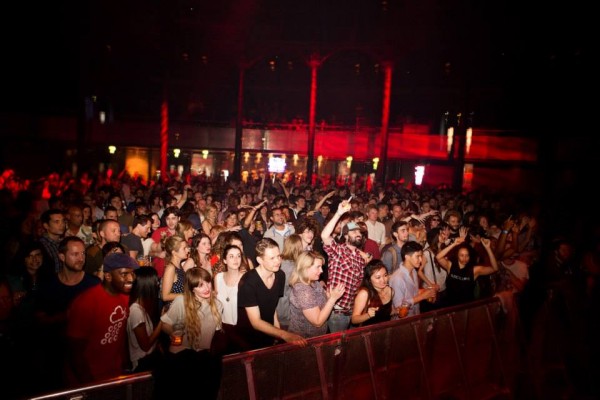 Mr Scruff
Finally, the legend that is Andy Carthy takes to the main stage for an unusually short DJ set – just three hours(!). Backed by huge visual screens that display some of his hand-drawn cartoons pulsating in time with the beats, and surrounded by lots of mixing equipment, Mr Scruff begins his headline set with the opening cut from Friendly Bacteria: 'Stereo Breath'. The song, a highlight of the album, features shuffling electro bass and the honeyed vocals of Denis Jones (sadly not singing with Scruff, despite having performed earlier in the day). It's a statement of intent: Scuff is on a mission to shake things up rather than deliver another safe, lounge-y hip hop set. The new record features a new sound, one of glitchy instrumental hip hop and electro, and tonight we get to hear a lot of this music. In a live environment, Friendly Bacteria makes more sense – the bass of these songs is extenuated, and the vocal melodies come alive. These productions demand more focused attention than a lot of the background electronica of his trademark sound, and this is felt in the audience. All eyes and ears are on him; Mr Scruff is a performer and not just a DJ soundtracking a club night.
That being said, this a Mr Scruff 'all day' party, so in between his newer, more serious productions, he mixes in older fan-favourites and records by others, pulling from all colours of his musical pallet – there is jazz-centric trip hop, jangly house and various world music snippets. Too often disregarded as a bit of a novelty, Andy Carthy is actually one hell of a DJ – his mixing is not only perfectly on point, but he often displays noticeable flourishes of innovation, and of course his selection talents are second to none. Towards the end of the three hours, things take a turn for the grimy, whereby Mr Scruff lays waste to increasingly lethargic audience with deep cuts of dirty bass. It's a heavy end to masterful set; it's a masterful end to a heavy day.
Words: Clive Paris Rozario
Photos: Fabrice Bourgelle a.k.a. Photography by Focus