Wilderness Festival Update…
aaamusic | On 11, Jun 2014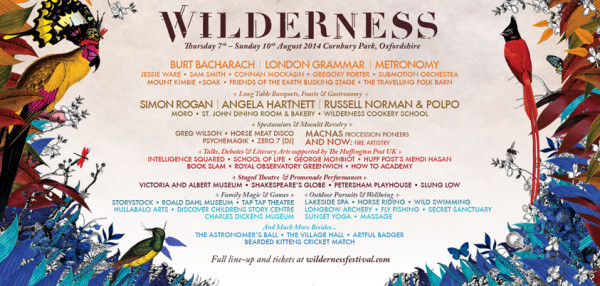 A Celebration shaped by Nature, a Landscape Transformed by the Arts
AUGUST 7 – 10TH 2014
CORNBURY PARK, OXFORDSHIRE
This year, Wilderness aims to once again pique festivalgoers' curiosity and enhance their hunger for knowledge with a dazzling range of events, activities and speakers that will invigorate the mind and enhance the senses, hosted by The Secret Forum, with support from The Huffington Post UK.
Intelligence Squared, the world's premier forum for debate and intelligent discussion, will be back to host a brilliant live event which is sure to capture the public imagination once again, with previous speakers including people such as Patti Smith, Jimmy Carter, Sean Penn, Stephen Fry and many more. This year, the topic for discussion is "Monogamy Equals Monotony", with best-selling author, journalist and broadcaster Helen Croydon for the motion, and journalist and broadcaster Andrew Pierce and Stephen Bayley, author of bestselling books such as "Woman as Design" and "Ugly: The Aesthetics of Everything" against. It is sure to be a breathtakingly quickfire, endlessly provocative discussion, so make sure you do not miss out.
Media partner for the festival, The Huffington Post, will offer a selection of talks as part of their HuffPost Conversation Starters series.  These include a talk by HuffPost UK political director, Mehdi Hasan, who will discuss how sections of the British press casually demonise one of the country's most marginalised communities and what steps should be taken to fix the situation. HuffPost will also deliver a blogging workshop with blogs editor, Jody Thompson; as well as a discussion between HuffPost UK Editor-in-Chief, Carla Buzasi, and award-winning journalist and author Lucy Mangan, on fourth wave feminism and what it really takes to activate change.
Bringing together the world's best journalists, photographers, filmmakers and thinkers since 2003, The Frontline Club was founded to honour those at the Frontline News Television agency who died pursuing their work. This year at Wilderness, the media club will bring together a panel of journalists who were present at the fall of the Berlin Wall on November 9th 1989 to memorialize the momentous event and reflect on its repercussions even in society today.
Internationally acclaimed artist, Sir Antony Gormley will cover culture in SundayPapers Live; a thrilling initiative, bringing the broadsheets to life, section by section, performance by performance, with poets, politicians, musicians, actors and writers covering travel, world news, style, gardening, sports, business, culture and more.
Renowned political and environmental activist, George Monbiot will feature in State of the Nation, an epic, interactive tag-team roundtable town hall which brings together some of our best creative and political minds to openly discuss realistic options for change with the public, joining him are Zoe Williams, David Babbs, Danni Pafford, Sarah Corbett and many more, hosted by Jolyon Rubinstein.
London's finest night of words and music, Book Slam, also returns with an all-star lineup consisting of Scottish literary icon Irvine Welsh, Chicago tough guy Bill Hillman, and Matt Rudd, the Sunday Times journalist behind "The English: A Field Guide", along with music from the ludicrously talented Fred Page and sparklingly wordplay from Talia Randall.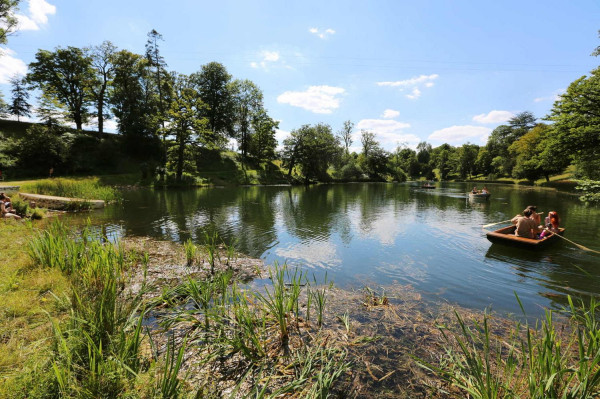 Already renowned for its impeccably curated lineups in arenas such as music, food, theatre, family and outdoor activities and more is Secret Forum. Spearheading an alliance of independent, like-minded producers, skyrocketing to dizzying heights since its inception in 2009, they launched the brilliant Sunday Papers Live in 2003, providing 823 artists and speakers for UK festivals, and producing 274 hours of content over 16 venues, among many other impressive achievements.
Rollcall of talent participating this year includes famed author and columnist Zoe Williams on UK news, Doug Richard, former Dragon and founder and CEO of School for Startups on Business, world-renowned fractal artist Gregory Sams on World News, sports writer and broadcaster David Goldblatt on sport, internationally celebrated Swedish explorer Mikael Strandberg on travel as well as Reeps One & Shlomo, two of the most powerful beatboxers in the globe today .
Elsewhere, Observer columnist and author Oliver Burkeman will be in conversation with Matthew Quick, whose novel "The Silver Linings Playbook" has been adapted into a hugely successful, Oscar-nominated movie and who has been listed as one of Time Magazine's 100 most influential people of 2013. Philosophy Slam returns as well with two of our best public philosophers – Mark Vernon and Robert Rowland Smith – unpacking audience suggestions against the clock.
The Lost Lectures will bring forth a series of enchanting talks which reimagine the whole lecture concept, assembling a wonderful cast of scientists, designers, entrepreneurs and more who will be giving talks in previously inaccessible and secret locations around glorious Cornbury Park.
Meanwhile, Radio Gaga comes to Wilderness, with three brand new radio plays penned by playwrights Steven Bloomer and Janey Lawson, which will be brought to vivid life with Alex Barclay and a superb company of the hottest acting talent around.  Always at the forefront of cool culture, and bringing massive ideas into intimate spaces, Salon London will be taking a lateral look at the concept of "New Beginnings" this year, with famed vocal coach Juliet Russell on hand to give your vocal cords and musical knowledge an incredible workout, ex-dominatrix and sex columnist Nichi Hodgson showing how sexual knowledge can be used to build charisma and establish a rapport with your partner, and Dr Michael Brooks explaining everything through the prism of quantum cosmology.
Delayed Gratification, the world's first magazine dedicated to Slow Journalism will also be there to brilliantly subvert the idea of current affairs, presenting a 70 minute romp through events which have rocked the last 500 years of the news media, while Chris Lintott & The Oxford Astrophysics Department will provide an unforgettable opportunity to peer into the far future and describe exactly how nigh the end actually is, Zoe Cormier, one of the Directors of Guerilla Science, will reinvent popular understanding of science onsite at the festival, and David Waltham, a Fellow of the Royal Astronomical Society, will tackle the grand question of whether life on Earth is, amazingly, a cosmic fluke.
Lastly, but most certainly not least, Secret Forum have also invited imprints, publishing houses and independent writers, salons and theatre companies to curate and host sessions in the Fiction Tent with some of the world's best readers, writers, potboilers and prevaricators, showcasing a fascinatingly wide range of fiction, workshops and performance, including Matthew Quick and Irvine Welsh, with sessions presented by Pan Macmillan, Conville & Walsh, Vintage, Bloomsbury, Granta and Unbound.  For the music and book lover alike, the aficionado of talks and theatre, the food connoisseur and the devourer of knowledge, there is truly something for everyone at Wilderness this year.
Wilderness is the proud winner of: Best New Festival 2011 – UK Festival Awards, Best Small Festival 2012 – Live Music Awards, Best Extra Activity 2013 – UK Festival Awards
Wilderness Festival
August 7 – 10th 2014
Cornbury Park,
Oxfordshire
Weekend Tickets: £143.50 +BF
Children aged 10: £5
All tickets available via: www.wildernessfestival.com