Merthyr Rock Returns To The Festival Calendar
aaamusic | On 31, Jul 2014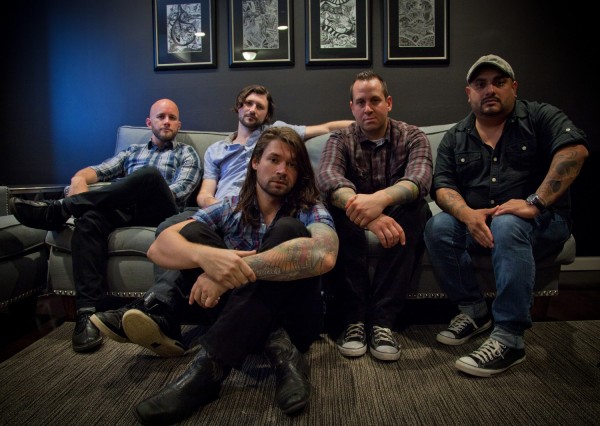 Following a 12 month hiatus, Merthyr Rock festival returns to the grounds of Cyfarthfa Castle, Merthyr Tydfil on Sunday 17th August 2014. CLICK HERE FOR TICKETS AND INFO…
Now operated by Wales' largest independent promoter Orchard Entertainment, who took over from previous operators Hay Festivals, the third edition of Merthyr Rock will take place on one day as the event looks to re-establish itself in the festival calendar following a break in 2013.
Orchard have announced the first batch of acts to perform at Merthyr Rock 2014, headlined by US band Taking Back Sunday, whose appearance at Merthyr is a UK Festival Exclusive in 2014. Their new video for 'Stood A Chance' is currently video of the week on Kerrang TV, the biggest Rock TV channel in the UK.
They'll be joined on the bill by two other American groups in Reel Big Fish, the ska-punk heroes from Huntington Beach, California, and Pennsylvanian punk rockers Anti Flag. Hometown heroes The Blackout return to the Merthyr Rock stage, having performed at the inaugural festival in 2011 and curated the second stage in 2012.
Further acts of the one day festival will be announced in the following months, as well as details of the various Fringe activities that will precede the main event.
Tickets for Merthyr Rock 2014 are priced at £25.00 Advance (+ Standard Booking Fee), and go on sale from Thursday 17th of April. They'll be available Online from www.merthyrrock.com, over the phone from Ticketline UK on 02920 230130 and in person from Spillers Records (Morgan Arcade, Cardiff).
Dave Driscoll of Orchard Entertainment
"This is our first year running the event and we feel that the quality of international acts which we've secured for Merthyr Rock shows our ambition for the event for 2014 and beyond. We want to see the festival grow in to something that the town of Merthyr can be proud of, something that becomes synonymous with the area, and a quality event which will attract rock fans from across the country to the South Wales valleys."
Merthyr Rock is generously supported by funding from the Major Events Unit of Welsh Government, Merthyr Tydfil County Borough Council and the Arts Council of Wales.
Cllr David Jones Cabinet member for Customer Services Technical at Merthyr Tydfil County Borough Council
"This is great news that Merthyr Rock is returning to the County Borough this year as part of the Culture Fest 2014 programme.  The Council is pleased to be working in partnership with promoters Orchard that will deliver an event that will involve and engage the community as well as attracting visitors from further afield.  Cyfarthfa Park is a fantastic setting for these types of events and it's a pleasure to be supporting something that will help make Merthyr Tydfil a place where people visit, enjoy and return."
Sean Smith, The Blackout
"We are very excited to announce that MERTHYR ROCK is BACK and with one of its best lines ups to date! It is mind blowing that we get chance to see this fantastic line up come to our hometown, let alone play on it! It's going to be an unbelievable day of music and entertainment for South Wales, not just Merthyr Tydfil! It's amazing to have an event of such magnitude happening on our doorstep.
Merthyr moshers unite! I'll see you in the pit."
About Merthyr Rock
Launched in 2011 with a line-up featuring The Blackout, Skindred, Funeral For A Friend and Young Guns amongst others, the 3 day event at Merthyr Tydfil's Cyfarthfa Castle was initially run by Hay Festivals, who would withdraw as promoters following the second edition of the festival in 2012, which featured Razorlight, Kids In Glass Houses, Deaf Havana, Lower Than Atlantis, Saves The Day, Don Broco and more.
Following Hay Festivals' withdrawal in 2012, the event was taken over by Cardiff based promoters Orchard Entertainment, but due to the short timescales involved, it was decided that Merthyr Rock would take a break in 2013, with the aim of returning stronger in 2014.
Merthyr Rock 2014: The Acts
Since forming in Long Island in 1999, the group have sold millions of albums, evolved from a scrappy punk act into seasoned songwriters and continued to forge a successful career. That spirit of resilience and innovation is dripping all over the band's sixth full-length 'Happiness Is'. The group's second album since reviving the classic line-up of vocalist Adam Lazzara, guitarist/vocalist John Nolan, guitarist Eddie Reyes, bassist Shaun Cooper and drummer Mark O'Connell, was written over a two year period with no involvement from a record label for the first time since their legendary 2002 debut 'Tell All Your Friends'.
Reel Big Fish was one of the legions of Southern California ska-punk bands to edge into the mainstream following the mid-'90s success of No Doubt and Sublime. Like most of their peers, the band was distinguished by their hyperkinetic stage shows, juvenile humour, ironic covers of new wave pop songs, and metallic shards of ska. The group cultivated an underground following that broke into the mainstream in summer 1997, when their single "Sell Out" became a modern rock radio and MTV favourite. Their appearance in the movie "Baseketball" as the halftime band also gained them more fans and helped the bands popularity to grow. Still fronted by original lead singer and song writer Aaron Barrett, they continue releasing albums and touring relentlessly, playing over 250 shows a year to thousands of loyal fans all over the world, gaining more and more underground popularity as the Ska scene continues to flourish.
Pittsburgh's Anti-Flag play a brand of punk rock as gritty as their hometown. After forming in 1994, these boys took the punk scene by storm with their debut release, 'Die For The Government'. With their intense live shows and punk-as-fuck records, Anti-Flag have not looked back. These Iron City rockers mesh '77 streetpunk with a heavy dose of socially conscious lyrics. Their message is vehemently anti-fascist, anti-war, and anti-nationalist. They call for participation from both sexes and unity in the punk scene.
Wind back to 2005 and Sean Smith, Gavin Butler, Matthew Davies, Rhys Lewis, Gareth Lawrence and James Davies were a bunch of mates from Merthyr Tydfil. "The band was a by-product of our friendship," remembers Butler. "We're all from the same town and have known each other since God-knows-when – my mother used to take me to nursery and I'd hang out with Sean as a baby." By the end of 2006 they'd toured the UK and released their debut EP 'The Blackout The Blackout The Blackout' on Fierce Panda (launchpad for, er, Coldplay among others); at the close of 2007 they'd torn up stages around the world, including dates in Japan, the US and storming sets at Leeds and Reading Festivals, and unleashed 'We Are The Dynamite', their debut full-length, on an unsuspecting world. They had also sold out the prestigious London Astoria while technically unsigned.
2008 brought with it 'The Best In Town', their dynamite second album recorded with Jason Perry in a Texan studio in the middle of the desert, which caught the ear of Epitaph Records owner Brett Gurewitz, who promptly signed the band. They toured relentlessly over the next year, consolidating their UK fanbase with a stint on the Kerrang! Relentless Energy Drink Tour and living out some old-school fantasies by touring with Limp Bizkit in mainland Europe; Sean even performed with the Bizkit at the personal request of Fred Durst on one occasion. They became regular fixtures on the UK and European festival scene, appeared on magazine covers and played bigger and bigger shows all around the world. And when the time came to work on their next record 'Start The Party', The Blackout bunkered down and got busy. Despite some textbook Blackout mishaps – drums were tracked by Philip Jenkins from Kids In Glass Houses and Tom Winch from Hexes after Gareth broke his shoulder trying to beat a cheetah in a race at Bristol Zoo (no, really) – they came out of the experience stronger than ever.
Tickets: £25.00 Adv (+SBF)
Tickets On Sale: Thursday 17th April @ 9AM
Online: www.merthyrrock.com
Ticketline UK Box Office: 02920 230130
In Person: Spillers Records, Morgan Arcade, Cardiff