Standon Calling 2014 – Live Review
aaamusic | On 08, Aug 2014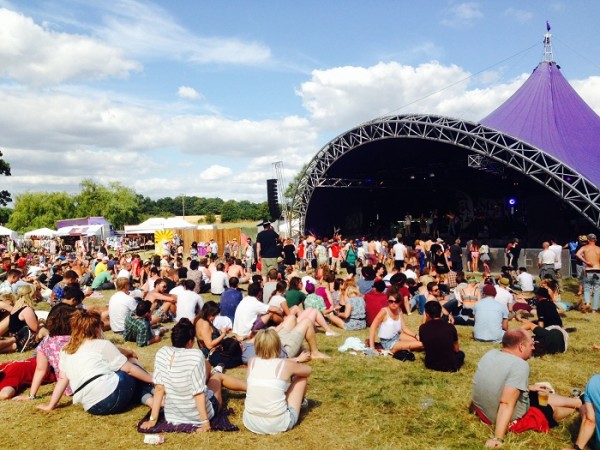 Friday 1st – Sunday 3rd August, Hertfordshire
Standon Calling is a small-scale family, boutique festival based only a short ride from London, in the beautiful Hertfordshire town of Standon.  It originally started as a private birthday barbeque in 2002 at the 16th century manor house, Standon Lordship.
The festival was as eclectic as it comes, with artists of every genre and activities for every age.  There was Mexican wrestling, a trapeze school, dog show, a carnival procession and a charming wooded area described to us as 'an immersive art installation' – I'm not sure I'd go that far but it was a pleasant touch to the site.  The camping facilities were better than any I've seen at any festival, with real (kind of) toilets, decent showers and even Full English breakfasts and proper coffee.
Standon Calling was a different experience for me; I hadn't been to such a family orientated festival before but I really enjoyed the vibe.  There were a lot of kids, but they didn't feel out of place.  It was a safe place, somewhere I'd be happy for my young'uns to run around on their own (not that I have any).
My weekend started off quite disastrously.  Friday trains really seem to hate me; so for the third week in a row I was left waiting at the station for a painfully delayed train.  I made it Paddington only to find every tube line down.  As such, I sadly missed the whole of Friday evening, including the headline act Frank Turner and The Sleeping Souls.  Performances from The Other Tribe, Charli XCX and Felix Da Housecat were hailed as the best shows of the day.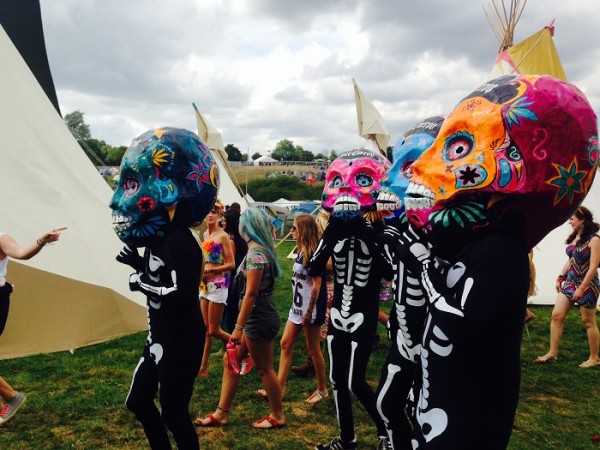 Luckily my Saturday turned out significantly more successful.  It began with a tender, harmony-filled performance of Amber Run's up-coming-release 'I Found'.  The five-piece band from Nottingham really captivated me.  Lead singer Joe Keogh has a dependable tone, with solid support from the rest of the band.  The lyrics were touching and simple, and required no unnecessary embellishments.  All in all, a fantastic kick-off to the weekend.
Next up were the fantastic Cuban Brothers. They put on a high-energy performance, with dancing, comedy and some lively funk and soul music.  Pure entertainment.  London-based Indie band, Eliza and The Bear followed on the main stage, whilst Norwegian six-piece band Team Me rocked out in the Big Top.
King Charles, who notably won the International Songwriting Competition in 2009 with a unanimous vote, displayed solid musicianship.  After a couple of years without releases it was interesting to hear some new material.  I think King Charles will be back on our radios pretty soon.
On a midday explore around the Standon site, we encountered the Groove Garden, where the combination of dance music and the swimming pool was slightly peculiar.  Obviously the swimming pool was full of children, and they seemed to be totally oblivious of the somewhat inebriated partiers behind them – so no harm done.  The pool was an individual addition to the festival and although I didn't get in myself, it was a good activity for the kids and gave a personal touch to the party.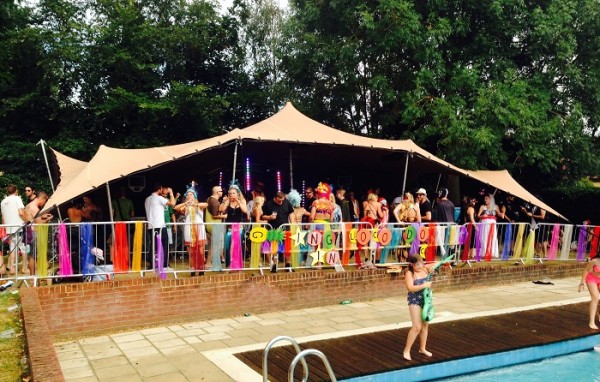 For me, Clean Bandit were the biggest draw of the festival. I'd been trying to find an opportunity to see them live since I heard 'A&E' in 2012, which was logically their opening song.  Whilst queuing for the posh gin and tonic (Fever-Tree's) my absolute favourite Clean Bandit tune 'Rihanna' came on.  The gin was worth it although I'm not sure the rest of the queue appreciated my singing! They took the festival from day to dark and thoroughly motivated the crowd.  They definitely didn't disappoint.  I felt the set was over a bit too quickly but as soon as I realised they hadn't played classic number one single 'Rather Be', I knew they'd be back for an encore.  Sure as anything, within seconds the band had the whole audience singing along.  The vibe was electrifying and really hyped the crowd for the headline act of the night, Public Enemy.
I do feel like Public Enemy were a little before my time, so I'm not sure I got as much out of the performance as I should have.  Their politically charged lyrics and powerful, hard-hitting style was certainly memorable.  Their classic hip hop record 'Fight The Power' was a crowd winner and sounded exemplary. Flavor Flav and Chuck D were top class, clearly seasoned performers, with tons of energy and at home on stage.
Saturday came to a close whilst we danced the night away to DJ Yoda in the Big Top, who fluidly blended the theme from hip hop to dance.  We also encountered a tiny stage called Topshed, which was literally a wall-less garden shed being hosted by London DJs Cat Lovers, who put on an all-night intimate house and techno set, which was great fun.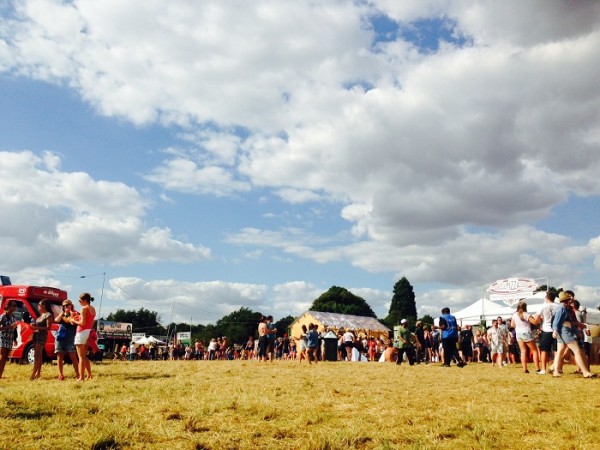 We arose on Sunday with the sun beaming down on the tent (thank the festi-gods).  We grabbed a sausage sandwich and a coffee from the breakfast area to refuel before the music kicked off.   The first act we saw was Imperial Leisure, an alternative ska band with a rapping and singing lead vocalist.  An impressive superman jump from the stage to the grass got the crowd on their feet. They presented the fastest moving set of all, with a fair share of the audience skanking.  If my breakfast had fully digested I would have been up there too.
Hackney Colliery Band showed off their impressive jazz skills, featuring fun covers of Adele and tracks of their own.  I have to say, I'm not usually one for covers but the jazz spin refreshed the well-known tracks and made the performance all-encompassing.  The audience weren't particularly lively, but as a jazz group, they were probably used to that vibe. Ibibio Sound Machine were not quite as understanding and it was obvious lead singer – Eno Williams – found the lack of dancers a little hard to swallow.  She tried really quite hard to engage the audience, but it was clear everyone was happy sitting down and enjoying the Sunday afternoon vibes.
The line up in the Big Top was pushed back several hours due to last minute cancellations from Ella Eyre and Fat White Family. I was actually gutted about Ella Eyre as her new song 'If I Go' would have been fantastic live.  I'm quite intrigued about Fat White Family too, but never mind.  The first band on in the Big Top was Brixton-based, four piece indie-soul band The Thirst. I was mesmerised.  They had so much soul and passion, and great interaction with each other and the audience.  I thought it was a shame their set time had been moved, because it confused things somewhat and the crowd was a little dwindled.  Their performance warranted a bigger audience but I fully endorse The Thirst; I really hope we start to see more of them.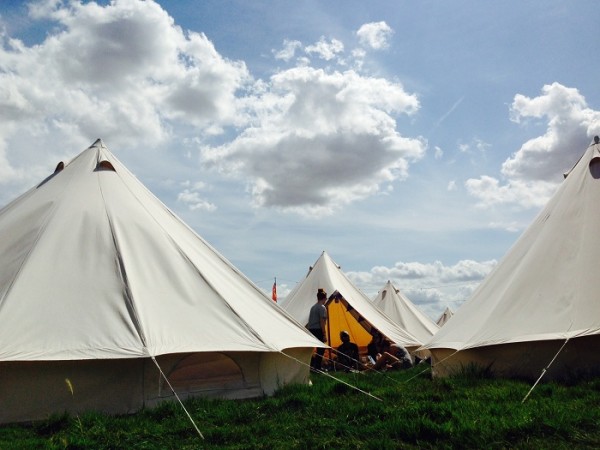 Flyte followed in the Big Top.  I've seen them perform before and this was just as good, if not better.  Again, the size of the audience was lacking but these four guys are seriously talented.  They premiered their brand new single (the name embarrassingly has slipped from my memory) – I'm really hoping it will break them in the UK scene, as they deserve some big-time recognition.  Their set ended with the delightful 'Faithless', a song I'm really hoping will get officially released at some stage in their expectantly fruitful career.
Sunday was concluded with a fantastic show by Maximo Park.  For a band who have consistently impressed with all five album releases charting in the top 15, it's no wonder they have an extensive collection of tracks, including 'National Health', which was on their 2012 album.  We may not have seen a great deal from these guys in the past few years, but the show was by no means stuck in the past; a great performance to summarise the weekend.
My only negatives were that it felt slightly on the quiet side (not sound wise, the sound systems were all spot on for the locations) but there seemed to be an absence of people.  The headline acts pulled big enough crowds, but throughout the daytime the stages lacked the buzz I've been used to at other festivals.  I enjoyed the range of ages, but I can't help feeling it forfeited the usual excitement and commotion.  The lack of available site plans and set times meant we actually missed a couple of things we'd intended to see.  The Cow Shed is one of the focuses of the festival and because we didn't have the chance to find our feet on the Friday night, we failed to locate the Cow Shed in all its glory on Saturday (I blame TFL and Cat Lovers for being so good).
Clean Bandit were one of the highlights of the festival for me, along with The Thirst and Amber Run.  I would definitely recommend Standon Calling, particularly if you have little'uns as it's some where you can enjoy high quality and diverse music yet feel safe and comfortable everywhere.
Review + Photos: Amy Pinnock