Brecon Jazz 2014 – Live Review: Highlights
aaamusic | On 22, Aug 2014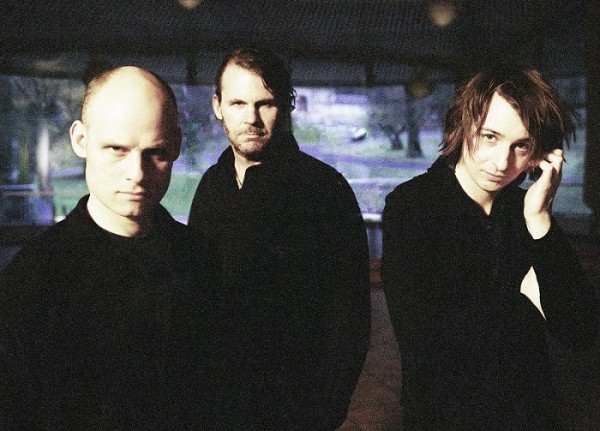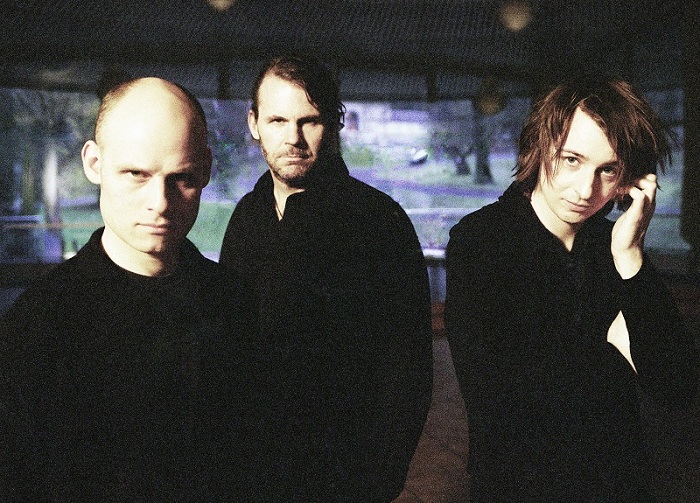 Thursday 7th August – Sunday 10th August, Wales
Friday
Michael Wollny Trio

Gifted pianist and composer Michael Wollny, from Frankfurt in Germany, is a highly regarded and critically acclaimed artist. He's influenced by musician Björk, film-maker David Lynch, and painter Charlotte McGowan-Griffin. With an unrestricted and unorthodox approach to jazz, he was named Most Promising International Newcomer Of The Year at Ronnie Scott's in London.
At this Brecon Cathedral performance he was joined by Christian Weber (bass) and Eric Schaefer (drums). Together they took familiar music from the past and changed  it to something more unexpected and idiosyncratic.
Michael played a personal and moving arrangement of Austrian composer Alban Berg's bleak 'Nacht', followed by the fast and energetic 'Phlegma Phighter' . He inventively refreshed the indie rock number 'Be Free, A Way' by Flaming Lips, whilst his classical taste returned with 'Rufe In Der Horchenden Nacht' by 20th Century German composer Paul Hindemith. An experimental 'Lasse!' by 14th Century composer Guillaume de Machaut was followed by Michael's own composition 'Engel', inspired by Gustav Mahler.
Michael treasures dark Gothic ideas from film, music, painting and literature and his musical mood rapidly changes from light to shade,  The result is jazz that's explosive, intelligent and invigorating, but fun. Michael may appear fast and fierce as a pianist, but there's also a fragility and delicacy to his touch.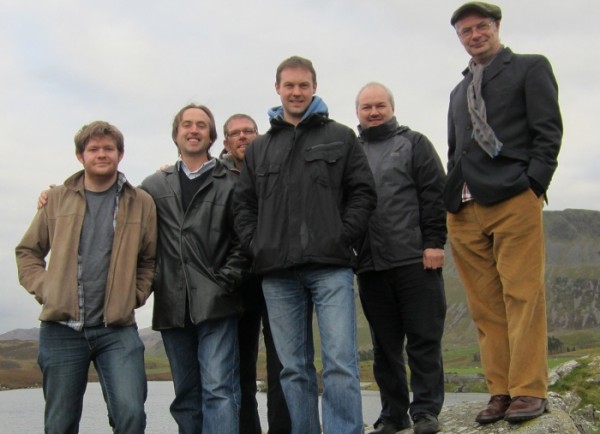 Saturday
Burum
Burum blends traditional Welsh folk songs with modern jazz, in its own innovative style. The band is timeless, creative and a little bit different.
Burum comprises Tomos Williams (trumpet), Daniel Williams (tenor sax), Ceri Rhys Matthews (pipes and flute), Dave Jones (piano), Mark O Connor (drums) and Chris O Connor (bass).
At this Christ College performance the traditional tune 'Lisa Lan' ('Fair Lisa') was impressive and infectious, with its warm tones, whilst 'Dyffryn Cletwr' was inventive and enjoyable and 'Priodas' was a fresh and original tune. The dynamic 'Pontypridd', stunningly dramatic and atmospheric, contrasted with the gentle and enchanting ballad 'Mil Harddach' ('A thousand times more beautiful').
Burum are flexible in improvising and interpreting existing material, making it new, magical and extraordinary.Their name means 'yeast' and, indeed, what they keep is a fresh and heady fermenting brew of music. It's said that yeast should always be rejected if it's dry or crumbly.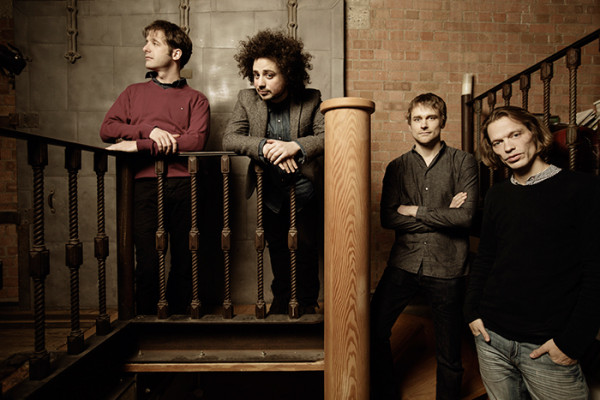 Kairos 4Tet
Kairos 4Tet, winner of Best Jazz Act at the 2011 MOBO Awards, is a progressive, intuitive and adventurous quartet. Composer and sax player Adam Waldmann says he "looks for the pictures songs paint in my head and very emotive, unique communicators."
Completing his cohesive quartet are Ivo Neame (pianist), Jasper Høiby (bass) and Jon Scott (drums). Their three albums Kairos Moment, Statement of Intent  and Everything We Hold have been variously described as sparkling, thoughtful and stimulating.
At this Christ College performance their 'Statement Of Intent' was urgent, complicated and imaginative, contrasting with the warm and delicate love lullaby 'Ell's Bells'. From the chaotic and idiosyncratic 'Philosophy Of Futility' they moved to 'V.C.', strong, lively and diverse. 'J-Hø from the Block'  was tight, fiery and rhythmical, whilst the soulful and sensitive 'Russell's Resurgence' completed the set.
Kairos 4Tet create rich and exciting jazz that's confident and melodic. A great deal of attention to detail, intricate work and improvisation has helped to make their music joyous and spellbinding. This was a gutsy, expressive and distinctive performance.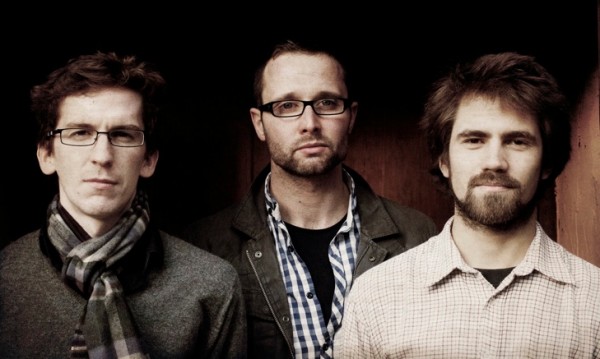 Troyka
The band Troyka is Kit Downes (keyboard), Chris Montague (guitar) and Josh Blackmore (drums). They experimentally fuse rock, grunge, funk, blues, jazz, dance and hip hop in a quirky and dynamic way. Their debut album Troyka, and Moxxy that followed, were praised for imaginative and adventurous production.
In 2011 the well known composer Django Bates wrote music around the trio which was commissioned by Cheltenham Jazz Festival and broadcast on Radio 3. In 2012 Troyka evolved to form Troyk-estra, a collaboration with the Royal Academy of Music Big Band which performed at the Jazzwise 15th Anniversary Festival at Ronnie Scotts.
During this Guildhall performance they played well known moody and atmospheric numbers like 'Rest' and 'Tax Return', together with those which were either more obscure or not yet named because they'd 'run out of ideas', which some fans would probably say was quite impossible!
To critics, Troyka may use a range of sounds, textures and cross rhythms which are a little too experimental. Fans will probably love the creepy bleeps and eerie squelching sounds that give the band an odd, abstract and enjoyable feel. They'll be drawn to the band's reputation for bold, complex and exciting improvisation.
Sunday
Trish Clowes Quintet featuring Gwilym Simcock
Talented Shropshire saxophonist and composer Trish Clowes explores the intriguing area between jazz and classical music. She's a BBC Radio 3 New Generation Artist and the first female jazz musician to be recognised by this particular scheme.
Her skilful quintet featured Gwilym Simcock (piano), Chris Montague (guitar), Calum Gourlay (bass) and James Maddren (drums). They're inquisitive and adventurous artists whose music is very inspirational.
At this Brecon Cathedral performance she began with the dramatic and mysterious 'Radiation', followed by the quirky, restless and relentless 'Question Mark' which omitted any obvious answers. 'Symphony In Yellow' was taken from the Oscar Wilde poem of the same name which he wrote when inspired by the decadent and aesthetic movement. The music seemed like an impressionistic painting of a smoggy London, capturing his place in history.
An expressive 'On-Off' was intermittently creative and joyful, depending on what position the switch was in, whilst the moving and powerful 'Atlas' sleepily drifted across a magical landscape. 'Wayne's Waltz' was an arrangement of Wayne Shorter for strings and saxophone that was intense and passionate.
The set of the quintet constantly changed, with surprising twists and memorable moments. There were elegant and sensitive songs, subdued and delicate one moment and fiery and ecstatic the next. It was originality and fine improvisation that made this one of the most interesting performances of the festival.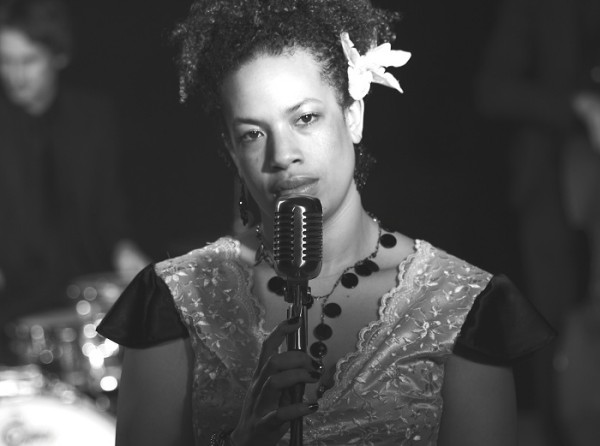 Lady Nade and the Silhouettes
Bristol based singer songwriter Lady Nade and the Silhouettes blend blues and soul with funk and jazz and sing songs about love, loss and change. They're influenced by  Bessie Smith, Nina Simone, Amy Winehouse and Billie Holiday and their critically acclaimed EP All I Am was released in 2012.
As a sextet they are Nadine Gingell (vocals & guitar), Sophie Stockham (sax),  Simon Le Fort (keyboards), Adam Newton (double bass),Will Edmunds (electric guitar) and Matt Brown (drums).
At this Guildhall Welsh Jazz Club Concert she began with the warm and charming 'Stay', followed by soft and serene 'Hard To Forget'. The philosophical 'Complicated' didn't sound intricate and tangled, as expected, but refreshingly simple, whilst an adaptation of Blind Willie Johnson's gospel song 'It's Nobody's Fault But Mine',  made famous by Led Zeppelin, lost much of the psychedelia but was still inspired. A smoky 'Fever', originally recorded by Little Willie John, sounded beautiful and timeless.
The sextet is talented in reinterpreting jazz standards in an inventive way, and the musicians bring quality and great attention to detail to their own personal material. Lady Nade is described as 'yummy!' by one fan, an unusual word in the context of reviews. There's a distinctive taste and flavour to those deep, sultry and husky vocals.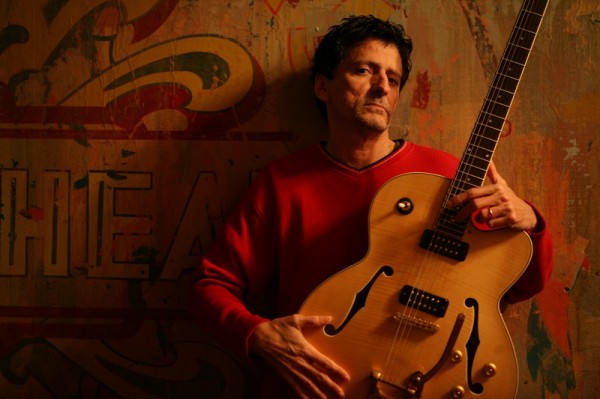 Vinicius Cantuária Duo
Vinicius Cantuária is a talented Brazilian guitarist, drummer, percussionist and singer songwriter who plays bossa nova and Brazilian jazz.  New York city based, he founded Brazilian rock group O Terço and collaborated with David Byrne, Norah Jones, Brian Eno, Melody Gardot and Laurie Anderson.
Vinicius has released 16 albums since the early eighties and had hit songs with 'Só Você' and 'Lua e Estrela'. There's a huge variety of texture to his music and he's had a prolific recording career with the sub genre referred to as 'post-electronica acoustic'.
At this Theatr Brycheiniog performance he concentrated on the breezy, elegant and intimate songs of Antonio Carlos Jobim: 'So Danco Samba', 'Insensatez', 'Corcovado','Caminhos Cruzados','A Felicidade' and 'Por Causa de Voce'. There were also the moody and captivating Brazilian rhythms of Vinicius de Moraes, Joao Gilberto and Monica da Silva, together with his own romantic compositions. He was joined on stage by the skilled and versatile New York pianist Vitor Goncalves.
Vinicius has achieved international critical acclaim. There's a melancholic edge to his rich, murmured vocals and he works slowly to build detail into his songs, tending to focus on a minimalistic feel. He plays Brazilian music that's gentle, pleasant, quite special and a little bit unexpected.
Anthony Weightman
Click here to read our review of Zara McFarlane performing at Brecon Jazz 2014…
…and click here to read our review of Laura Mvula's Brecon Jazz 2014 performance…