Lizzie Jane – Live @ Sound Control
aaamusic | On 10, Sep 2014
This slideshow requires JavaScript.
Friday 5th September, Manchester
As acoustic gigs go, this affair felt a little more relaxed than you would expect when arriving at a venue: for starters, the roster of acts on display tonight fit together nicely and created a unique atmosphere during proceedings.
The first band to grace Sound Control's stage were Hunters Cove: a young band hailing from South Manchester who started things off right with their soul-moving style of delicate music. For such a young act, who were debuting for the first time, they could have been mistaken for a band who had been playing together for years, due to how beautifully arranged and presented their music was. What stuck out to this onlooker was how subtly yet creatively the drummer performed his parts as the back-beat to the band's clean guitars, washing over you like a sea breeze that relaxed every bone in your body. For such a new band with so much talent I have high aspirations for them and will no doubt be seeing them gracing more stages in Manchester in no time.
Next up was Liam McClair, a singer-songwriter with a voice that could send you to the heavens and back, for real! Sometimes, in a setting like this, trying to own the stage can be daunting, but tonight Liam knew exactly what he was doing and came off like a man with the confidence and vigour of a seasoned performer. With there being so much music out in there – blasting through our headphones, speakers and from the PA systems – it's often difficult to have an opinion, because sometimes we can be forgiven for becoming a bit apathetic. Tonight, however, Liam made my ears prick up and take notice.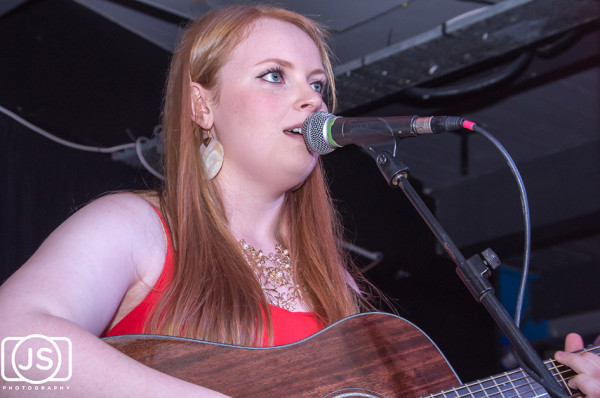 Finally, the main act took to the stage in front of a fairly sizeable crowd, which, considering how young this performer was, was impressive. Lizzie Jane brought to the stage an air of modesty, but with it an air of flair and tenacity as well. Over the years, from seeing bands on stages of all shapes and sizes, sometimes performers get lost in the whirlwind which is the life of a musician, but tonight it was refreshing to see such humbleness and modesty from such a talent. Lizzie Jane poured her heart out, but still managed to present it all in an imaginative fashion without airing out her dirty laundry.  To finish off the night, she made an impromptu exit off the stage to perform in the crowd, sealing off the night nicely. Thanks Lizzie – here's one listener who won't forget this performance.
Review + Photos: Joe Sheridan