Joan Baez – Live @ The Royal Festival Hall
aaamusic | On 25, Sep 2014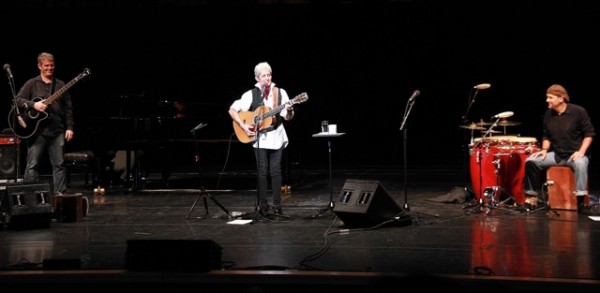 Sunday 21st September, London
"An Evening With Joan Baez", as tonight's performance was titled, was an evening with the recent history of popular music. It was like travelling through the recent past of folk, to unearth and discover or rediscover it little by little, thanks to the talent of one of its brightest protagonists. The Queen of Folk Music, who is close to touching her sixth decade of activity, has just honoured London with another series of touching gigs.
Her 2014 European Tour has stopped at The Royal Festival Hall for four consecutive performances; four concerts which enjoyed a large, varied and well-educated audience able to tribute a warm and well-deserved reception to her unmistakable artistry. Even if her stage presence is becoming more and more measured and milder, even if her voice is less intense and pitched, as soon as she walks on stage, it was impossible to avoid bowing down to admire the stature of Joan Baez's artistic achievements.
"An Evening With Joan Baez" was a show inevitably built around her figure: a memento to recognise the contribution she gave and is still giving to music. She elegantly breezed on stage alone, accompanied by her acoustic guitar and her determined expression only, and she began to revive her career, which, as written, is also a cross-section of the collective consciousness.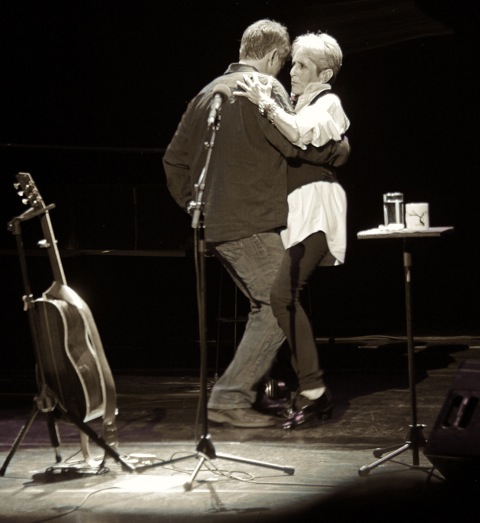 After paying homage to London through her interpretation of the Bob Dylan's tune 'Handsome Molly', Joan Baez revisited some of her old-time favourites. Immortal songs like 'Farewell Angelina', 'Baby Blue' and 'God is God' – which have gained new life with her voice – delighted the audience and covered The Royal Festival Hall with a thin layer of nostalgia.
But the American artist was really careful not to bring the show on the melancholic tracks. She promptly changed the scenario, showing her more socially and politically active side – her deep commitment to the seek for freedom and justice, her will to raise the people's awareness on crucial contemporary themes. She recalled the tour she had just finished in South America and the strong emotions that she felt when she touched with hand the passion of the Argentinian Madres de Plaza de Mayo and the Nicaraguan Sandinista revolutionaries. She dedicated to their cause a touching performance of the intense 'Mi Venganza Personal', a song written by the FSLN founder Tomás Borge.
But her Latin breathing space was far from over, because Joan Baez also revived the memory of Violeta Parra and Mercedes Sosa with their hymn 'Gracias a la Vida' and, funnily remembering the tragic mood of tunes sung in her first records, she intoned an appropriate Mexican song: 'La Llorona (the weeping woman)'.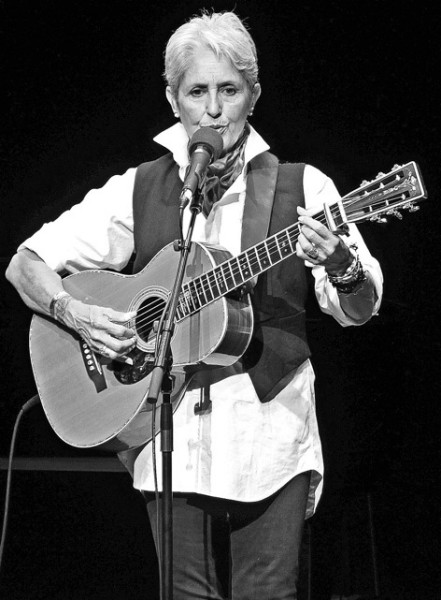 Even if Joan Baez still proved, once again, her remarkable stage presence, her concert would have been incomplete without the support of two eclectic and outstanding musicians and an improvised assistant-backup singer. If the multi-instrumentalist Dick Powell, able to juggle between guitar, piano, fiddle, banjo, bass guitar and accordion, and the percussionist Gabriel Harris, a volcano of rhythms and beats, were concentrated on enriching the arrangements; the voice of Grace Stumberg, Baez's personal assistant, followed and gave a boost to the New Yorker musician's vocalisations in many episodes all along the show. This happened on the notes of 'The Black Veil' which, as Baez pointed, was her tribute to the Western American style and, first of all, during the laic prayer, which rapidly became a sing-along, 'Imagine' – also one of the highlights of the gig.
"An Evening with Joan Baez" was a moving show, a performance able to mix smoothly together distant feelings and subject like nostalgia and social commitment. It was the nth graceful step which Joan Baez has walked in her flawless and unique career.
Marco Canepari