Glass Animals – Live @ Oval Space
aaamusic | On 20, Oct 2014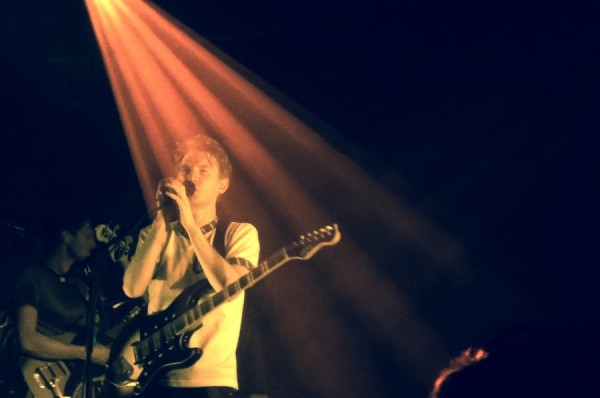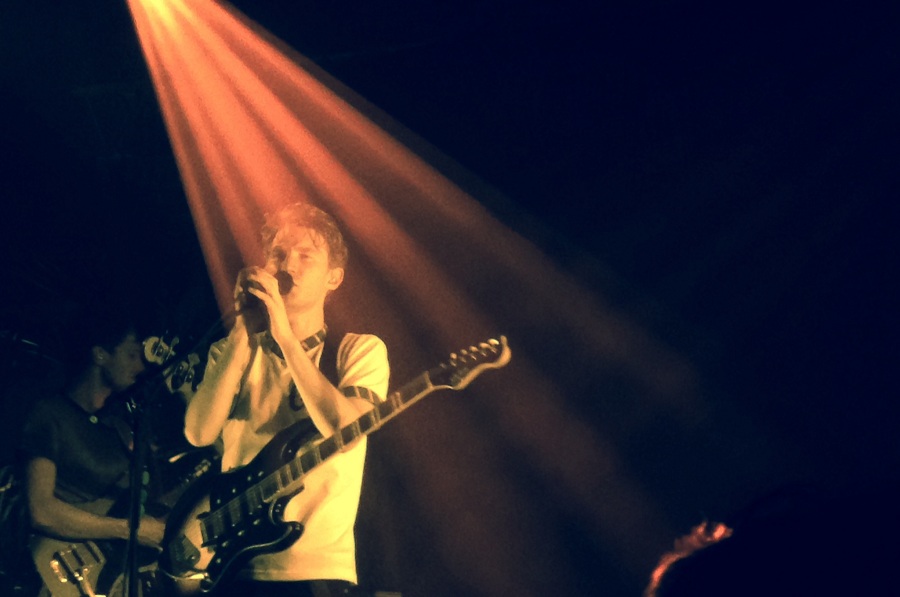 Tuesday 14th October, London
Glass Animals are without doubt one of the most exciting British bands to arise in the last year or two.  I've had the pleasure of seeing them twice now, firstly at Electric Picnic this year (which was unbelievable may I add) and on Tuesday at Oval Space in East London's Bethnal Green.  It is a trendy warehouse venue with epic views of the gas towers and sided by the canal.  I've been previously for club nights, but it's size and ambience made it a perfect gig venue.
The gig kicked off with a classy performance from support act Laura Groves and her band.  It was gentle and consistent, and Groves has a really dulcet voice, but I wasn't particularly engaged.
Glass Animals arrived with purpose, on a jungle dressed stage full of huge green plants.  It was unusual and really fitted with their slightly psychedelic performance.  Signed to Paul Epworth's Wolf Tone record, the four-piece band have built a substantial catalogue over the last couple of years.  Their debut EP Leaflings was released in 2012 whilst they were studying at university and since then the band have grown into their distinguishable sound that's really making a mark on the industry.
The lead singer, Dave Bayley, seems a tad geeky from the exterior, but the moment the bass-driven instrumentals drop he transforms into a surprisingly 'rock n roll' diva.  For a band whose music is often chilled and kaleidoscopic, it was a highly energetic performance.
'Black Mambo' was the first official single released by Glass Animals, and remains one of my favourites.  The moment the audience heard the introductory tinkling of keys creating that smooth anticipation for the bass drop, they were paying attention.
'Hazey', which was released as their latest single earlier this month and is my favourite on the album, was executed seamlessly. 'Gooey', 'Toes' and 'Jdnt' were also highlights for me.  Tuesday's gig kicked of their European, US and Australian tour with vigour and I can only imagine the progression of the tour will further refine the show (having said that, not much was needed).  It's astonishing how consistent the quality of their release collection is to date.  The live experience makes you appreciate every single one, track after track after track; it's so fulfilling.
After an hour of pure entertainment the boys came back on stage for an encore and performed their cover of Kanye West's 'Love Lockdown' and crowd pleaser 'Pools', which was released in June. I might write to Bayley to express my need to hear them perform 'Woozy', which they released on their second EP in January this year and features Chicago luminary Jean Deaux. I think it was a shame to miss it off the album and I imagine would be unbelievable live.
Bayley's vocals sound smooth on record, but they have such a gentle quality that you might be a tad concerned about the execution live.  Rest assured, they're as flawless on stage.  He has such an interesting, soulful tone; I suppose hazy is the best way of describing them.  Drew MacFarlane, Edmund Irwin-Singer and Joe Seaward make up the rest of the band. Boy they're talented.
The only disappointing part of the whole experience was the crowd. Ok, it was a Tuesday night so it was a pretty sober group, but there was quite a lot of talking which I found distracting.  The venue was chock-a-block of trendy hipsters showing their faces although maybe I was spoilt at Electric Picnic, where I've never experienced such vibrancy at a gig.  Claps and cheers went on for minutes rather than seconds; and the elation on the faces of the band members really made that performance for me.  Don't get me wrong, Oval Space was a pretty faultless show and I'm definitely going to try and see them again at Shepherd's Bush in March next year.  If you're yet to discover their talent, I wholeheartedly recommend.  One of the best albums and live shows I've seen all year.
Amy Pinnock