Manchester Orchestra – Live @ The Ritz
aaamusic | On 08, Oct 2014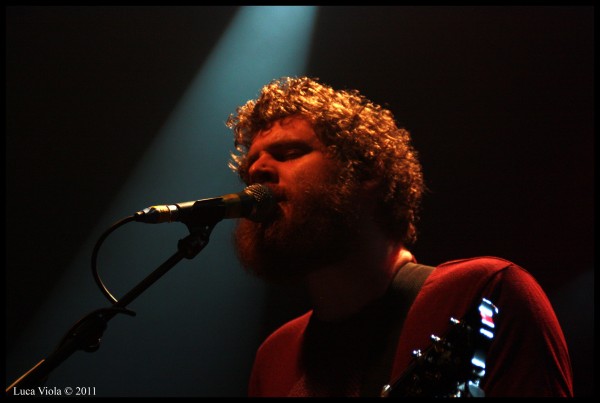 Wednesday 1st October, Manchester
Tonight was an occasion of joy and excitement for a band who have grown and grown, offering up their pop sensibilities in an unconventional way; juxtaposition to rock music that, with its bleak lyrics, has transcended the band into a new stratosphere.
First on tonight was what can only be described as a super group of musicians: Bad Books, who are comprised of members of Manchester Orchestra and the one and only Kevin Devine, started things off right with their blend of brooding, aggressive rock to a strong backbeat, which ironically is a totally different flavour to what is produced on record, as if there was something more bubbling under the surface… and with that the band were let out of their cage onstage! Sometimes there is a more urgent feel towards a song or a band's catalogue when it is performed in the context of a live show. It's a moment that cannot be tamed in a studio setting; it's indescribable. The band did what they do best and rocked out, and I hope that their future releases build on the feel and sound they created here tonight.
Kevin Devine – a man with an incredible voice that soothes and warms you, and with his compositions can move you to feel happy or sad in the blink of an eye, but that is his charm and tonight he proves that effortlessly. His music has gone through some different incarnations, from solo to full band, but the one thing that has never changed is himself; Kevin puts everything into his music, which is what has drawn people to him in the first place. Ultimately, the everlasting appeal is the person behind the craft, the composition, the lyrics; it creates a sense of belonging between the artist and his craft that can transcend to the listener who undertakes the song for a meaning relating to themselves and their life – and these are the properties that make musicians like Kevin Devine deservedly heralded as truly great songwriters.
Manchester Orchestra have been steadily building up a dedicated fanbase in this country and tonight is proof of just how far they have come since their early years of existence. They are a humble group of people, only stopping to enjoy the moment with the crowd and entertain them with unadulterated comedy, as if the crowd and the band had known each other for years; a type of camaraderie that is unique to this band, and one which this audience appreciates as laughter fills the rooms. For a moment, towards the end of their song 'Deer', the crowd unites in a round of singalongs, creating a warm feeling that could only be experienced if you were there, and I must say, being that tonight is my first time seeing the band, I'm very impressed and will definitely look be seeing them again.
Joe Sheridan