Nightmares On Wax – Live @ The Forum
aaamusic | On 30, Oct 2014
I know I've said this a million times before, but Soundcrash really do curate the best alternative hip hop nights in London.
Tonight is a prime example…what a lineup. Arguably the four greatest underground hip hop and electronic music labels are represented, with Warp's Nightmares On Wax joined by Ninja Tune legend DJ Food, Brainfeeder's Teebs and Stones Throw founder Peanut Butter Wolf. The Forum may not be the kindest venue for hip hop instrumentals, but the sheer size and number of attendees just goes to show how popular this kind of music really is in London; a place often criticised for lacking in love for hip hop.
First up tonight in this rather vacuous space is California's Teebs – aka Mtendere Mandowa – who concerns himself with the lighter, more subtle shades or the LA beat sound. His brand of instrumental hip hop relies more on dreamy soundscapes and intricate melodies, rather than the oppressive bass sounds of many of his peers. Naturally, he beefs up the woozy sounds of his recorded music in this live setting, but it's still a little too ambient for many in the crowd. Lovely set, nonetheless.
Despite all the talent on the bill, everyone is really here just to see one act: Nightmares On Wax. The main man, George Evelyn aka DJ Ease aka Nightmares On Wax, is the longest serving artist on the Warp roster and was hugely influential on trip hop in the 90s. His soul-laced, loungey hip hop epics, Smokers Delight (1995) and Carboot Soul (1999), contained some of the finest leftfield beats of the decade. For this London show, NOW has been expanded to a full band, including vocalists and percussion, with Eveyn dictating from behind his equipment. They are bursting with enthusiasm and energy, both crowd and band completely up for it, with Eveyn visibly ecstatic.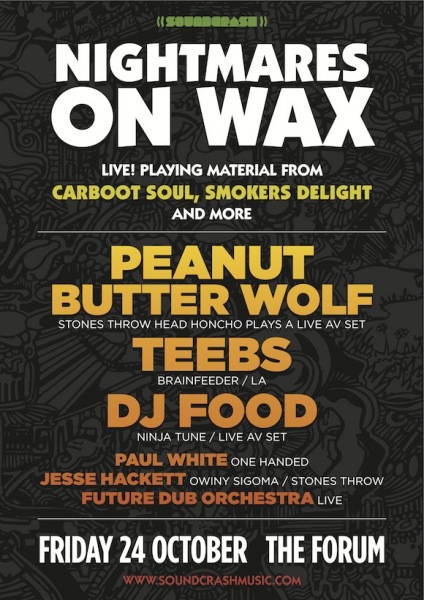 However, much of the set is plagued by ridiculously quiet sound, with the vocalists achieving little more than faint muffles. It's a real shame, but neither NOW nor the crowd seem to notice; or perhaps they just can't be deterred from having a jolly good time. The cuts from Carboot Soul have the whole Forum bouncing in united bliss. When the band return for an extended encore, with vastly improved sound, they receive wildly impressive levels of adoration. Naturally, 90s trip hop anthem 'Les Nuits' is the highlight, with the song achieving the kind of transcendental atmosphere only a handful of other instrumental hip hop songs could capture. So, not a perfect set, but there's no faulting NOW's gusto.
I've always wanted to see Peanut Butter Wolf, the founder and head honcho of one of the best and most important labels for leftfield hip hop, Stones Throw Records. Tonight (after a bit of a delay) he takes to The Forum stage for an all too rare DJ/AV set and – although the sound is still a tad on the quiet side, PBW (aka Chris Manak) smashes out a wicked hip hop party set, mixing straight-up commercial rap with cuts from the oldschool, while meandering through some of the more obscure underground stuff his label is famed for. A true legend and a true joy to witness him in the flesh.
The trippy tones of DJ Food – who I am regrettably only able to catch a glimpse of due to commitments at another event down the road – finish off the night; a night of exceptional alternative hip hop artists and sounds, and an exuberant audience, sullied only by a poor sound system. But nobody else seemed to care, so why should we?
Clive Paris Rozario