Earthless – Live @ Dingwalls
aaamusic | On 27, Nov 2014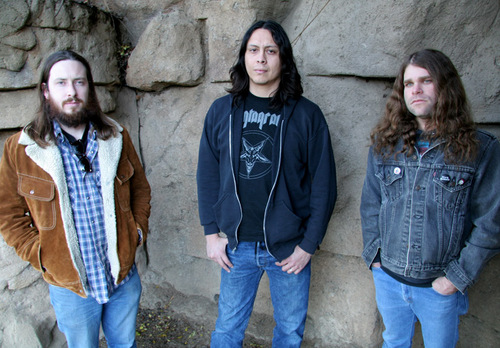 Friday 7th November, London
Frantic. Intense. Cosmic. Bodacious. Riff-tastic. Lick-tacular. Holy-fuckarific.
There are a lot of colourful descriptors inspired by hearing the endless guitar solo that is Earthless. As Grayson Currin puts it, "they're… hell-bent on riding six electric strings directly out of this atmosphere." There you go. That's all you need to know because that's exactly what happened last Sunday night at Dingwalls.
Yes, the old Camden venue was ground zero and shame on me for being unaware of this venue until now (although I should not feel complete shame as the venue is in a relatively obscure nook and has to compete with Roundhouse, underworld, Koko, etc. for attention). It's just so gig-ready; upon entering I immediately saw where all the action was going to take place and where the juice to fuel all my future endeavours to bang my head against the air was served. Also, the sound throughout the night was great.
This being the second time I've seen Earthless, I feel a little more confident stating that you get exactly what you expect to going into the experience and I know that may sound like a bad thing to some people but I one hundred percent mean it as a perfect thing. You go to see Earthless to alternate between head banging and having your face melted off. Not surprisingly, this is exactly what happens but hold on because it gets better.
I said "endless guitar solo" before but that doesn't really leave the best impression because Earthless do have riffs, and they do have slower, even sludgier moments, and they do incorporate a dynamic range (hear: 'Sonic Prayer'). It's what makes every track such a journey. A journey that will travel itself right in front of you, engulfing you and taking you for a ride. I was immersed in this journey. As each bar passed I knew I was adding another strain in my neck tomorrow. It almost felt serendipitous that it took me until the beginning of their set to get a drink from the bar as there's nothing quite like a fresh pint in one's hand to act as a counter measure to the neck movements one feels motivated to make.
So there we were, meditating on the chaos and progression of time vicariously through the broad meanderings of our entertainment's playing as I noticed there was about 10 minutes left till curfew and the band were already slowing down considerably with each phrase; a sign I knew meant that they were this close to being done. My mind lamented that they were going to finish with minutes left on the clock. "We aren't going to get maximum Earthless!", I thought. Impressively, they finished, walked off stage and a minute later right back on to play what I assume was either a cover or an extremely short song for the trio. Either way, it rocked and with maximum Earthless achieved I could leave Dingwalls feeling very chuffed with how well that last part worked out.
Craig Doporto