John McLaughlin – Live @ The Royal Festival Hall
aaamusic | On 27, Nov 2014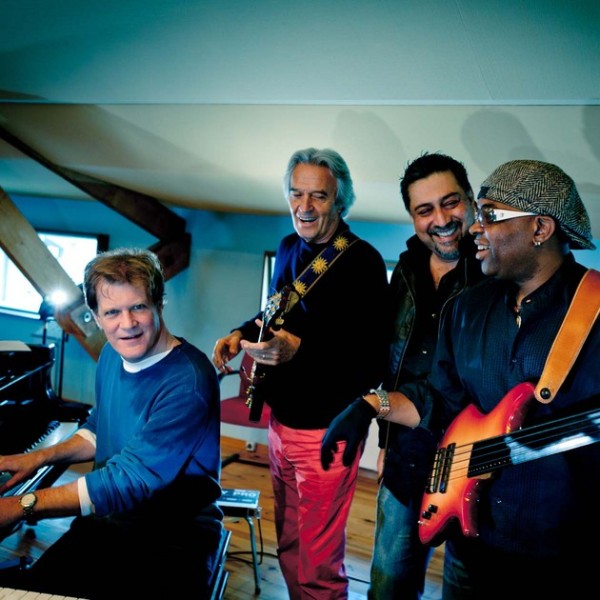 Thursday 20th November, London
The fiery English composer, guitarist and band leader John McLaughlin performs a complex mix of electric music that fuses rock and jazz with Indian influences.
He played with the stunning Miles Davis on his legendary albums and Rolling Stone magazine has listed him as one of the 100 Greatest Guitarists of All Time. At this EFG London Jazz Festival performance he returned with his quartet, comprising Gary Husband (keyboard and drums), Cameroonian Etienne Mbappe (electric bass) and Indian Ranjit Barot (drums).
John's set began with 'Guitar Love', a beautifully written solo, followed by the funky and energetic 'Little Miss Valley.' 'Abbaji', dedicated to Indian tabla player Alla Rakha, had a moving chorus of "love and understanding", whilst both 'The Creator Has A Masterplan' and 'Light At the Edge Of The World' were spiritual compositions written by Grammy Award winning saxophonist Pharaoh Sanders.
The frantic 'Hijacked' had the "shredfest" technique where notes were sprayed in all directions with accuracy and speed. 'Senor CS' was a fine dedication to Carlos Santana who pioneered melodic blues rock and Latin American fusion. As an encore Gary Husband joined Ranjit Barot for an explosive twin drum-kit number playing the Mahavishnu Orchestra classic 'You Know You Know.'
John has had a diverse and exhilarating five decade career, travelling internationally as a musician. He's committed and versatile, creating instrumental music that's thoughtful and intelligent and he looks dynamic with a Paul Reed Smith guitar around his neck. Collectively his ensemble play sensitive, intimate and impressive jazz. They're extremely tight and powerful.
Anthony Weightman