Manu Delago Handmade – Badehaus Szimpla Berlin
aaamusic | On 31, May 2015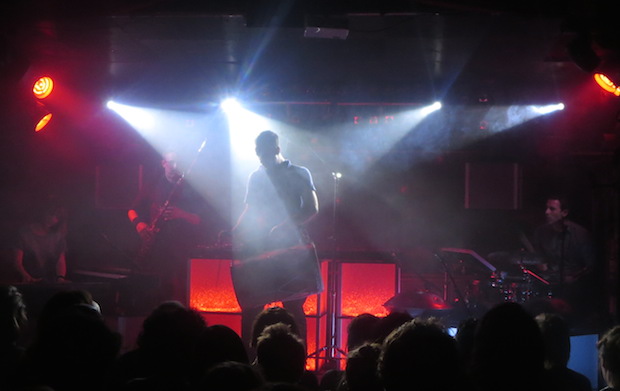 Thursday 21st May, London
Manu Delago's blend of contemporary world music, nu-jazz and electronica sounds sumptuous on record, but it is absolutely designed to be experienced in a live environment. This blistering performance at Berlin's Badehaus Szimpla cemented Manu Delago (with his 'Handmade' live project) as one of the most promising purveyors of avant-garde jazz-electronica. It won't be long, surely, until this percussionist and beat maker's star is up there with peers Portico Quartet and Hidden Orchestra.
Manu Delago is primarily known for his formidable skills on the Hang, a kind of inverted steel drum, made famous in the UK by becoming the signature percussive element of Portico Quartet's pre-post-dubstep sound (before they lost their [second] Hang player and dropped the 'Quartet' from their name). Delago has also collaborated with Björk and The Cinematic Orchestra, performing live with them on their current tours.
Tonight's show, however, is part of a European Manu Delago Handmade tour in support of Delago's latest solo album Silver Kobalt, released through Tru Thoughts (what a perfect home for him!). The record sees him continue his explorations of nu-jazz, which are truly brought alive via his excellent live band and simple but effective visual show. While Delago mainly plays his three Hang drums (occasionally moving behind the programming equipment or behind the drum kit), his three-piece band take on full drums, electronics, piano, violin, bassoon and an array of instruments and tools I've never even seen before.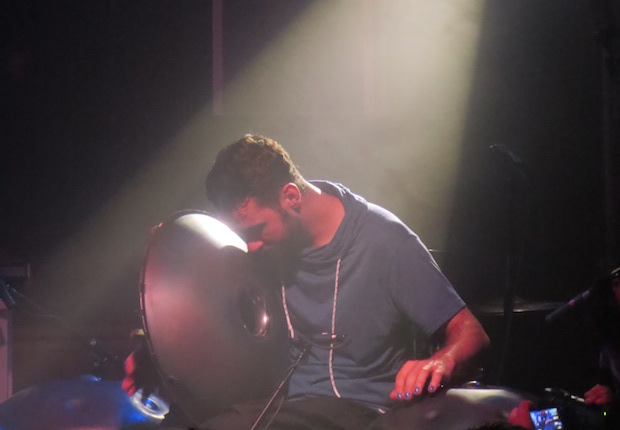 Compositions like 'Disgusting Beautiful', 'Sun In The North' and 'Drumheart' feature pianist/keyboard player Isa Kurtz on vocals (she also sings on some of the songs on record), which, alongside the Hang and bassoon elements, produces a sound very much like the aforementioned Portico Quartet and their collaboration with Cornelia. Instrumental tracks sometimes go down a more dramatic, neo-classical Hidden Orchestra route, like 'Wandering Around', while the more minimal, downtempo numbers could be from a Bonobo album.
The best and most individual moments, however, are when Manu Delago Handmade ramp up the electronic elements, which, rather than jarring alongside the nu-jazz/world interludes, serve to intensify their calmness. 'Down To The Summit', 'Simon Is Psychling – Sic'  and closer 'Almost Thirty' incorporate blasts of bass-heavy, Amon Tomin-like beats that rumble through the intimate Badehaus Szimpla venue, aided and abetted by flashes of intense lights from his cube-based AV show. It's powerful stuff and demonstrates Delago's love of UK bass music and intent to move further and further in electronic music.
That said, the extended, introspective moments when Manu Delago is performing on his three Hangs are never anything by spellbinding. There is something about the delicate yet melancholic sound that comes out of them that pierces so deeply, in a welcoming kind of way.
A truly talented fella. Take our advice and go see Manu Delago Handmade live ASAP. Londoners, he's playing via SoundCrash at Rich Mix in September (tickets here).
Clive Paris Rozario