Pop-Kultur 2015 – Live Review
aaamusic | On 08, Sep 2015

Wednesday 26th – Friday 28th August, Berlin
On paper, Pop-Kultur's three day "festival" at the centre of Berlin's electronic music scene, Berghain, wasn't particularly enticing. Splitting the festival into a series of separate events meant splitting Europe's most famous techno club into different venues, and how exactly could multi-genre concerts, DJ sets and seminars work together in such an intense and imposing building as Berghain? Well, seamlessly as it turns out.
This new festival, funded partially by Berlin's government liaison to the music industry, was designed to be both a showcase of the city's unparalleled experimental music scene, and a celebration of Berlin's developing identity as Europe's centre of underground culture and creativity. And where better to make such a statement than in the iconic, ex-power plant rooms of Berghain, Panorama Bar and seldom-used sister space, the gargantuan Halle am Berghain.
The festival kicked off on Wednesday with Pantha du Prince debuting his new project with The Triad in Halle am Berghain. The performance saw the German minimal techno producer flanked by guitarist-vocalist Scott Mou and Bell Laboratory drummer-percussionist Bendik Hovik Kjeldsberg. Starting off shrouded in moody spotlights and wearing futuristic, robot-like masks, the trio presented a quietly euphoric and surprisingly accessible take on minimal techno. Melodic bells danced over occasional layers of ethereal vocals and light guitar lines, while simple backing synths created Jon Hopkins-like minimal trance soundscapes. It's the most club-friendly sound Pantha du Prince has provided us in a few years and provided the festival with its Wednesday highlight.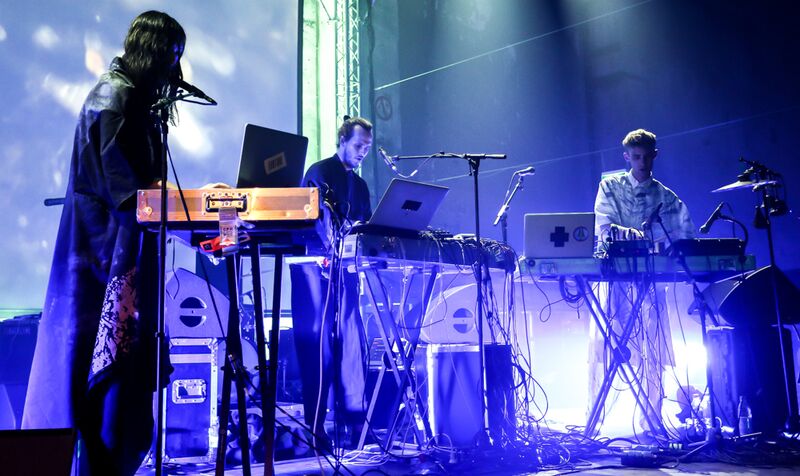 Next up in Halle am Berghain was CoCo Rosie's Biana Cassidy, who offered a much more in-your-face performance than Pantha, with guitar-heavy, Tom Waits-indebted balladry and drunken gypsy roc, which seemed designed as a soundtrack to David Lynch-like live and recorded visuals. The horror-circus theme was entertaining for a short duration, but the deranged dancing clown was perhaps a little too eccentric. Up in Panorama Bar, Inga Copeland's minimalist and murky electronic pop unfortunately fell rather flat, but for those who stuck in out, it picked up as it went along.
Thursday saw Matthew Herbert performing in his live, full band "Herbert" incarnation. The super-smart, extremely talented and occasional pretentious producer-musician kept his abstract experimentation at bay this evening, opting instead to deliver a riotously upbeat mixture of minimal house and melody-driven neo-soul. Herbert's keys and programming played second fiddle to the dual vocalists (one male, one female) and brass section, while the guitarist brought Trentemøller gloominess to some of the more experimental interludes and ballads. The majority of the set was taken up with cuts from Herbert's latest album, The Shakes, with the Latin bounce of 'Smart' being the standout, while the techno shuffle of the vocal-led 'Suddenly' proved the highlight of his older material. The set was not without its minor setbacks – some of his weird recorded samples, such as the loop of his tooth being pulled out, were the victim of over-amplification – but Matthew Herbert and his seven-piece band were otherwise outstanding.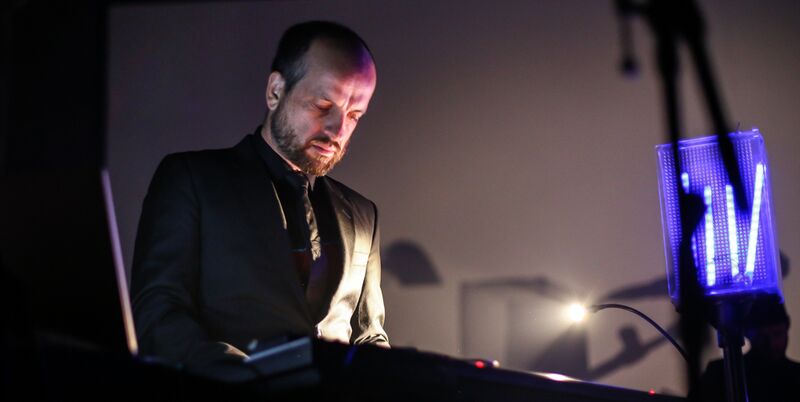 Then came arguably the festival most renowned artist, late 80s/early 90s RnB star Neneh Cherry and her comeback implementers, Rocketnumbernine. Cherry certainly drew the biggest crowd into Halle am Berghain, and her fiery, industrial-charged contemporary RnB also garnered the most animated reception. Newer tracks from her Four Tet-produced 2014 album Blank Project still sound excellent a year on, with the Rocketnumbernine drum-keys brother-duo propelling Cherry's powerful vocals throughout the building. 'Dossier' and 'Out Of The Black' were the best of the newer cuts, with the cold minimalism of the robotic pop gelling completely with Cherry's abrasive lyrical style. However, the obvious highlights were the modern takes on classic Neneh tracks 'Manchild', inevitable encore 'Buffalo Stance', and the first ever airing of a brooding, trip hop rendition of anthem 'Woman'. I never thought the Neneh Cherry-Rocketnumbernine collaboration would be continuing through into this summer, let alone producing anything new – the resounding success of the 'Woman' performance proves they still have magic. Long may it continue.
Friday night was all about the main Berghain space, with DJ sets rather than live music being the focal point. Legendary New Order/Joy Division drummer Stephen Morris – DJing for the first time in German – spun a surprisingly accomplished set to everyone's delight, including some heavy, industrial techno. Then Matthew Herbert returned for an extended DJ set to close out the main Berghain room. After being plagued by technical difficulties for the first half hour, Herbert delivered a 90s rave and techno set, which, like Thursday's concert, was surprising in its accessibility, even if it was accessible in a totally different way. In fact, this kind of sums up the whole Pop-Kultur festival, which successfully made experimental music in an underground Berlin club momentarily accessible to a different culture: a more international and mainstream audience. Mission accomplished.
Clive Paris Rozario