Pop-Kultur 2017 – Live Review
aaamusic | On 30, Aug 2017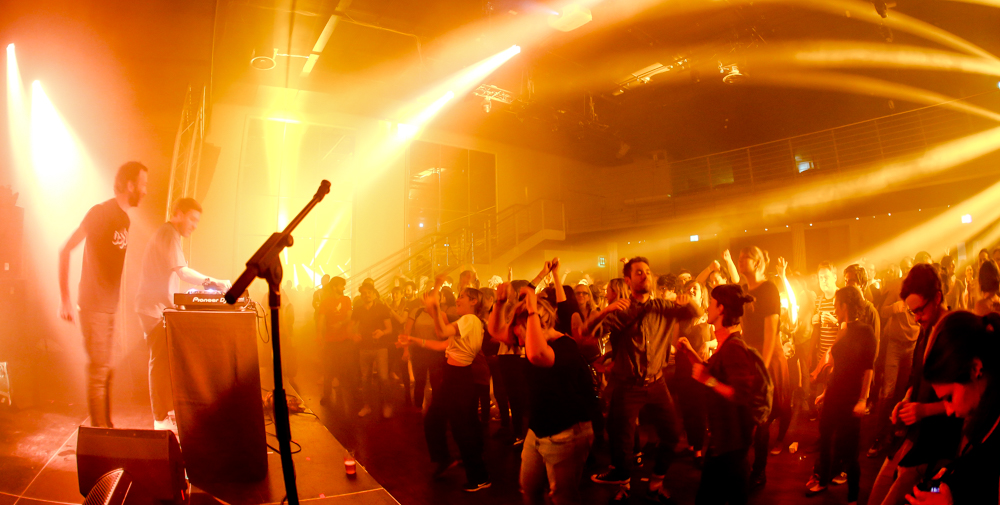 Friday 25th August, Berlin
Pop-Kultur is like a miniature Sonar festival, or perhaps the underground's answer to Primavera Sound. For the past few years, the organisers have manufactured three-day festivals that offer discovery, debate and, most importantly, dancing. At its core, Pop-Kultur is a leftfield music festival, providing a platform for both established alternative acts and promising new talent, but it offers so much more than just music. There are artist and industry talks, film screenings, art installations, commissioned performances and, for those who are in need of it or can be arsed, professional networking opportunities. The other unique aspect of this event is that it moves location each year (or at least has thus far): when we first reviewed Pop-Kultur in 2015, it was housed in around Berlin's iconic super club Berghain, and last year it was dotted around Neukölln. This year, it took place in the various spaces and venues or Kulturbrauerei in Prenzlauer Berg, which proved to be the best location yet. Unlike the cramped and claustrophobic atmosphere of Berghain, Kulturbrauerei afforded festival-goers sufficient space to freely wander around the different stages, with enough breathing space to both soak up and discuss the programme.
Earlier in the week, attendees were treated to a typically eclectic array of artists and performers, from the alt-RnB of ABRA and the UK hip-hop of Little Simz, to the art-pop of Let's Eat Grandma and Alexis Taylor of Hot Chip. Tonight, however, was all about one act, or the absence of one act: Young Fathers. The Mercury Prize-winning UK alt-hip hop heavyweights cancelled their headline slot (along with a handful of lesser known acts) just a couple of days before their scheduled appearance due the emergence of an Israeli government logo in the list of festival sponsors. Now, I'm not going to get into a discussion of the wider Israeli–Palestinian conflict, nor I am going to get into the Radiohead vs Ken Loach cultural boycott of Israel debate. But I will just say that on this particular occasion, Young Fathers – who are usually so politically and socially astute – seem to have acted a little too hastily on this occasion… perhaps even naively. I am not saying their stance on the issue is right or wrong, just that I don't believe that they had their facts straight this time (Google them, I ain't detailing the dispute here), and as a result it was not only a small music festival that aims to celebrate diversity that suffered, but also a massive bunch of their fans, many who purchased festival tickets just to see them. Anyway, did anyone let it ruin their Friday night? Certainly not. This is Berlin.
First up in the Kesselhaus (main venue) was the electronica-laced neo-classical of Grandbrothers. The duo, with Erol Sarp on piano and Lukas Vogel on electronics, produced a performance than veered between the subtle brilliance of Nils Frahm and the heady classical rave of Kiasmos. Frahm is perhaps a lazy comparison, one that every reviewer references when speaking of Grandbrothers, but in truth there are just so many similarities that you can't help it. With that said, the duo – being two people instead of one – are able to create a richer, more accessible sound than Frahm, with the crescendos more powerful and the beats more fully formed. What they lack in minimalist nuances they make up for with dance elements. Before the show, I wondered if Sarp and Vogel would equate two Nils Frahms, or whether together they'd be the same as one. In practise, it was somewhere in between. Very promising stuff – keep an eye on these guys.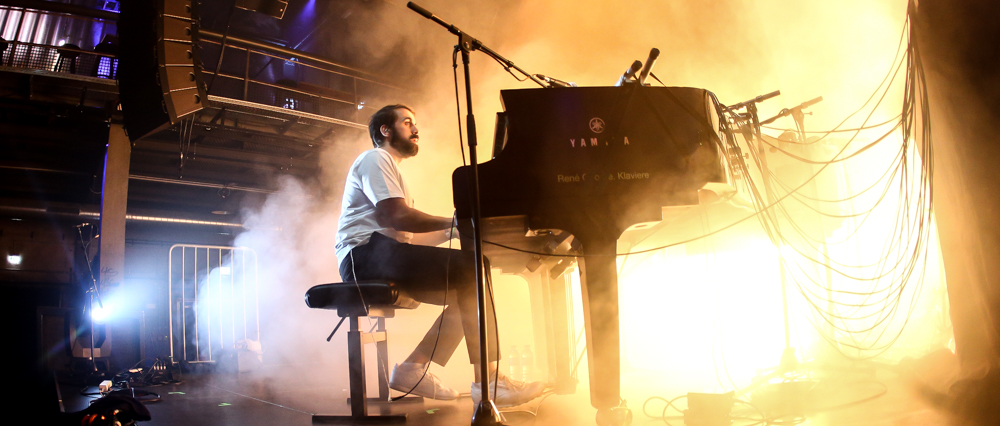 Over at the Soda Salon (a strange little venue full of disco balls, Christmas decorations and red curtains that brought to mind David Lynch), JACASZEK then showcased his minimalist take on electroacoustic music. Accompanied by singer-guitartist Hania Malarowska, the Polish songwriter and producer took his small but devoted audience on a journey of brooding folk and sparse electronica, so brooding and sparse that it often resembled little more than muffled sound effects. They were best when Malarowska was permitted to sing, adding a much-needed warmth to the cold and disparate music.
Back at the Kesselhaus, All Diese Gewalt (the solo project of Max Rieger) offered the most hypnotic music of the night. The band, dimly lit and dressed in the kind of formal attire that would make sense for employees of a funeral parlour, performed a mixture of swampy alt-rock, gothic indie and groove-orientated electro-rock, one part Depeche Mode and two parts latter-day Trentemøller. It was all delightfully morose.
Overlapping them was Boiband in the Maschinenhaus, who took the prize for the strangest act of the evening. They were so strange I couldn't even work out if they were good or bad. I'm pretty sure they were bad. I think. Perhaps strange isn't the right word…perhaps silly…or maybe even stupid. Boiband were stupid. Playing a mixture of stripped back indie-pop, art-pop and alternative world music, all propelled by nonsensical lyrics (which attempted to tackle serious subjects in a juvenile manner), Boiband came across more like The Mighty Boosh than the tongue-in-cheek leftfield act they're clearly trying to be.
With Young Fathers pulling out, two acts seemed to vie Friday's headline slot: Arab Strap and Acid Arab. There's a joke in there somewhere. Scottish alt-rock heroes Arab Stap pulled in the busiest, sweatiest crowd of the night up in the Frannz Club, pumping out 90s guitar-heavy indie anthems as if they'd never been away. More captivating and enjoyable, however, was French DJ duo Acid Arab in the sizeable Palais club, who smashed out a two-plus hour set of crow-pleasing dance music. The bulk of this evening's music had been dark, minimal and introspective, so the world music-laced dance of Acid Arab was a welcome change of pace. Joyous Eastern sound and rhythms were placed front and centre, jazzing up the Euro-dance, acid house and techno beats that formed the foundations. There was even a little hip-hop and trap sidestep, although this worked less well. Nonetheless, Acid Arab were hands-down the most fun act of the Friday and a perfect end to the festival. See you next year Pop-Kultur. And be careful with them logos.
Clive Paris Rozario
Photos: Roland Owsnitzki…