Bestival 2015 – Live Review
aaamusic | On 22, Sep 2015

With Rob da Bank selecting 'Summer of Love' as the theme for Bestival, before those autumn months come rolling in, the level of expectation was set high… and Bestival did not disappoint. How many festivals can boast hosting the Chemical/ Chuckle Brothers on the same day or displaying an astonishing glitter drenched eight metre Love-Bot (an interactive art installation situated in the Grassy Hill fields). In addition to possessing some of the best late-night platforms such as Bollywood, Temple Island and the Port; which by the way holds a killer sound system, to present some of the most preeminent relevant global dance music by DJs such as Seth Troxler, Benga and Four Tet. Nevertheless, it was the four-day fancy-dress, spectacular's eclectic line-up that cemented and captured the highlights of the weekend.
Jurassic 5 take us back to golden days of old school hip hop, as funk samples and big beats rumble through the crowd. Human bodies are turned in to percussive instruments and many a portable turntable is scratched. Surrounded in a 3D Vortex, scattered sounds, cut with neo-jazz courtesy of Flying Lotus introduces his own brand of alternative hip hop, opening with 'Theme' taken from You're Dead! As the set morphs, the visual presentation of the creation of space is represented audibly, as the left field sounds of 'Catch Me' is cut up and a skewered remix of Drake's 'Know Yourself' takes the song to new prodigious levels, you feel as you are being taken on a journey. The dilemma of whether to watch Friday night headliners Duran Duran or Young Fathers is testing, but the once I'm inside the Big Top with the Scottish trio, I know I've made the right decision.
The union of Alloysious Massaquoi, 'G' Hastings, Kayus Bankole is transfixing. They become one body and one soul, contorting and exaggerating movements as they exorcise their demons together, yet are individually able to maintain their own ground. 'No Way', 'Dare Me' and 'Get Up' evokes a raw energy in the audience, as not a single body in the tent is left static. In midst of the refugee crisis they dedicate, 'Shame' to David Cameron, it is performed with venom and you can witness the anger bubbling at surface of a topic which could not be any more politically taxing. Brightening the mood 'Rain or Shine' diverges from the harsher tones, displaying their skilful harmonisations and a softer positive side of the Fathers. Managing to squeeze just a segment of Duran Duran minus their blonde hair or 80s attire, 'Notorious' recaps why this British band were one of the biggest acts of their time.
Tame Impala's shoegaze psychedelic grooves are velvety and compliments Kevin Parker's honey-glazed vocals, which leave you nostalgic transporting you back to the 70s; as rainbow coloured projections are used as the back drop. 'Elephant' is played heavier and the riffs demand attention. At 1am the lights are dimmed and the show begins erratic lights flashing in unison with the sparse minimal tempo, as Tahliah Barnett skulks on stage partially obscured by the shadow. Atmospheric and bewitching, the sound grows louder and louder engulfing and overpowering; 'Figure 8' an example of the haunting yet fragile artistry FKA Twigs has become synonymous with. Poised and sensual she serenades us with her sweet doll-like voice, alternating her tone and dances hitting each fleck of the beat on time. Her innate sexiness is undeniable, but her concepts go deeper addressing female sexuality and fetishisation lyrically throughout her set-list which includes 'Video Girl', 'I'm Your Doll', '2 Weeks' and 'Glass and Patron'.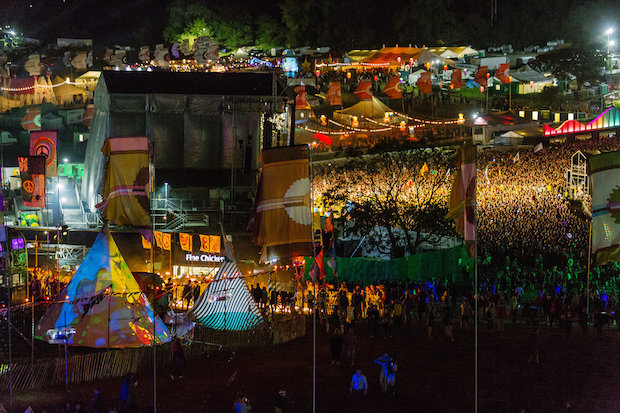 The alt-rock three piece of Dinosaur Pile-Up shakes up the early Saturday afternoon with their rebellious lyrics which tell you to "do what you want do it forever" in a youthful attitude that makes you want to put your middle finger up at the world and say screw your standards. '11:11' thunders, as the grunge undertones and screechy shouts of "11:11" and set closer 'Nature Nurture' keeps you tittering on the edge before the explosion causes clusters of groups to head bang furiously. Little Dragon's performance is well sculpted; Yukimi Nagano's soulful and melodious vocals are complimentary to the blazing sun. Their set is a varied exploration of the Swedish group's expansive ten year catalogue; 'Little Man', 'Never Never' and 'Ritual Union' all make an appearance. 'Pretty Girl' is sincerely sung, as each key played is elusive replicating the emotional nature of the lyrics. Ensuring they leave a lasting impression, as their last show in the UK for the year they play an extended house outro, sending electronic vibrations through the earth at this point you feel you could be standing in a dark dingy club at 4am.
Kate Tempest is no stranger to Bestival, stating that she has attended for the last 8 years, having played shows in the Ambient Forest and at the Bandstand and you can hear the elation in her voice that she has finally graduated to main stage. Her Mercury Prize nominated album Everybody Down finally helped her breakthrough and watching her perform it live just pays testament to the strength of it. Each word is spoken with meaning and a directness that is inescapable. 'The Truth' hits the hardest, as a spoken word version is done before the bass of the drumbeat hits. The crowd is silenced as Tempest's words make you stop and think about the questions she is asking, she is on a metaphysical and deeper philosophical plane. Shura's mellow and heavily influenced 80s pleasures, set a lighter mood in the form of 'Indecision' and 'Touch'. Her voice breathy and yearning, switching between guitar and synths, though the cadence is never modified. Adding some punk rock attitude to Big Top later in the evening is Slaves. Opening with 'Ninety Nine' and blasting into 'Live Like An Animal' they are riotous as Isaac fiercely whacks the drums, whilst Laurie intimidates on the guitar. The moment Isaac's top comes off you know shit is going to go down, 'Hunter' seethes causing chaos with an indescribable force that continuously builds. What makes this duo such a pleasure to watch, is their willingness to incorporate storytelling and to create a rapport with their audience, as they encourage the masses to get a group of Santa's elves in the air to crowd surf during 'Where's Your Car Debbie?'
Annie Mac entertains before the colossal Chemical Brothers prepare to unleash dance and debauchery. Not wasting anytime, 'Hey Boy Hey Girl' is first out of the blocks and when it breaks glorified screams of euphoria travels throughout ensemble. Classics such as 'Star Guitar' and 'Galvanize' are included in addition to the exhilarated wiles of 'Swoon'. Tom Rowland's and Ed Simons' set is an example of their growth and demonstrates their persistent to expand their horizons to produce timeless anthems.
Julie Campbell's alias LoneLady plays post-modern rock jams you can dance to, which feature bold electronic constituents and guitar flow reminiscent of Joy Division but one far bouncier. In full control her strength comes through, never faltering and puts her full efforts in even though the tent is just about a quarter full. Låpsley's ice cold nominal pop is earnest, quaint and yet sombre as she ponders about the future. Her songs are emotive and are just a glimpse into the song-writing talents, of a teenage songstress mature before her time. The resurgence of grime in 2015 has been noted with new home-grown artists such as Stormzy making breakthroughs in the US. This acknowledgement of this trend sees Boy Better Know presents: JME, Skepta, Frisco, Jammer, Shorty, Solo 45 and DJ Maximum, granted the main slot late in the afternoon. Crafted in the heart of London, the sonorous pulsations of songs such as 'Too Many Men' and Skepta's 'Shut Down' are mouthed back by the crowd, establishing the impact this genre has made since its inception in the early 2000s.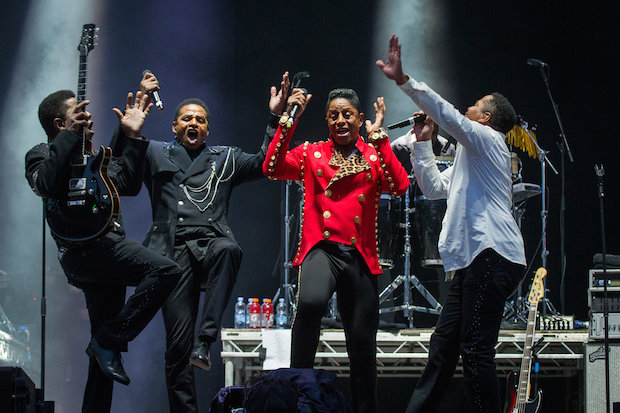 One thing Bestival never fails to deliver on is providing an act of legendary proportions and Sunday's legends comes in the form of the Jacksons. Sans Michael, there is apprehension and debate all weekend with comments like "just how good can they really be?" and "Michael was the Jacksons" floating around. However, once all four brothers – Jermaine, Tito, Jackie and Marlon – are united on stage their natural chemistry is undeniable and you can tell that this performance is for Michael. It is a magical concert as timeless songs such as 'Can You Feel It?', 'Shake Your Body (Down To The Ground)', 'ABC' and renditions of MJ's 'Rock With You' and 'Wanna Be Starting Something', are played alongside choreographed group routines. Montages of the Jackson family are played on-screen and you can't feel anything but honoured to be included in this party, having the opportunity to watch such an established act and celebrate their legacy with them.
As the night rolls in and the main stage is prepared for the final act till 2016, the anticipation for Missy Elliot is incredible. Take into account that she has not performed in the UK for 6 years and that her last studio album, The Cookbook, was released in 2005 the reception that greets her almost implies that she never left. Physically maybe but the realm of hits which stream out including tracks 'Pass the Dutch', 'Get Ur Freak On' 'Sock It 2 Me' and too many more to mention keeps the crowd jumping. Missy has still got it and she certifies the reason why she still is and always will be the Queen of hip hop: a producer, song-writer and rapper all lusciously concocted in to one. She brings down the roof on what has been an astounding weekend full of fun, absurdities and much, much love.
Lois Browne