City And Colour – Live @ Huxleys Neue Welt Berlin
aaamusic | On 18, Feb 2016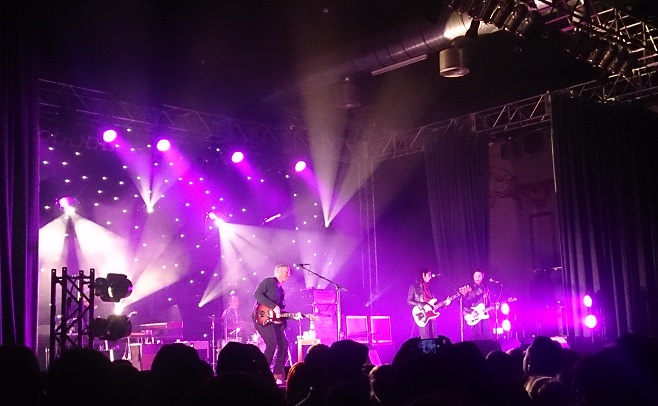 Wednesday 10th February, Berlin
Dallas Green's journey from the aggressive post-hardcore of Alexisonfire to the blues and alt-country of his more recent City and Colour output has, rather surprisingly, felt seamless – at least musically. Fans of Canada's Alexisonfire, for which Green contributed/contributes guitar and clean co-vocals for, lapped up his heart-on-sleeve debut, Sometimes, which was an acoustic collection of near-emo tracks that successfully tapped into the same alternative fanbase, in the way Dashboard Confessional first did when leaving Further Seems Forever, or Frank Turner did when he left Million Dead. However, since then, City and Colour (aka Dallas Green) has grown to be a far bigger entity than Alexisonfire ever was, and as Green has moved further away from angst-ridden acoustic lullabies to more polished folk rock, blues and alt-country, his commercial viability has naturally grown, alienating some of those early hardcore fans.
As such, there was little about tonight's audience at Berlin's Huxleys that resembled the audiences from his early shows – whereas before there would be a crowd of screaming screamo kids awaiting him, tonight there is a mixture of polite, well-dressed professionals, older folk and a few millennial hipsters. The City and Colour of 2016 is now a fully formed rock band, with Green and co. delivering the heaviest, bluesiest set I've ever seen them do, but unfortunately the overly polite Berlin crowd remained tame throughout. Dallas may not (and should not) care about alienating his old hardcore fans, but they sure as hell would have injected some energy into tonight's timid venue.
Audience aside, City and Colour were on excellent form tonight, and although the setlist was heavy on his latest record – the brilliant If I Should Go Before You – and lacking in 'classic' material, this could well have been the best I've seen them. I mean, Dallas Green's voice is just ridiculous…in terms of sheer talent, it's simply the best that ever graced post-hardcore, and truly one of the finest to be working today in indie or alternative or whatever category you want to put him in. And tonight it truly wailed, blessed by perfect acoustics. Backed by a full band, the music was rockier than usual, with most songs featuring a blues rock underbelly (including reworked oldies), no doubt bolstered by Jack Lawrence of The Dead Weather and The Raconteurs on bass. After a blistering rendition of opener 'Woman' (maybe the greatest song Green has ever put to tape?), they go through the best of the latest album, with highlights being the pop rock of 'Wasted Love' and the massive melody of 'Lover Come Back'.
Other than a fully formed performance of 'Two Coins' (the only track from 2013's The Hurry And The Harm) and an alt-country re-work of fan-favourite 'Hello, I'm In Delaware' (from Sometimes) early on, most of the older material was saved for the second half of the show, and most of it was given rocking revamps. 'The Grand Optimist' from 2011's Little Hell was powerful, while closer 'As Much As I Ever Could' from 2008's Bring Me Your Love had added layers of guitar that extended to an epic crescendo.
After a short break for the encore, Dallas Green re-emerged solo with an acoustic guitar, as has become customary. Visibly irritated by the barrage of requests being shouted out by various rude members of the audience, he takes to the mic to apologise if not everyone get to hears their favourite song, and when he's interrupted again by another request he scolds the audience into silence. If they were relatively quiet before, they're now totally silent. To be honest, this made the following solo acoustic performance of personal favouite 'Day Old Hate' from his debut all the more fragile and haunting – a real highlight of the show. It's followed by 'Northern Wind' and 'That Girl', with the band joining for the second half of the latter.
City and Colour finish with a heavy, riff-driven rendition of 'Hope For Now' from their third album, with the bluesy guitars sounding larger and larger as the song evolves. It's an epic end to a an excellent gig – one that his Alexisonfire fans would have truly appreciated…had they been here. But with the news that Alexisonfire are now back together, I'm pretty sure Dallas Green is going to be just fine keeping City and Colour separate. Wasn't that how it was always intended to be?
Clive Paris Rozario
Setlist:
Woman
Northern Blues
Two Coins
If I Should Go Before You
Killing Time
Hello, I'm in Delaware
Wasted Love
Lover Come Back
We Found Each Other in the Dark
Sleeping Sickness
Mizzy C
The Grand Optimist
As Much as I Ever Could
Encore:
Day Old Hate (solo and acoustic)
Northern Wind (solo and acoustic)
The Girl (band joins halfway into the song)
Hope for Now