Melt Festival Announces Final Additions!
aaamusic | On 09, Feb 2018

ANNOUNCE FULL LINE UP FOR 2018
FINAL ADDITIONS:
MODESELEKTOR (DJ) B2B APPARAT (DJ)
LITTLE DRAGON
MOUNT KIMBIE
FISCHERSPOONER
ROMAN FLÜGEL
ROBAG WRUHME
ANSWER CODE REQUEST (LIVE)
BINH
DANA RUH
EFDEMIN
OR:LA
REX ORANGE COUNTY
TOMMY CASH
…AND MORE
FULL 2018 LINE UP:
THE XX / FLORENCE & THE MACHINE / FEVER RAY / TYLER, THE CREATOR / NINA KRAVIZ / MURA MASA / ODESZA / JON HOPKINS (LIVE) / BEN KLOCK / MODESELEKTOR (DJ) B2B APPARAT (DJ) / CIGARETTES AFTER SEX / LITTLE DRAGON / THE INTERNET / BADBADNOTGOOD / PRINCESS NOKIA / MODESELEKTOR (DJ) / THE BLACK MADONNA / RIN / MOUNT KIMBIE / ALMA / FATIMA YAMAHA / PARCELS / FISCHERSPOONER / THE BLAZE / ELLEN ALLIEN / WESTBAM / WHOMADEWHO / AMELIE LENS / SEVDALIZA / ANDHIM / ADANA TWINS / ADRIATIQUE / GEORGE FITZGERALD (LIVE) /  HUNDREDS / IAMDDB / REX ORANGE COUNTY / TUNE-YARDS, EROBIQUE / ROMAN FLÜGEL / ROBAG WRUHME / THE HACKER PRES. AMATO (LIVE) / NASTIA / HONEY DIJON / ZHU / KALI UCHIS
ANNA HALETA / ANSWER CODE REQUEST (LIVE) / ANTIGONE / BINH / CARLOS VALDES / CEM / CLAIRE MORGAN / CLEVELAND / COELY / CORMAC / DJ SEINFELD / DANA RUH / EFDEMIN / FATIMA AL QADIRI / FAKA (LIVE) / GURR / HAAI / INGA MAUER / JAYDA G / JON HESTER / JUNGLEPUSSY / KEDR LIVANSKIY / KID SIMIUS / KIM ANN FOXMAN / KLEE / KUSO GVKI / LAYTON GIORDANI / LA FLEUR / LANARK ARTEFAX (LIVE) / LEO POL (LIVE) / LUCY / MARC MIROIR / MAVI PHOENIX / MIRELLA KROES / MOSCOMAN / MOSES SUMNEY / Ø [PHASE] (LIVE) / OR:LA / PROJECT PABLO / RONE / SEDEF ADASI / SIRIUSMO / SMERZ / SOMEWHEN / SUPERORGANISM / TIJANA T / TOMMY CASH / VICTOR / VINCENT NEUMANN / YELLOW DAYS / ZENKER BROTHERS
Today, Melt Festival, Germany's Mad Max inspired post-industrial musical mecca, announces final names and the full line up for 2018.
Returning once again to Ferropolis from 13 – 15 July 2018, Melt will welcome old friends Modeselektor (DJ) and Apparat (DJ) back to the fold. When Moderat announced they would be going on an indefinite hiatus last summer, shockwaves rippled around the community. So it will come as welcome news to fans of the electronic supergroup that Gernot, Sascha and Szary will be reuniting for a very exclusive B2B DJ set on the MeltSelektor stage this July.
Joining them in the City of Iron will be Little Dragon: a group who perfectly embody the multi-genre sound that Melt is known for. Having worked with the likes of Drake, Gorillaz and Flume since their last Melt appearance, they will be performing new material off their latest album Season High, alongside fellow returnees Mount Kimbie.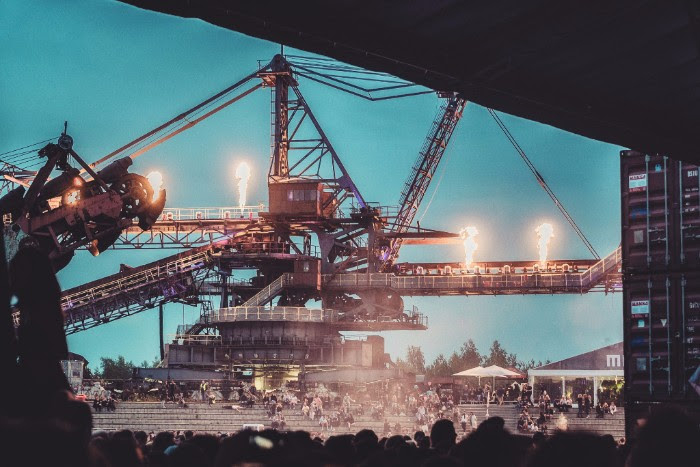 Rounding off another stellar roll call of electronic music's finest at Melt will be German producer extraordinaire Roman Flügel; Kompakt stalwart Robag Wruhme; Ostgut Ton artist Answer Code Request (Live); Time Passages boss and minimal house pioneer Binh; Brouqade Records founder and Cocoon regular Dana Ruh, and hotly tipped Liverpool-based selector, Or:la.
Representing the up-and-coming contingency at Melt this year will be nascent talents Kali Uchis; BBC Sound of 2018 finalist and singer / songwriter Rex Orange County; Estonian rapper and Charli XCX collaborator Tommy Cash and enigmatic producer Zhu, who was nominated for 'Best Dance Recording' in the 2015 Grammy Awards.
Melt Festival is based in Ferropolis, an hour south of Berlin. Famously referred to as'The City of Iron', Melt often ranks highly on lists of the world's most unusual and striking festival sites. A former coal mine that is home to a number of enormous cranes and towering diggers, the machines create a truly spectacular backdrop for post-industrial raving – a German speciality.
Ticket info:
General release – €129 (approximately £114)
Day tickets – €69 (approximately £61)
Group tickets – €479 (approximately £422)
VIP tickets, including VIP camping + VIP access – €249 (approximately £219)
All tickets can be bought via www.meltfestival.de