Funk & Soul Weekender 2019 – Live Review
aaamusic | On 28, May 2019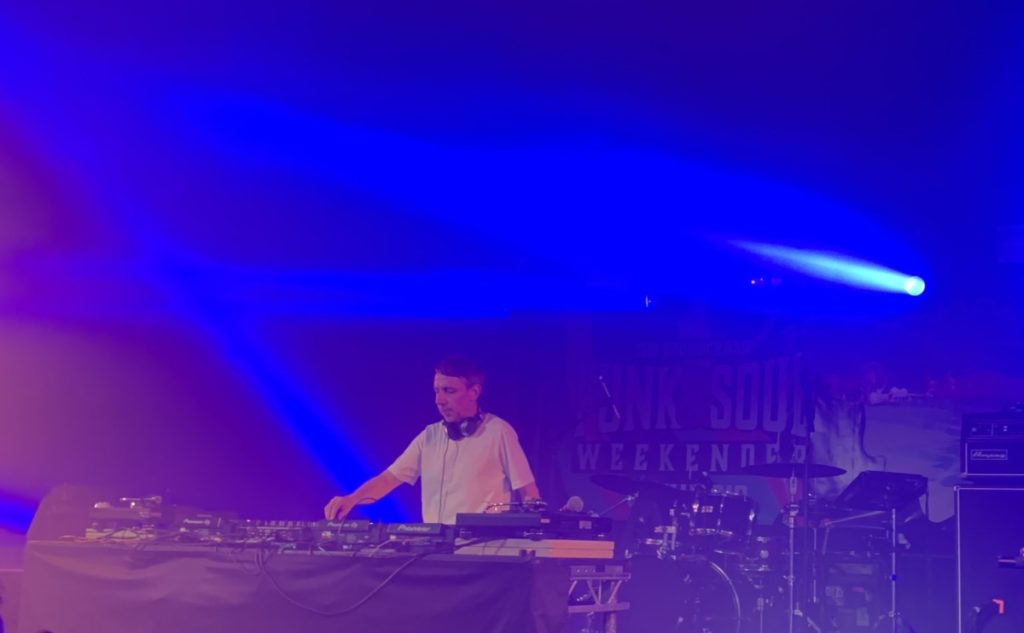 May 17th – 19th, Brighton
On paper, the Funk and Soul Weekender looked perfect. Incredible new location on Brighton beach. Next level lineup. Use of Brighton's best clubs. Excellent food vendors. All good. However, while there were definitely some outstanding musical moments and general good times (all of which I'll detail below), the festival was also plagued by a few organisational issues that dampened the mood…
Chiefly, attendees were made to queue an awful lot… while a one-in-one-out policy is frustrating but understandable for individual stages, a one-in-one-out policy for the actual main festival site is unacceptable, and the lack of toilets (a rookie error) ensured everyone would be made to tackle the queues no matter how early they got there. That all said, I am firmly of the option that we give the promoters a little slack, given it was their first year at a new venue… and the sound quality was phenomenal! Anyway, here's the review…
After just missing Fatima (gutted), our Friday was kicked off by Kamaal Williams at The Factory (i.e. main stage), who take us through a psychedelic fusion of contemporary UK jazz (not a million miles away from his sorely missed Yussef Kamaal project) and the kinds of dance music associated with the band leader's other moniker, Henry Wu. A great start.
After a short gap, headliners The Pharcyde hit the stage for what transpires to be the set of the weekend. I've seen The Pharcyde a couple of times before and their live shows always felt like they were missing something, which is true of performances by most golden era hip hop heavyweights. They often seem to be just going through the motions. However, tonight, these guys are totally on point, with MCs Imani and Bootie Brown aided by a brilliant live band, who help weave in some welcome jazz and funk interludes between songs. They play hit and after hit, including 'Ya Mama', 'Oh Shit', 'Drop', 'Runnin'' and, of course, 'Passin' Me By', with the crowd cheering and dancing throughout. Some of the best live hip hop I've seen in years… and definitely the best performance by an legendary oldschool act.
Saturday comes blessed with sunshine. After sampling some of Brighton's best fish and chips, and a little wander along the beach, we head into the festival's main site for Yazmin Lacey, the brilliant London-born jazz singer who I first saw supporting Alfa Mist at a gig in Berlin. Her stage presence and formidable pipes make up for some light sound issues, with highlight being 'Black Moon', the title track from her 2017 EP. Can't wait for her debut album to drop.
After catching some of Maribou State's house-lite DJ set (meh) in the main stage tent and grabbing a bite from festival vendor Other Side Fried (some of the best friend chicken around), it's over to the Lunars tent for Children Of Zeus. Vocalists Konny Kon and Tyler Daley bring the SOUL, dishing out 90s hip hop vibes mixed with RnB slow jams, all tinged with a little UK urban atmosphere. Man, I love this band. I can still hear 'Still Standing' now.
After bumping into Steve from The OA (aka actor Patrick Gibson, just here for some funk and soul), it's back over to The Factory for good old Gilles Peterson, who spins out his usual mixture of latin jazz, hip hop and eclectic club sounds. The festival's main site is rounded off with the powerful voice of Alice Russell, who's decent enough show – backed by an incredible band – can't complete with The Pharcyde's storming headline set the day before.
The night is closed out at Brighton's premier club Patterns with Gilles Peterson (again) for one of the festival's official after parties. This set takes things to a whole new level, bring in more world sounds (from African tribal drums to Middle Eastern rhythms) and upping the beats. Gilles, I salute you.
Unfortunately we couldn't hang around Sunday night for the likes of Lee Fields and Kamasi Washington, but we hear they both smashed it out of the park.
Organisational issues aside, Brighton seems a great home for Soundcrash's Funk & Soul Weekender… and given that it's Soundcrash, one of the UK's greatest promoters, we should chalk it down as teething problems and give them the benefit of the doubt. See you next year? Hope so.
Clive Paris Rozario