Gilles Peterson + Dorian Concept + Flako – Live @ KOKO
aaamusic | On 19, Nov 2014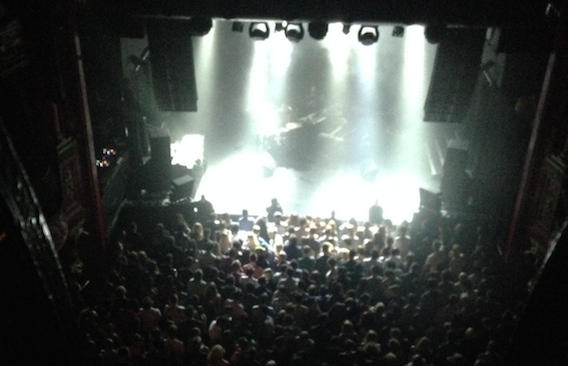 Saturday 15th November, London
Gilles Peterson and Soundcrash are a match made in heaven. Both are purveyors of experimental electronic music, hip hop and jazz; both are most successful when focusing on the area at which those three genres overlap.
Tonight's showcase at KOKO features the main man himself, Mr Peterson, plus two of the very, very finest leftfield beat producers of our time: Flako and Dorian Concept.
First up, however, is Diggs Duke, who commands the growing audience with his retro soul vocals and melodious jazz keys. It's no surprise to learn that Duke is signed to Peterson's label Brownswood – this is perfect Gilles Peterson fodder, with psychedelic electronic soul giving way to warming, traditional sounds. Expect to see him at next year's Worldwide Festival. Next up is another Worldwide favourite: US hip hop artist Homeboy Sandman. The NY Stones Throw rapper is fantastic on record, but tends to fall slightly flat in a live setting, as he unfortunately does this evening. The beats are pretty great and there is no disputing his lyrical dexterity, nor his formidable stage presence, but the sound quality just isn't quite right for the Sandman; live hip hop is very dependant on the audience being able to hear the lyrics.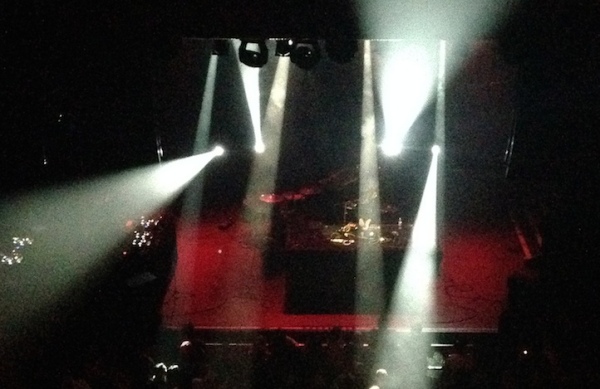 Flako's star has really risen in 2014. I've witnessed the London based producer (with Chilean and German roots) quietly smash out impeccable live sets in a range of environments: London club nights like Lighbox with Machinedrum (back in 2012) and Tempo Clash at Autumn Street Studios, supporting Bonobo at Brixton Academy, plus killing it at Dimensions in Croatia this year. Each set has featured different vibes and tempos, proving that this particular bass-loving wunderkind is rather adaptable. Tonight, the first half of his short, sharp live set keeps things rather slow and brooding, before cranking up the party vibes, in what is a very deliberate arc. Slow, meandering bass music collides with Brainfeeder-esque glitches, before colourful instrumental hip hop is seamlessly brought to the fore, upping the tempo. It's a fantastic set all done live, with Flako programming the beats and looping both samples and vocal sounds he sings himself. Very impressive, as always.
Although the whole lineup is wicked, a lot of people here tonight, myself included, are here for one act. Dorian Concept – aka Vienna's Oliver Thomas Johnson – frequents London all too rarely for someone who has been so influential on the whole London beat scene. Tonight, he is here to unveil his live 'trio' project, alongside two additional musicians, in the UK for the first time. His new album, Joined Ends, showcases a new, calmer direction for the former instrumental hip hop producer, and tonight's live set up – featuring many keyboards, with Dorian taking on two himself – is geared towards this jazz-laced, synth-heavy new sound. On album, there is an intentional lightness of touch, with the overlapping sounds having a kind of Mount Kimbie (circa Cold Spring Fault Less Youth) subtlety. Live, the arrangements have more impact, with the looping synth lines building in tension and Dorian Concept's ridiculously able jazz hands tinkering all of his keyboards; when glitchy beats are dropped they are beefier, almost heady. 'Ann River, Mn' and the gritty, pulsating 'Draft Culture' are particular highlights, but in truth the whole set is pitch-perfect from start to finish.
Gilles Peterson rounds off the night with a rather unusual set, as if to keep us regulars on our toes. Eschewing his usual formula of flitting from genre to genre, he begins with a slow, beat-less extended intro, accompanied by an unexpected chap on what looks like a melodica. It's oddly alluring, with a kind of world music meets Koreless vibe. Gilles then suddenly kicks it up a gear (or ten) with some pretty Germanic techno and keeps this industrial, up-tempo vibe going for some time before deviating into hip hop; even then, he quickly returns to pounding techno. A strange but interesting curveball of a set. Keep 'em coming Gilles. Keep 'em coming Soundcrash.
Clive Paris Rozario