The Young Veins' Debut Album
aaamusic | On 02, Jun 2010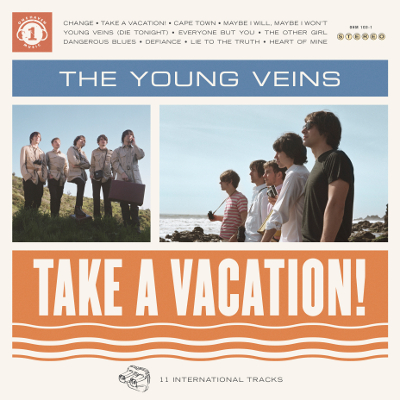 On The Young Veins' debut album, Take a Vacation!, you will hear an outfit with both intellect and ambition – a band that knows exactly who they are and where they are going.  As 23 year old frontman, Ryan Ross, re-imagines 60's pop, tropicalia, old New York girl groups and fuzzed-out psychedelia to Nuggets-era garage rock and Stax-inspired soul, you will hear a band that is mature beyond its years and truly excited by the craft of songwriting– uncovering what came before and anxious to see what's ahead. "We want to be good at our craft, whether it's writing music or playing it live," says Ross. "Jon and I just feel like a lot of bands have an either/or sort of feel – either they're really poppy but don't have a good vibe, or they have good vibe but the songs aren't great. And we really wanted to avoid that. We feel like we're trying to be the band that we're missing right now."
Ryan Ross spent his formidable years as the primary songwriter, guitarist and singer in Las Vegas' wildly popular Panic! at the Disco, a band that rode to the top of the charts on dance-floor synths and impressive rock theatrics. However, over the course of two albums, Ross's songwriting and musicianship began to evolve, mature and outgrow the stylistic bounds of the band. He and Panic! bassist Jon Walker had discovered their talents as a songwriting duo, and made the decision to step out on their own. Armed with new material, Ross and Walker made their departure, moved to Los Angeles, and formed what is now The Young Veins.
With Take a Vacation!, The Young Veins are that band. Recorded mostly live over the course of two short sessions at Castle Oak Studios and Sunset Sound in Los Angeles and produced by Alex Greenwald (Phantom Planet) and Rob Mathes (Panic! at the Disco, Carly Simon, Lou Reed) – and featuring guest vocals/instrumentation by fellow Californians Jason Boesel (Rilo Kiley), Danny and Michael Fujikawa (Chief) and Z Berg (The Like), the album is a stunning 29-minutes of deliberate and focused songcraft; concise pop and rock songs that embrace a dreamy California spirit but also epitomize Ross and Walker's vast sphere of influence, ambition and artistry. "We wanted every song to have a different theme, like a specific subject," says Ross, who splits songwriting duties with Walker, each helping the other hone and fine-tune initial ideas, finish creative thoughts and explore different stylistic directions. "We wanted them all to be little stories that you can picture in your head."
Take a Vacation! is both rousing and refined, boisterous and sophisticated, hard-hitting and full of heart. The album is a marriage of passion and perfectionism and through all of their songs ribbons a delight in melody. Take a Vacation! illustrates all that is special about Ross and Walker, gathering all their influences to create something truly exceptional.
TRACKLISTING –
 1.       Change
 2.       Take A Vacation!
 3.       Cape Town
 4.       Maybe I Will, Maybe I Won't
 5.       Young Veins (Die Tonight)
 6.       Everyone But You
 7.       The Other Girl
 8.       Dangerous Blues
 9.       Defiance
 10.   Lie To The Truth
 11. Heart of Mine
**Plus two exclusive UK tracks on the CD format**