Jamie Liddell – I Wanna Be Your Telephone
aaamusic | On 18, Jul 2010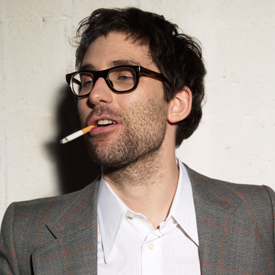 Sometimes soul can be an incredibly subversive and interesting genre. More than most give it credit for. And Jamie Liddell is a relatively new addition to this canon or soul-influenced mavericks, using it as a springboard for his own distinct style on his latest single, 'I Wanna Be Your Telephone'. The lead track starts off with some heavy synthesised percussion abuse and what sounds like a mechanical donkey, before the funky bassline and electro-pop hooks creep in. The melody is fascinatingly glitchy, played on several different looped tracks that leap from one to the next in a kind of sonic game of hot potato. Liddell's voice itself is versatile as it either serves as a warm counterpoint to the robotic skittering instrumental sounds, or joining in as he pulls off a strangely melodic caterwaul reminiscent of Jack White in one of his more unhinged moments.
And Liddell being an electronically inclined artist, there is indeed a remix of this single, and by this we're not just talking adding an extra chorus and slicker production to the same song, but a genuine rework of it, laying bare the quietly powerful and refreshingly clean vocals for half the song, before integrating them into the electronics.
The b-side, 'Gypsy Blood', once again starts off with clattering yet decidedly rhythmic and undeniably funky percussion and a wonderfully distorted bassline. The sounds here are display a slight rock influence, the synths sounding like the distortion of a heavy metal guitar, without the guitar. This leaves an impression that perhaps I am listening to a lost Dead Weather track, but this is by no means cheapening what is on offer, as it's clear that Liddell has stumbled upon this sound via a totally different route, and isn't afraid to keep exploring. This is an artist well worth keeping an ear out for.
Author: Katie H-Halinski