Bleu – Four
aaamusic | On 24, Oct 2010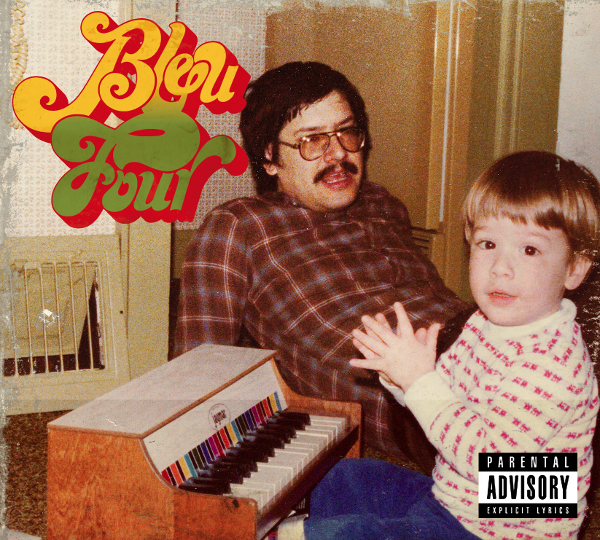 Powerpop is something I've never quite pinned down as a particular genre, but I'd hazard a guess that Bleu might be found on the lighter outskirts, blending the sunniest pop-punk sound with Electric Light Orchestra similarities in melody and approach.
Kicking off is the twinkling pop song 'B.O.S.T.O.N.', a happy and catchy little number driven by sunny 1960s organs and glockenspiel over jangling pop guitar. The songwriting is nothing fantastic and loops around, but the repeated hooks on offer are catchy, and there's something addictive in the saccharine and tuneful vocals. The chorus is nonsensical but well-constructed in its layering of melody and backing vocals and the bridge is a tongue-in-cheek little section of euphoria that brings in the last chorus.
'Dead In The Mornin' features a rather surreal fade-in straight to a fast-paced horn section melody and hurtling pop drumming. Here, soul backing vocals add sparkle to a quirky little number. The slowdown/speedup sections are moments of juicy invention to a fairly typical soul-tinged pop melody, and despite the subject matter, there's still an overwhelming cheerfulness to this song that you can't help but sing along to.
Continuing this stylistic kaleidoscope, 'Everything Is Fine' is a languid and twee folk-pop track that brings back the glockenspiel to twinkly over a finger-picked acoustic guitar. The falsetto vocals add a sense of delicate melancholy, and the string section arrangement is rich, beautifully spot-on, and adds texture and intrigue once again. In a twist, this track's melancholy tones veil a glowing optimism in the lyricism. The folk-isms lead nicely onto the sinister acoustic pop Beatles-tinted twang of 'Evil Twin'. Featuring a malignant clatter in place of the usual drum kit and a series of determinedly stabbing acoustic guitar chords in a rather morbid pop chord progression. Even the vocals have a new edge to them, albeit in a decidedly sunny manner. Then we get the downbeat 'How Blue', which feels like a sweetly crushing hybrid of Grandaddy and Muse, syrupy in melody and slow in bare-bones drumkit, yet elsewhere on the track we get lush string section arrangements, and the soaring falsetto vocals are bordering upon stadium leanings.
There are appropriately enough, four bonus tracks after the break. 'MY Own Personal Jesus' is a clownish pseudo-country gospel track with twangy electric guitar and impossibly upbeat melody. The lyrics are sparky yet never quite smartarsed, and there's something soulful and yet strange about the track as a whole. Leading on from this is the shambolic sheen of 'Singin' In Tongues' a glitzy explosion of pop magic over soul skeleton as Bleu slurs his words in a controlled manner over a ecstatic collection of everything that can be included on good-times pop music. Chugging tame guitars and glam-stomping drumkit dance with horns and strings to create an instant track for a happy montage on the next summer blockbuster.
In contrast, the violin and acoustic guitar melodies of slow-dance/breakup track 'When The Shit Hits The Fan' slow things down, indicating an ending on its way. Compared to earlier tracks, this is a much more intelligent and mature song, and the way the instrumental arrangements approach orchestral reflects this. To close, we get the dance-influenced electronic/orchestral/acoustic musings of 'You'll Catch More Flies With Honey Than Vinegar'. Tuneful, slow, sweet and slurred, this could easily be Bleu's mission statement. The vocals are definitely the star of the mix and rightly so – as ever they are unfeasibly melodic and yet more powerful than on many of the previous songs. My only gripe is that at 6 and a half minutes, tedium does eventually edge in.
The thing with 'Four' is that it is, for all intents and purposes a sublime collection of tuneful, textured and overall thoroughly listenable pop songs with just enough edge to add spice and interest. However, I can't help but feel that beneath all the glitz and show is nothing but so much powerpop candyfloss and after a few tracks this does get wearing and unrewarding on deeper levels. That said, we all are partial to some spun sugar every now and again, and this is a truly lovely indulgence, although much like anything this sweet, I would advise it only in small doses.
Author: Katie H-Halinski