THE COATHANGERS ALBUM OUT TODAY
aaamusic | On 20, Jun 2011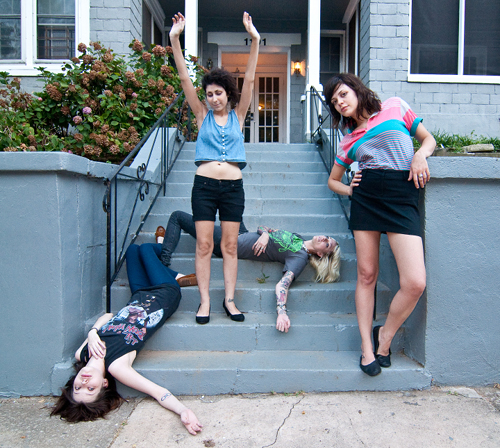 THE COATHANGERS
ALBUM OUT TODAY
FLEXIDISC SINGLE ON
X-RAY RECORDINGS AUG 6TH
www.thecoathangers.com – @thecoathangers
Atlanta's riot grrrls The Coathangers release their full-throttle new album 'Larceny & Old Lace' TODAY on Suicide Squeeze. Along with it they have confirmed a one off limited edition hand-numbered flexidisc single on X-Ray Recordings, due to be released on August 6th.
The flexidisc includes 2 tracks 'Hurricaine' and 'Johnny'.

Self-admittedly something of a concept record about friends and family who have passed away and stories about life and death,Larceny & Old Lace sees The Coathangers stepping up their game for a volatile 11 track cherry-cola flavoured sucker punch. Swinging frantically from ferocious to saccharine sweet, all the while showing an uncanny flair for writing thoroughly addictive hooks, The Coathangers do girl punk with more panache, style and humour than any of their peers.
This recordis the follow up to the quartet's critically acclaimed 2009 album, Scramble, also released on Suicide Squeeze. It also follows a hectic touring schedule that's now notched up over 200 shows, playing with the likes of The Thermals, Japandroids, These Arms Are Snakes, The Strange Boys, Fucked Up, Monotonix and Jay Reatard – whose memory album track Jaybird is dedicated to.
Larceny & Old Lace tracklist:
1) Hurricane
2) Trailer Park Boneyard
3) Go Away
4) Sicker
5) Call To Nothing
6) Jaybird
7) Johnny
8) My Baby
9) Chicken: 30
10) Well Alright
11) Tabbacco Rd.
X-Ray Recordings is a new London-based label set up by yours truly and one Scott Walker of Kasms fame. With just one simple mission; to release music we love and to revive the forgotten format of the flexidisc, the name X-Ray Recordings originates in the fact that x-rays were used as a readily available material for making flexidiscs to distribute secret underground punk and jazz records, which were prohibited in the Soviet Union after World War 2.
X-Ray Recordings' last release is a now sold out release of London psych goths Trogons' single 'Contina' which, as NME kindly pointed out, is "bloody marvellous". Now we're turning our attentions to this Atlanta quartet who we love for their gutsy attitude and non-stop energy, flying the flag for girl punk the world over.