Reel Big Fish @ Shepherds Bush Empire
aaamusic | On 19, Feb 2012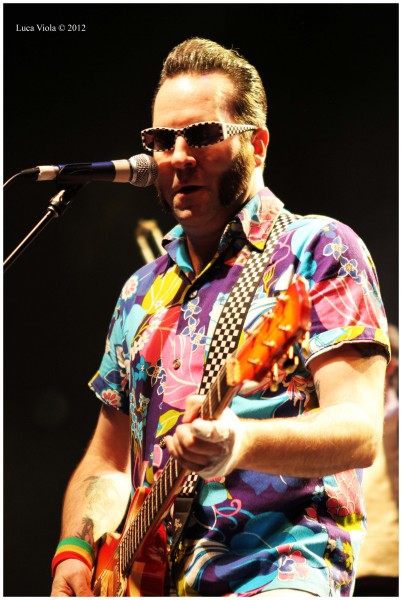 London, 09th February
First band of the night at the Shepherds Bush Empire is "The JB Conspiracy" a 7 piece punk-ska band with lots of fun to spread through their instrument. It's not easy to be the opening band for Reeel Big Fish, especially if the way to play and the genre are too similar, but The JB Conspiracy in small setlist are able to entertain the "early birds" with songs like "Start Listening", "Drop Your Anchor", "Skelly" and "This Machine". Definitely a band to keep an eye on, if you want to join a ska-punk party, maybe in a smaller venue.
Second band of the night is "Orange". The four Californian guys joined Reel Big Fish on tour across Europe and the UK after the release of their EP "The Dead Sexy" produced by Ryan Hewitt (Blink 182, Sum 41). The band is definitely the underdog of this tour, having few things in common with the other bands, but the effort put on stage by these guys is more that respectable. Zac Glosserman (drum) hits the stage dressed as a bear, while frontman and vocalist Joe Dexter reminds me of Gerard Way (My Chemical Romance) during the "Dead Parade Tour". This band is able to create the right atmosphere even for those among the crowd that bought a ticket simply to see Reel Big Fish. Dexter's attitude on stage impresses me very much and the setlist is long enough to leave a mark in people's mind that night. Songs like "Elektron Gun", "Catching Up" and "Resist" are the right manifesto for this band, and after a 7 tracks setlist there's also time for a surprise with a Beatles's cover for "Help".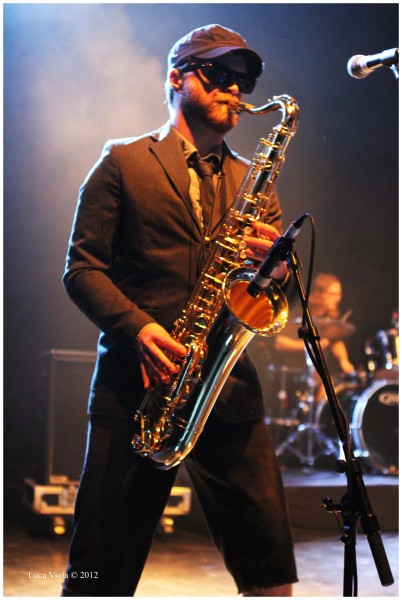 Reel Big Fish hit the stage opening their night with "Everything Sucks" followed by "I Want Your Girlfriend" and "Good Thing/Your Guts"; the message is clear: let's have fun, tonight!
There's no doubt that the most famous Californian ska band will entertain the crowd. The venue is now packed, and I'm really impressed of the mosh-pit during "Join The Club", "241", "Monkey Man" and "Beer". This band has amazing music skills and their show is purely addictive and Aaron Barrett is a real showman. Time has passed but nothing has changed, Reel Big Fish after 20 years has still a strong passion and impressive energy on stage making fans think that maybe 20 tracks per night are not enough. The band leaves the stage with 2 of its most famous hits: "Sell Out" and A-ha's cover "Take On Me" making an extraordinary grand finale for the night. Reel Big Fish is definitely a band to experience at least once in your lifetime.
Author & Photos: Luca Viola