Yashin – Live @ The Courtyard, Bicester
aaamusic | On 16, Mar 2013
Oxfordshire, 15th March
Yashin Blast! onstage to the single 'New Year or New York' one of the bands best tracks of their new album 'We created a Monster' and you know it's going to be a night to remember. A monster of a band has emerged and it's in the least place you would want to be a little town in Oxfordshire. The combination of Harry's clean vocals and Kevin's screaming vocals give The Blackout a run for their money and work tighter than their Welsh friends.
The sound is incrediable as they burst into 'Down, But homeward Bound' off the bands first album, that is a thumper of a tune that get's the Sold Out venue's audience surging to get to the front and you start to wonder if you will 'Make it out Alive'.  This great song is a more chart friendly number that has hints of Linkin Parkand the sounds of the Nu-Metal era.
Old songs like 'Let it Go' and 'Get Loose' go down well with the audience and now seem like old friends, And new songs like 'The last one Standing' are welcomed with open arms this one even causing a lot of movement in the crowd.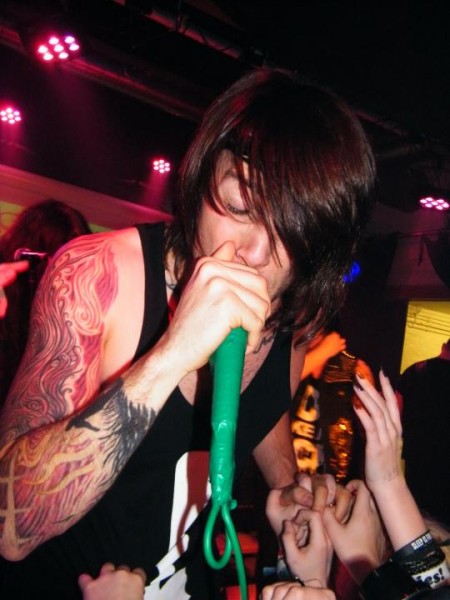 You can't also miss out from mentioning the  unforgettable 'Stand Up' which has a great melody at the beginning and such a catchy chorus half way through. This sees Harry entering the crowd for singing a long with nice piano in the middle with fans joining in and this would be the highlight of the evening if it was for.
An awesome acurate cover of Linkin Park's 'One step Closer' is a great moment and causes their to be a mosh pit and a lot of shoving. This song got the band a lot of hits on YouTube and is now becoming a live favourite among die hard Yashin fans.
They end the set on new song 'Runaway Train' which brings an amazing eveing to a close and is a bit of an anti climax after the two songs before, but neverless this was the best gigs I have ever seen Yashin play. Catch Yashin at a festival near you soon and they are bound to rain supreme.
Yashin – Setlist:
————-
Intro
New Year or New York
Down, But homeward Bound
Make it out Alive
Remember Me
Let it Go
Get Loose
-4
Angel's Son
Last one Standing
Sound the Alarm
Remember Me
Stand Up
One step Closer
Runaway Train
Review and Photos: Dan Devour