Mike Dignam – Live @ Oxford O2 Academy
aaamusic | On 17, Mar 2013
Oxford, 16th March
Opening up for styling Pop rockers Lawson is a hard job, even though the girls will scream at anything. Mike Dignam though shows that he is a promising new talent standing up for himself with quality song writing which can be sampled on his EP 'Paint' which he was giving out to fans for whatever they wanted to pay for it. If they had no money left from buying all their Lawson merch he would even give them a copy for FREE out of his own pocket. What a star and what a good way of getting your music heard. The EP is quite long with a massive …… tracks on it so a great way to listen to this new star.
Mike has elements of the sound of James Arthur, Matt Cardle, Will Young and Matt Gossin his music but he brings in his own flair. I would say this is soulful singer songwriter Popand his music is really well put together. Starting the set with a Funky bass line from 'Keep up Lady' a song Stevie Wonder would have been overjoyed in writing. It has that 70's Harlem streets feel about it and shows that he has skills past his years with him only being 23 years old.
All songs in the set come from 'Paint' other than a cover of 'Dynamite' which is added for amusement value but sounds great and gets people involved in his set. For me the standout track in the set is 'Relentless' were the chorus harmonies and melodies have a Pop tint and show a different side to Mike's voice. The track has his Funk signature on itwhich is great to see an artist so young already having a sound that could be identified as him and this is shown on half the tracks on the new EP and I think is something that will really evolve in time. It's a sound that get's people on their feet and singing a long, but also I think is something that you could enjoy just hanging with your mates at home and for those chilled days he can also get down and acoustic.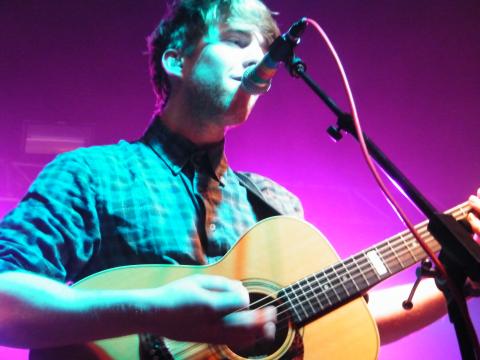 He explores the acoustic side of himself with songs like 'Great Escape'and 'Lungs' which are more acoustic songs with one having a happy jolly melody and the other being a sad emotional song. Both do not have the Funk signature so it is different from his other material. He plays this on an acoustic guitar and it sounds like he has been influenced by Folk on this and it would be a great summer song, ready in time for festival season. I think the crowd seem to really get into the 'Great Escape' with it having an easy listenable edge to it. It's just a happy song about escaping the World and going to places new, which Mike must be doing touring with Lawson all around the country.
You can't beat a cover though and tonight it's Taio Cruz's 'Dynamite' and with lines like this "I throw my hands up in the air sometimes!" who can blame him for picking it, because it gives the audience direction to do what the songs says and go crazy, waving their hands in the air. I think this really helps to win the crowd over so by the time he comes to play last number 'Young' a track that has been circling around for a little while. You realise his Folkinfluences are more apparent, I think Mike must have really listened to his parents record collection as he growed up. Their are so many influnces from so many places and this happy number just shows a great end to far to short great set by such a promising artist.
If you missed Mike at the Oxford o2 Academy supporting Lawson you don't have to worry he will be back at the same venue but upstairs on September 27th so you will have another chance to see him. If you don't live in Oxford though he will be playing a massive UK tour throughout September and October so get yourself down to see him at a venue near you. Check on his official website or here for more details.
Mike Dignam – Setlist:
—————–
Keep up Lady
Relentless
Great Escape
Lungs
Dynamite
Young
Review and Photos: Dan Devour