Nosaj Thing – Live @ Village Underground
aaamusic | On 17, Mar 2013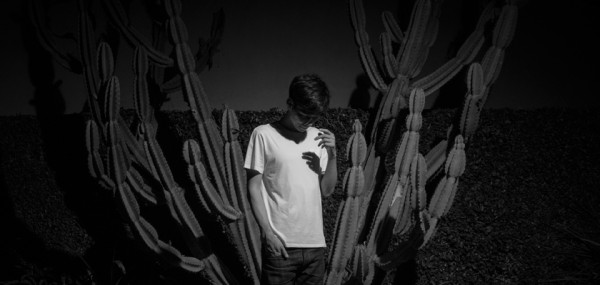 London, 14th March.
LA's Nosaj Thing doesn't frequent the UK nearly enough, so credit is due to Earnest Endeavours and Black Atlantic for enticing him over for this show at East London's best venue (yes, better than XOYO, and certainly better than The Troxy). This event not only marks a Nosaj Thing headline show to support his sophomore album Home, but also the first in a series of upcoming Earnest Endeavours night to feature left-field music and film (in between each set tonight a series of short films and artistic music videos are showcased on the main stage screen).
First thing I'd like to note is two-fold: Great work for securing such a nice US lineup, but shame on you for staging it on a Thursday school night (Nosaj Thing didn't start his set until the early hours, making this music writer's day in the office the next day a miserable experience).
After Patchwork Pirates – aka Earnest Endeavour's Alex Patchwork – warms the arriving crowd, California's Free The Robots takes to the stage for what transpires to be a revelation for AAAmusic. Although part of the same collective of Brainfeeder affiliated producers who head up the Low End Theory scene in LA, Free The Robots – aka Chris Alfaro – has remained a little under the radar in the UK. Like fellow Low End Theory hero The Gaslamp Killer and London-based Brainfeeder friend Kutmah, Free The Robots' set is a concoction of West Coast, DJ Shadow-influenced hiphop, progressive dubstep, jazz and humourous, unexpected samples – and, like Brainfeeder head honcho FlyIng Lotus, it is relentless in its rapid-fire switching between tracks. Although this kind of DJ technique often creates an experience like watching a remote-hogger flicking between TV channels, it also ensures there is a kind of carefree energy to the set – and Free The Robots effortlessly mixes silly pop samples (e.g. Destiny Child's 'Say My Name'), serious oldschool hiphop, and underground electronic tracks with ample bass. Chris Alfaro has finally 'arrived' in London.
Next up is Brainfeeder's Mono/Poly, who struggles to better his friend's previous set. But what he lacks in innovation and variation he makes up for with formidable bass. Donning a hilarious tiger costume hat, Mono/Poly – aka California's Charles Dickerson – bounds around the stage like a hyperactive raver, dancing and headbanging along to his mix of dubstep and synthy, glitch based hiphop. When he cherry-picks from his own productions – particularly from his Manifestations EP – he creates a heady atmosphere of futuristic beats and rumbling bass, reminiscent of his winning headline set at Birthdays' Tempo Clash event last year. However, Mono/Poly's experiments with bass-heavy music often cross over into more tasteless 'brostep' territory, a sound that despite being extremely current in the US is beyond outdated here. Nonetheless, Mono/Poly the grinning, jumping tiger is clearly having the time of his life, and the crowd laps up his enthusiasm up, provoking the night's most fluid dancefloor.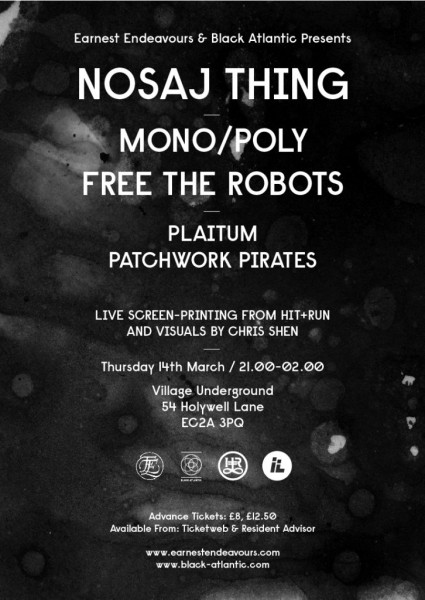 Before Nosaj Thing takes to the stage for his headline set, Alex Patchwork jumps at the decks for an impromptu mini-set of party bangers, including 'Loving The Crew' by The Weeknd featuring Drake (sorry, Drake featuring The Weeknd). Patchwork is one of those underrated DJs who consistently smashes warm-up, filler and graveyards sets, with his sets at 2012's Worldwide Festival being amongst AAAmusic's highlights.
When Nosaj Thing – aka Jason Chung – finally does get to the decks, the first thing I notice is how different he looks and sounds to his headline set at XOYO in 2011. His whole persona is more confident, having progressed from a mysterious bedroom producer into a real live performer. Backed by a big screen of meandering visuals (visuals that are more engaging than those that backed the night's other DJs, and less distracting than Chung's AV show in 2011), he splits and mixes sequences from his beautiful second album Home, his darker debut Drift, and his twitchy remix work, as well as other progressive electronic, post-dubstep and glitchy hiphop music. In terms of technique, Nosaj is hands down one of the best working in hiphop (and I use hiphop loosely), with his use of Drift's 'Fog' being one of the night's highlights.
What stops this show bettering his 2011 XOYO headline show is, ironically, this newfound confidence to his performance. Although his inclusion of more bass-heavy party music doesn't create the same alienation from his recorded music that, say, Flying Lotus' live shows do from his prodcutions, it does remove much of the intimacy that makes Nosaj Thing so different from other LA/Low End Theory/Brainfeeder affiliated acts. And it is this intimacy that drew me to him in the first place. However, much of this I put down to the Village Underground sound system (turn down that bass!), and this set – and the whole night – is near-perfect.
Sadly I can't stay to watch the final Patchwork closing set (curse you school night), but AAAmusic retreats home happy and content. I reiterate: seriously well done Earnest Endeavours and Black Atlantic for securing such an excellent lineup of California's brightest experimental hiphop producers (even if the 'experimental hiphop' is fast becoming synonymous with progressive dubstep).
Clive Paris Rozario