WE ARE MODESELKTOR UK FILM PREMIER – 17th May
aaamusic | On 20, Mar 2013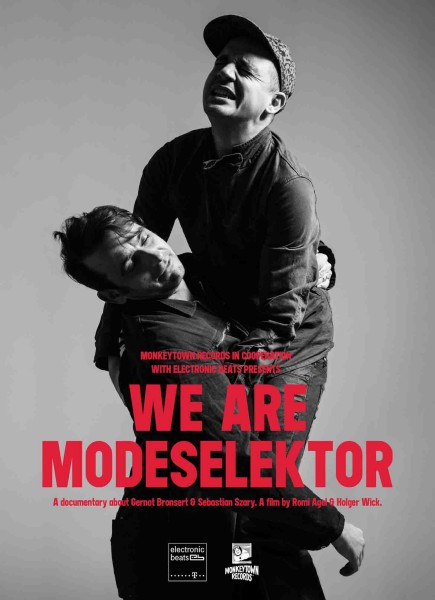 BLACK ATLANTIC & EASTERN ELECTRICS PRESENT
"WE ARE MODESELKTOR" UK FILM PREMIER.
DATE: FRIDAY 17th MAY 2013
TIME: 7PM – 8PM
TICKETS: £15 – £20 ADVANCE (INCLUDES FILM PREMIER + LIVE SHOW) VENUE: ROUNDHOUSE, CHALK FARM ROAD, LONDON NW1
TUBE: CHALK FARM (NORTHERN LINE) / CAMDEN TOWN (NORTHERN LINE) TICKETS AVAILABLE FROM: RESIDENT ADVISOR & ROUNDHOUSE BOX OFFICE
Black Atlantic, festival promoters Eastern Electrics and Monkeytown Records join forces to present a unique London date with one of electronic music's most revered artists – Modeselektor.
Ground-breaking documentary "We Are Modeselktor', will be aired for it's UK premier at renowned London venue the Roundhouse, ahead of a special live performance from the production duo.
In 72 minutes the film makers Romi Agel and Holger Wick draw a portrait of Modeselektor, which is more than just a biography but a film about Germany after the Wall came down, a travel reportage and a story about a special friendship.
"We Are Modeselektor" tells the history of Gernot Bronsert and Sebastian Szary by means of numerous interviews with Modeselektor themselves and companions like the VJs from Pfadfinderei, Ellen Allien and Moderat band colleague Sascha Ring.
Their performance will be the first and last time they play live in London this year and offers a rare opportunity to enjoy Modeselektor in the stunning surrounds of one of the capital's most important contemporary spaces – Roundhouse; the perfect environment for Gernot & Szary (aka Modeselektor) to realise the full potential of their breath-taking live experience.
Support comes from close friend and cohort Apparat (ahead of the release of their highly anticipated second album under the collaborative moniker of Moderat, due later in the year) and legendary German electronic act Mouse On Mars.
INE-UP: MODESELEKTOR LIVE APPARAT
MOUSE ON MARS LIVE
TICKETS: http://bit.ly/MDSLKTR1705
FACEBOOK: http://bit.ly/MDSLKTR1705FB