Melt Festival 2018 – Live Review
aaamusic | On 23, Jul 2018

"The Berghain of festivals". This is a phrase I came across a lot this year when reading about or discussing Melt Festival. It's an interesting comparison and one that certainly has its merits. Both are legendary within the Berlin techno scenes, instrumental for putting Berlin electronic music on the map. After all, Melt has been going for a good couple of decades. Additionally, both Berghain and Melt have gradually moved away from the underground with searching for something rather greater in scope: perhaps not the mainstream, but definitely a more accessible clientele and a wider variety of music. Lastly, both are striking examples of what architecture and sound quality can do to create a unique aesthetic; one that actively enhances the music.
The 20k capacity Melt takes place at the Ferropolis, about 2 hours outside of Berlin – a striking ex-mining site with industrial cranes and machinery, fitted with blinding lights and pyrotechnics, and situated next to a sprawling, picturesque lake. I've said it before and I'll say it again: it's the best and most impressive festival site I have ever seen, with the highest quality sound I've ever experienced. Melt 2018 continued its winning streak with dependably beautiful weather, excellent and varied performances and a friendly but hedonistic atmosphere, not seen since the glory days of Glastonbury's Shangri-La. Melt is, without a doubt, my favourite European festival.
Friday
Music-wise, the festival was kicked off by The Internet on the main stage (aka the Melt Stage). Despite the relatively early slot (they were flying straight off for another show, apparently) and the full glare of the afternoon sun, their chilled hip-hop soul was surprisingly energetic, thanks to front-woman Syd's undeniable charisma and infectious melodies. Performing a week before the release of their latest, great album – Hive Mind – The Internet aired some new tunes, plus a couple from the members' solo projects, but it was tracks from their late collective record – Ego Death – that hit the hardest and got the party started.
After a quick boogie in the quirky, new (new last year) Forest area (complete with mini beach) to the tribal sounds of Awesome Tapes From Africa, it was back to the main stage for the double-whammy of Cigarettes After Sex and Tyler, The Creator. The former unleashed a gorgeous performance of restrained dream pop, made all the more blissful thanks the glowing sunset. Having never seen these new darlings of indie before, I was surprised by how they managed to intensify their recorded music in the live arena, and all without sacrificing the subtle beauty of their songwriting and Greg Gonzalez's light, otherworldly vocals. They've got the balance perfect, but I have no idea where they can go next…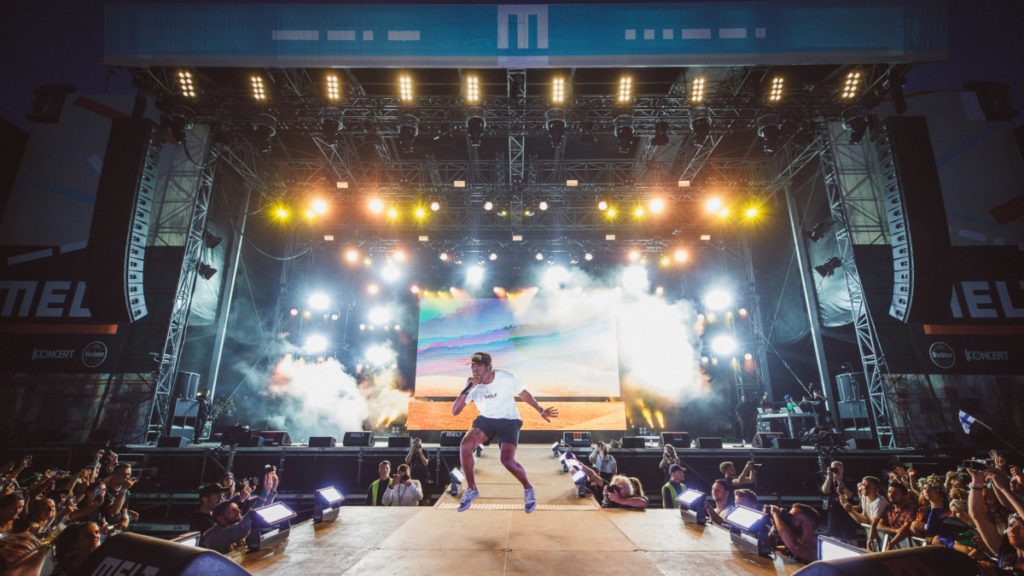 And now for Tyler, The Creator, who smashed out one THE sets of the weekend. Live hip-hop tends to be disappointing, especially when lacking a live band, but Tyler truly managed to take things to the next level, even without a band. Aided by some massive LED screens and inventive visuals, many creating a silhouette effect of Tyler himself, the Odd Future founder powered through much of his incredible latest album – Flower Boy – to cheers, jumps, applause and even mosh pits. Definitely the most lively crowd of the weekend; definitely the best (and loudest) sound of the weekend; definitely the most fun I had at the whole festival.
Controversial I know: but I missed Florence + The Machine to check out my beloved Henry Wu over at the Forest… and, to be honest, I have no regrets. Henry Wu was not only a joy to dance to, smashing out everything from disco and funk to jazz and world, but he was a joy to watch, commanding the crowd, throwing down some shapes, hyping on the mic. I love Henry Wu, I love everything he does.
The bulk of the rest of the night was taken up with Jon Hopkins' euphoric main stage live set, complete with hypnotic AV show and sounding heavier and heavier as the set progressed, and with Modeselektor's DJ party set down at the beach stage (aka MeltSelektor, the stage they personally curate all weekend), with the duo mixing in "hits" with IDM and melodic techno. Closing out the night was Berghain legend Ben Klock at the Big Wheel (i.e. the main dance stage) with what could be the greatest set I've ever witnessed him do. Techno perfection.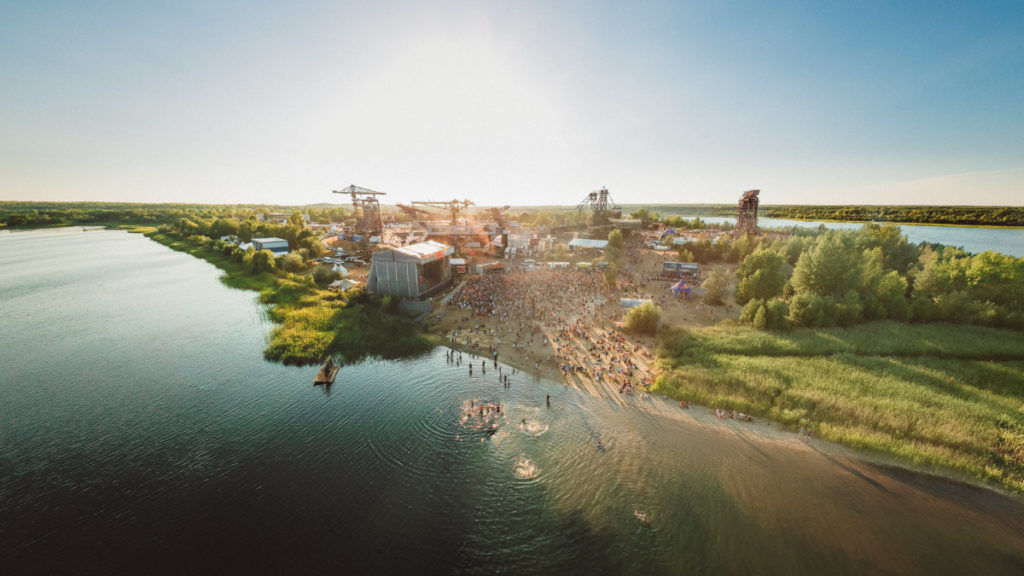 Saturday
After a slow start and some flapping around in the pristine lake – essential in order cool off during the sweltering heat of the afternoons – it was down to the festival site for Moses Sumney on the beach. Hitting the stage as the sun begins to set, Sumney's delicate falsetto and ghostly melodies were the perfect way to ease into the festival. Last year's Aromanticism LP was one of the best of 2018 and seeing him perform this material live was one of the personal highlights of Melt. He effortlessly switched between understated, hypnotic neo-soul and thrilling swirls of indie-rock, all while looking cool-as-fuck. What a voice, what a songwriter!
After checking out some of Lucy's techno set on the Big Wheel (was probably a bit early in the evening for this kind of set), it was back to the beach stage for the no.1, undisputed performance of the weekend: Sevdaliza. I've seen the alt-RnB Iranian-Dutch singer before a couple of years ago, and while good, she wasn't really pushing the envelope in the wake of artists such as BANKS and FKA Twigs; artists she's regularly compared to. However, tonight's show blew me away (and any shows of those aforementioned contemporaries I've witnessed)… musically and visually, Sevdaliza has truly stepped up her game. The sound was fuller, the band – complete with a string quartet – fleshed out the electronica of her productions, and visually she was a totally different beast. Her dancing was amplified by a male co-dancer and the accompanying videos took this from a mere concert to a performance art showcase. Highlights were 'Marilyn Monroe', 'Human' and 'That Other Girl' – all powerful, spellbinding slices of trip-hop-laced RnB, perfectly executed by an artist coming into her own, yet already at the top of her game.
Fever Ray's headline performance on the main stage, which followed, was great – as per usual – but in truth, it felt like an anti-climax following Sevdaliza, missing much of the raw and brooding power that came with early Fever Ray shows, all those years back. That said, Karin Dreijer and co. have added colour, humour and camp spectacle to the darkness of their original live show, so although less haunting it was a hell of a lot of fun.
After exploring the Forest to hear some of Jayda G's house-flavoured beats and hitting the Big Wheel for some of Nina Kraviz's heavy but accessible techno, it was down to the beach stage to catch the second half of Modeselektor B2B with Apparat, which was essentially a Moderat DJ set backed with a heady AV show. Super melodic and euphoric electronica was expertly mixed with heavier bass sections, with the occasional Thom Yorke-esque vocal (mainly pre-recorded and not sung live by Apparat); this was the perfect way to close out the Saturday night… and considering the size of the crowd at 5am on the beach, I think many others agreed.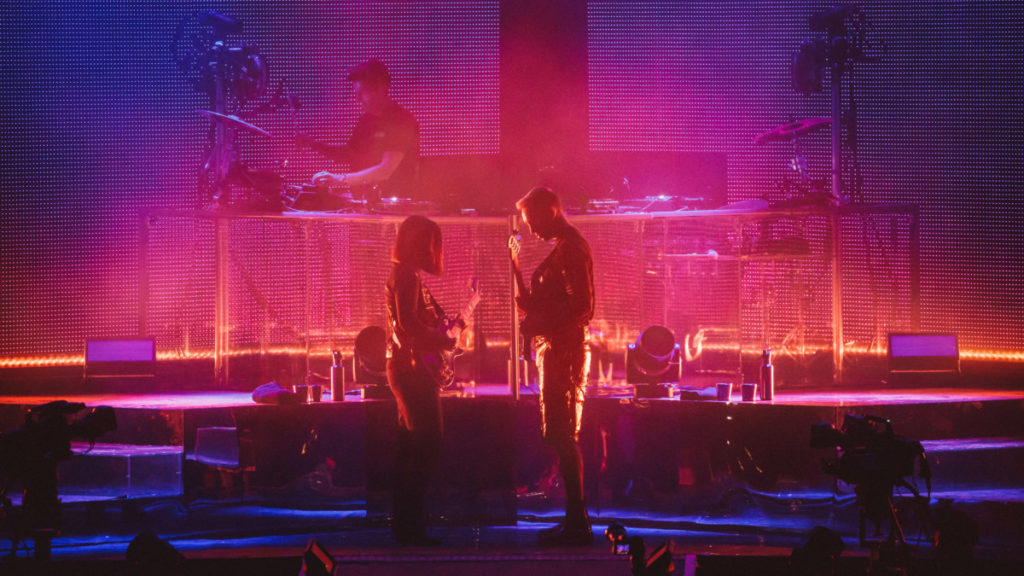 Sunday
After watching the World Cup Final on the beach stage (urgh – is all I have to say about football at this point), I settled in at the main stage for a trio of excellent live acts: Little Dragon, Badbadnotgood and headliners The xx. Little Dragon's joyous show came packed with more urgency and a faster pace than normal, while Badbadnotgood's started slow with a more straight jazz sound before building up into their trademark instrumental hip-hop – I'll always love watching these guys do their thing.
I was sceptical about seeing The xx headline. They were the highlight of my first Melt Festival, 8 years ago, when they were just blowing up, and though I've seen them countless times since, they never reached those same heights for me… perhaps victims of the restraints of their sound and style. So the fact tonight's show was not only the best headline performance of the weekend (or so I'm told by those who also witnessed Florence… sorry again, Flo), but managed to surpass that first set, was a bit of a shock. This can, of course, be attributed to their change in direction: upping the Jamie xx influence by adding danceable beats and a little colour to their somehow already dated aesthetic. The sombre moments were still heartbreaking, but it was the newer material such as highlight 'On Hold', with their flourishes of garage and house, that thrilled. Perhaps this is where Cigarettes After Sex go next? But where do The xx go next??
As is tradition, Melt was closed out but an epic Ellen Allien set over at the Sleepless Floor (the 24/7 techno party that resembles an outdoor Berlin club, situated at main site entrance) – 5+ hours of techno and house, taking us on a journey from rave to the melodic and minimal sounds of the after-party. And thanks for the mint. What a legend! See you next year.
Clive Paris Rozario
Photos: Stephan Flad