Clark + Daedelus + Kelpe + Anchorsong – Live @ KOKO
aaamusic | On 23, Apr 2013

Saturday, April 20th
Tonight isn't just AAAmusic's second Soundcrash event at KOKO this week. With Hidden Orchestra having to regretfully bail last minute due to illness (was so looking forward to seeing them again), Soundcrash have drafted in Tokyo-born Anchorsong, an act who I had the pleasure of seeing for the first time supporting Portico Quartet a few days ago. Anchorsong (London-based Masaaki Yoshida) respectfully acknowledges that Hidden Orchestra are M.I.A. before launching into his fusion of bleepy Krautrock and bass-heavy house. Accompanied by just half of the all-female string quartet that accompanied him earlier in the week, Yoshida manufactures and loops samples live, and has particular precision when it comes to programming drum beats and laying down keyboard lines. The welcome strings add both class and tension to his mid-tempo compositions, and tonight's thrilling performance of 'Darkrum' has cemented it as AAAmusic's song of the month.

Next up is Kelpe – aka Kel McKeown – who has quite a buzz around him at the moment, having garnered respectable press concerning his upcoming album and recent EP tracks. Accompanied by a live drummer (Chris Walmsley), and working with what looks like a mixture of digital and analogue equipment, Kelpe storms through a set of gritty, industrial UK dubstep and slow-mo instrumental hiphop. At times it's a little too gruelling for a pre-midnight set, but his little synth flourishes, the simple yet hypnotic visuals, and the formidable live drumming ensures he holds his own against the next two heavyweight producer-performers.
There has been a little confusion around whether it is Clark or Daedelus headling tonight – resulting in some disagreement between Clark fans (Clark-ites?) and Daedelus fans (Daedelus-ians) – but as AAAmusic understands it this is a co-headline event. But, who will win the battle of the IDM beats? Clark vs Daedelus. UK vs USA. Warp vs Ninja Tune.
England's Clark is entrusted with the earlier but, arguably, prime-time slot, performing at the very front of the stage, behind his equipment (obviously), and in front of an enormous screen that covers the rest of the sizable stage. The Warp veteran released his debut LP back in 2001, a time when his hectic mixture of manipulated beats, acid jazz and bass was pretty damn innovative. Today, (Chris) Clark has been (not overshadowed, but…) left to dwell in the underground by his contemporaries. He seems to relish this dwelling. Donning an oh-so-serious face, the stationary mixer barely looks up from his desk. Instead he treats KOKO to a progressive set of IDM. Starting with an extended segment of slow, meaty slices of bass (not quite dubstep, but not far from it), and moving through snippets of 90s rave and German techno, Clark ends with some hectic, Squarepusher-esque aural assaults. The visuals are pretty intense – with the strobe lighting often overwhelming (although it's a paddle in a play-pool compared to Squarepusher's 'Ufabulum' AV show) – and there are one or two false starts within the mixing, but, nonetheless, Clark's methodical meanderings are unsurprisingly mesmerising.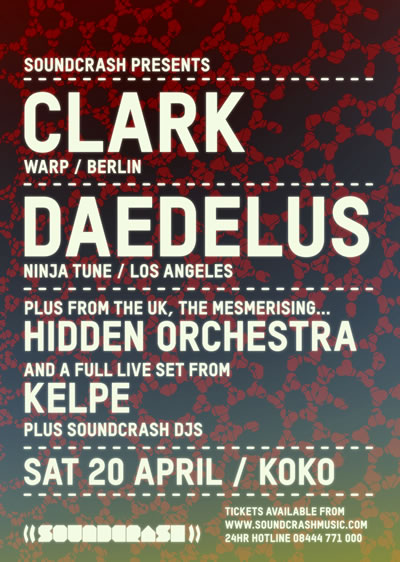 LA's Daedelus has the task of closing the night. The Ninja Tune maestro and Brainfeeder affiliate positions himself in front of Clark's screen and gives a little introductory speech about enjoying the show (characteristically articulate and eccentric), before the screen rises to unveil an expanded version of his 'Archimedes' AV show. A series of mechanical mirror walls, each one featuring a number of mirror panels that are twisted (in line with the music) to shine lights and projections to dizzying effect. Dressed in trademark Victorian attire, Daedelus – aka Alfred Darlington – lines up and rapidly fires out samples and beats via his Monome equipment. He effortlessly travels through warped hiphop, post-dubstep, bouncy house, techno, indie rock – fusing different parts of different tracks together. Concealed in the frenzied music are well-known samples, but Daedelus doesn't let them linger long enough for you to work out their source (I thought I heard some Burial and Tame Impala, but wouldn't like to bet my credibility on it). Unlike Chris Clark, Alfred Darlington is an energetic performer, and he flashes a fiendish smile each time he is about to drop a juicy beat – pleased with himself for splicing together such an elaborate pattern of sounds.
Unfortunately, AAAmusic has to leave before the end of his one and half hour set (somebody threw up into my pint), but truth-be-told tonight's bout is too close to call. If it was simply down to visual spectacle, Daedelus's robotic mirror show and charismatic performing would win hands down. But when it comes down to the music, it depends on whether you prefer the heavy, grinding nature of Clark's music, or the erratic playfulness of Daedelus'. All in all, another fantastic showcasing of the most forward-thinking electronic music-makers by Soundcrash.
Related Reviews:
Daedelus – Live @ Village Underground 2012
Clive Paris Rozario