JULIA BIEL – We Watch The Stars
aaamusic | On 09, May 2013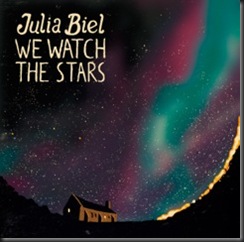 After working with Polar Bear and with producer Ben Watt of Everything But the Girl, being featured in a Nokia Campaign and being nominated at Rising star BBC jazz awards, Julia Biel presents her second album.
Her first single 'We Watch The Stars' sounds like an odd choice for a  single, but Julia Biel definitely knows how to deliver an obscure and introspective tune, in a lovely and engaging way – it becomes impossible not  pay attention.
A mesmerizing, moving song with a great vocal performance. Accompanied by a trip- hop atmosphere that traps the listener and takes  it back to the  good old days, when Massive Attack and Portishead were taking the music world by storm.
It has a 90's feel all over the place with a great instrument arrangement and astonishing production.
Even though the song is beautiful, I still don't understand the choosing of this song as a single.  It leaves me intrigued…Maybe that was the whole point.
Can't wait for the album.
Laura Carvajalino