BESTIVAL: MORE NEW LIVE MUSIC & DJS ADDED
aaamusic | On 02, Jun 2013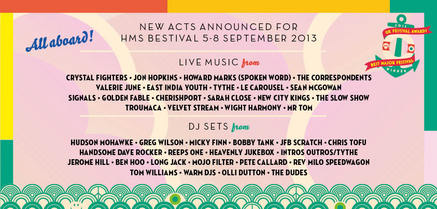 With the recent news that our Friday headliner will be party starter extraordinaire Fatboy Slim playing a very special Bestival Birthday Bash set, our triumvirate of amazing must-see headliners is complete as he joins the previously announced Elton John and Snoop Dogg. And now, Bestival HQ's attention turn to adding yet more incredible new live music and DJs to the mammoth line-up. Scooping the Best Major Festival award last year yet retaining our boutique sensibilities, Bestival's spectacular 10th birthday this September 5th-8th is going to be the greatest show on earth with more fun per square meter than you'll find anywhere else; it's absolutely unmissable!
Rob da Bank says: "HMS Bestival is well and truly under way, steaming across the high seas picking up even more musical passengers. Crystal fighters are Bestival stalwarts and about to go stratospheric, Jon Hopkins has made one of the electronic albums of the year and no party is a Bestival party without Hudson Mohawke and The Correspondents…all aboard you crazy landlubbers!"
We're very pleased to announce that Crystal Fighters are among our latest litany of vital new acts that are getting us all hot under the collar. With one of the most incredible and visceral live shows around they're a truly mind-blowing experience that you'd be mad to miss. With their second album Cave Rave out this week, the band are fully charged and ready to rain down their unique brand of mayhem on the Bestival crowd, making our 10th birthday bash that bit more special.
But that's not all as we'll also have live sets from sometime King Creosote cohort and purveyor of epic, widescreen bliss Jon Hopkins, everybody's favourite raconteur, Howard Marks, bass driven swingers The Correspondents, Memphis soulstress Valerie June (whose debut album, Pushin' Against a Stone is out now on our sister label Sunday Best), much fancied aural architectEast India Youth, Sunday Best's secret weapon Tythe, Phil Kieran showcasing his psychedelic song-craft with new project Le Carousel, new voice of the people Sean McGowan, driving post-harcore force Signals, spectral acoustic electronic types Golden Fable, the Isle of Wight's own Cherishport, acoustic soloist Sarah Close, Essex songsmiths New City Kings, alt-folk MancuniansThe Slow Show, hotly tipped B-Towners Troumaca, alt-pop rockers Velvet Stream, Bestival's Island choral competition winners Wight Harmony Barber Shop and indie-banger-pop from Mr Tom.