FRANKA DE MILLE – Bridge The Roads
aaamusic | On 15, Jun 2013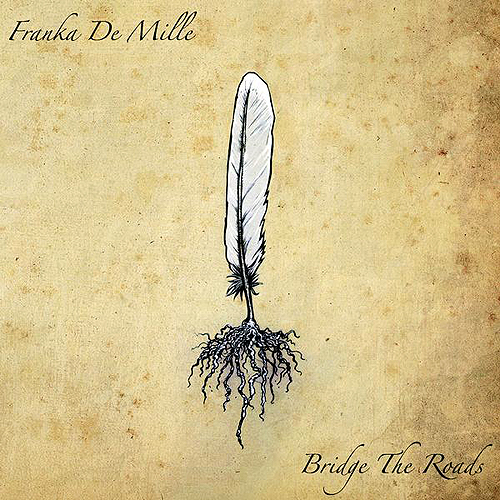 'I write my songs from experience. I never need to fake an emotion for the sake of a song. My need to express my feelings is always best channeled into music, it is the most cathartic way.'
–        Franka De Mille, 'Stories of the Songs', www.frankademille.com
Franka De Mille withholds nothing from her listeners in Bridge The Roads, an album brimming with emotion and passion. Bridge The Roads is De Mille's debut album, and has received nothing but critical acclaim since its release in February earlier this year, not to mention the fact that De Mille is the first and only independent artist to be selected for the British Phonographic Industry's 'Why Music Matters' campaign.
The album is a musical journey of deliverance, focusing on life's hardships and struggles and De Mille has certainly poured her own experiences into it. It is an extraordinarily dark album and in this respect reminds me of the great Édith Piaf. It is not only the subject matter which likens the two singers, but the deep, moody, spiritual way in which they sing and their ability to give themselves completely to the music, unafraid of exposure to the outer world. De Mille has been likened to Patti Smith and Kate Bush and I think it is this same depth, not necessarily music or singing style, as she is very individual, which draws these artists together. In this sense her compositions have the emotional rawness of much country and western music and harken back to Dolly Parton's 'Jolene' (1973) in which desperation is not only heard in the lyrics but in the fiddle part, which De Mille uses as a second vocal line throughout the album.
A particularly prominent use of the fiddle is in 'Solo', her song about animal testing in which Chris Stone's klezmer influenced 'crying violin' line evokes the deep inescapable sadness which klezmer music seems to capture so well. Conversely his violin playing in 'Fallen' has an obvious gypsy-jazz influence and the Stéphane Grappelli-esque licks conjure images of a French jazz cafe. De Mille has carefully arranged her songs and used the violin, cello, and accordion amongst others as second vocal lines to create at once an intimate, but also vastly eclectic sound world.
To add to this each song varies in its production; the use of echo on De Mille's voice in 'Oh My' an apology to a friend in the form of a song, calls to mind an image of a solitary woman, singing to herself in a large room. On the other hand, 'Gare du Nord', a song about sisterhood, has much more weight with reverb on the steady pizzicato string effect throughout and Deborah Gruman's beautiful violin playing contrasts to Stone's in it's classical influence. De Mille is extremely versatile with her voice and uses it to evoke a variety of different moods – sometimes harsh and gutsy, others breathy and light.
The most striking aspect of Franka De Mille's debut album is the raw, emotionally charged nature of her compositions and her ability to channel her feelings into these songs to create a path, to bridge the roads as it were, between life and death, love and separation, good and evil and depression and motivation. An album the folk can relate to and take inspiration from.
Heather Ryall