THE MELODIC – On My Way
aaamusic | On 20, Jun 2013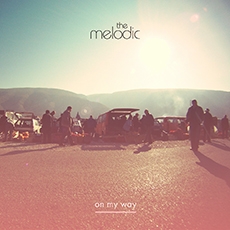 This is the third time I happen to write about The Melodic, in less than month, which will probably give you an idea of how busy the band is. Less than a month after their beautiful performance at the Old Queen's Head, the quartet from South London is happy to announce the release of their EP On My Way with the record label ANTI- .
During their performance they presented the title track and 'Hold On' – interesting folk ballads that show the band's truest nature. A mix of folk, enriched by Southern sounds given by the instruments, The Melodic are fond of charango, kora and melodica. Their signature is powerful lyrics that, despite the merry music, carry a darker aftertaste of nostalgia and melancholia.
To complete the EP there are the tracks 'Roots' – which sounds like a dialogue between Huw Williams and Lydia Samuels, the two vocalists of the band – and 'When I Feel Free', a tune that employs all the instruments that make special and peculiar the sound of this band.
The Melodic will present the EP the 25th June at the Lexington before leaving for their American tour in July; they are also planning a UK tour that will be announced shortly.
Monica Guerrasio